Today I turn 50. 50!!! Wowzers y'all.
There were times when I was convinced I would not make it this far.
Therefore, let's look back in awe not anger. Brace yourselves: 'tis time to reflect my last half-century.
Don't worry, not all of it, that'll be for my 8904k word blog post later on.
Just the highlights, the rough strokes, the general feelings of my past 5 decades. And, of course, my travel history.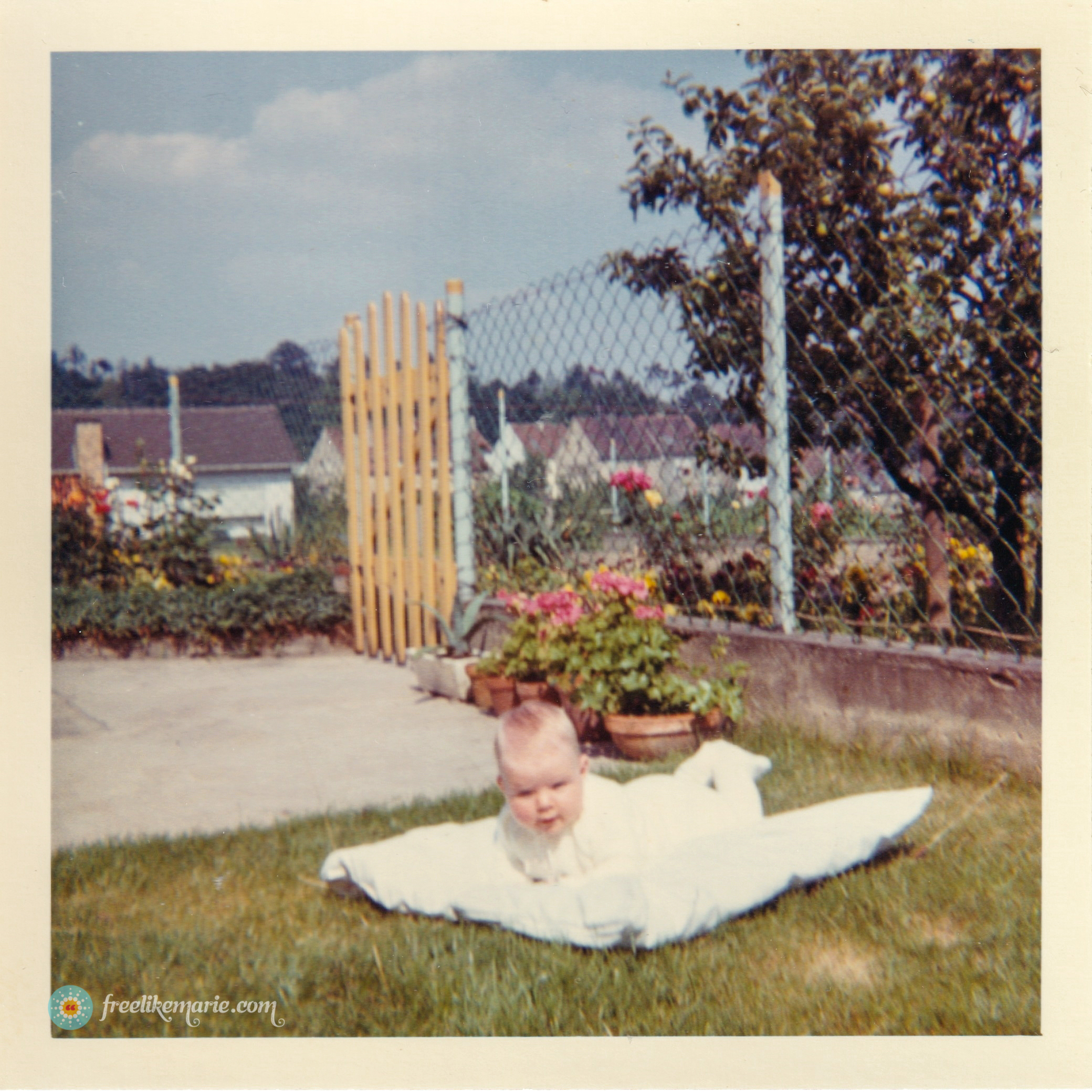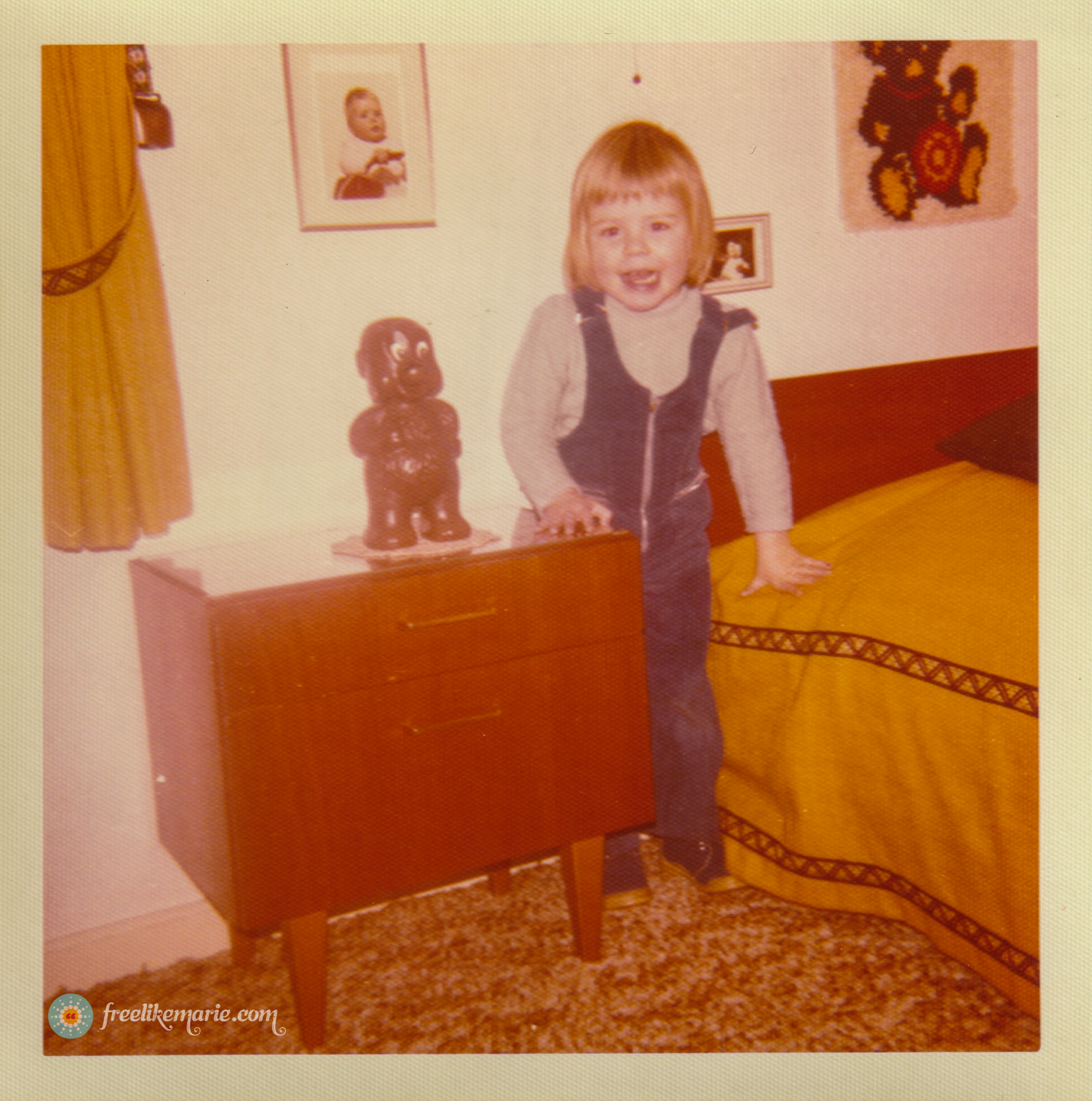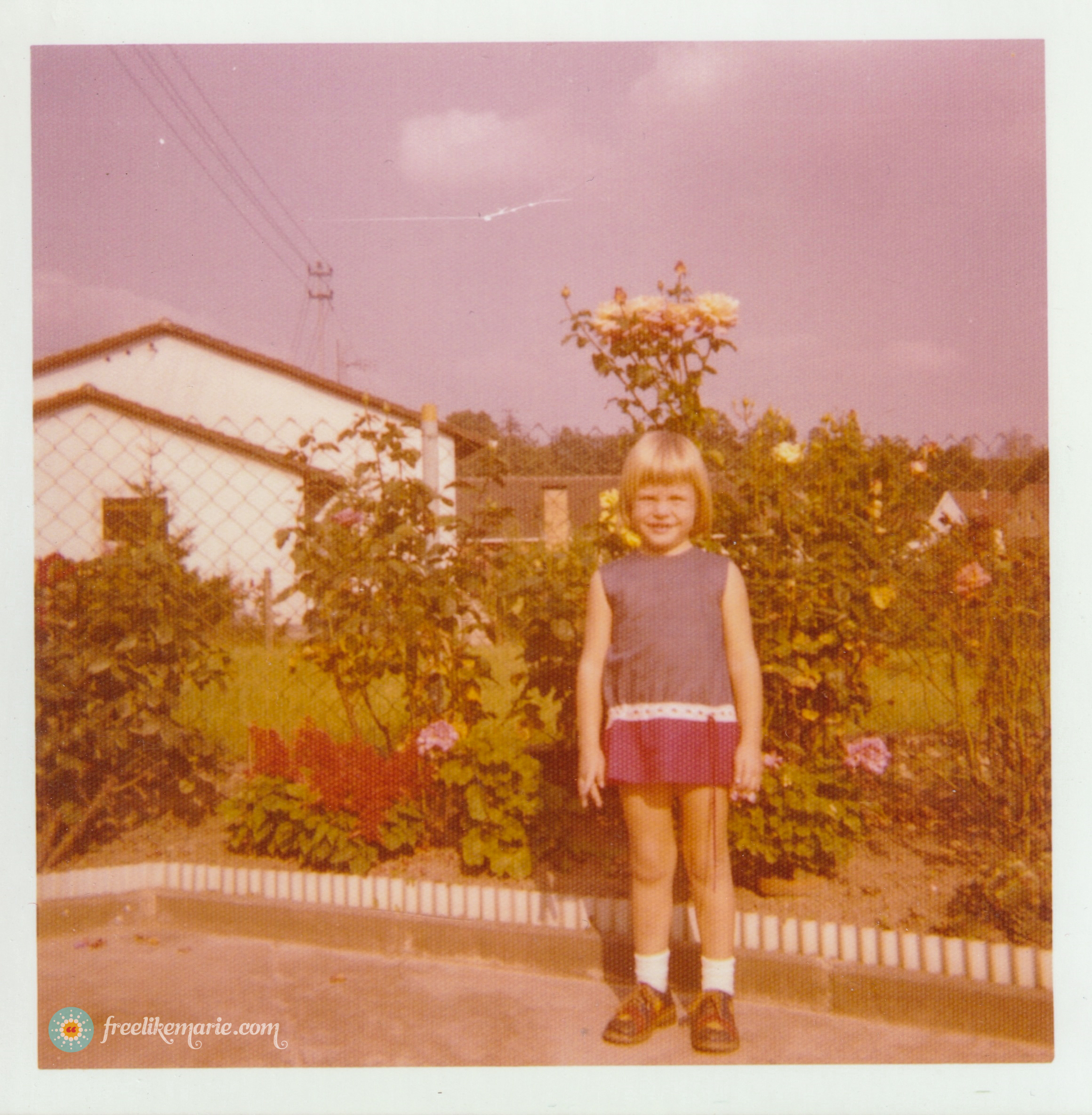 For lack of a better name, voilà the first ten years of my life.
I was born and raised in a middle class German family, my dad being a travel agent, my mum being a mum (she had been on a career path that she gave up, for which I am truly sad and sorry but also grateful, of course – thank you, mum!).
My dad's dad had been working as an electrical engineer in Northern France, my dad's brother as an assembler in Africa, and my dad made his wanderlust a profession.
There seem to be quite some travel genes free-floating in my family, and I am the chip off some old blocks apparently (thanks, old blocks!).
Which is why my first trip took place at the tender age of 1,5 – a holiday in Greece (and yes, I am very aware of my white privilege upbringing and life, which has made me sad many times during my later travels, when I witnessed how differently (read: better) I was treated just due to my skin color and culture/nationality).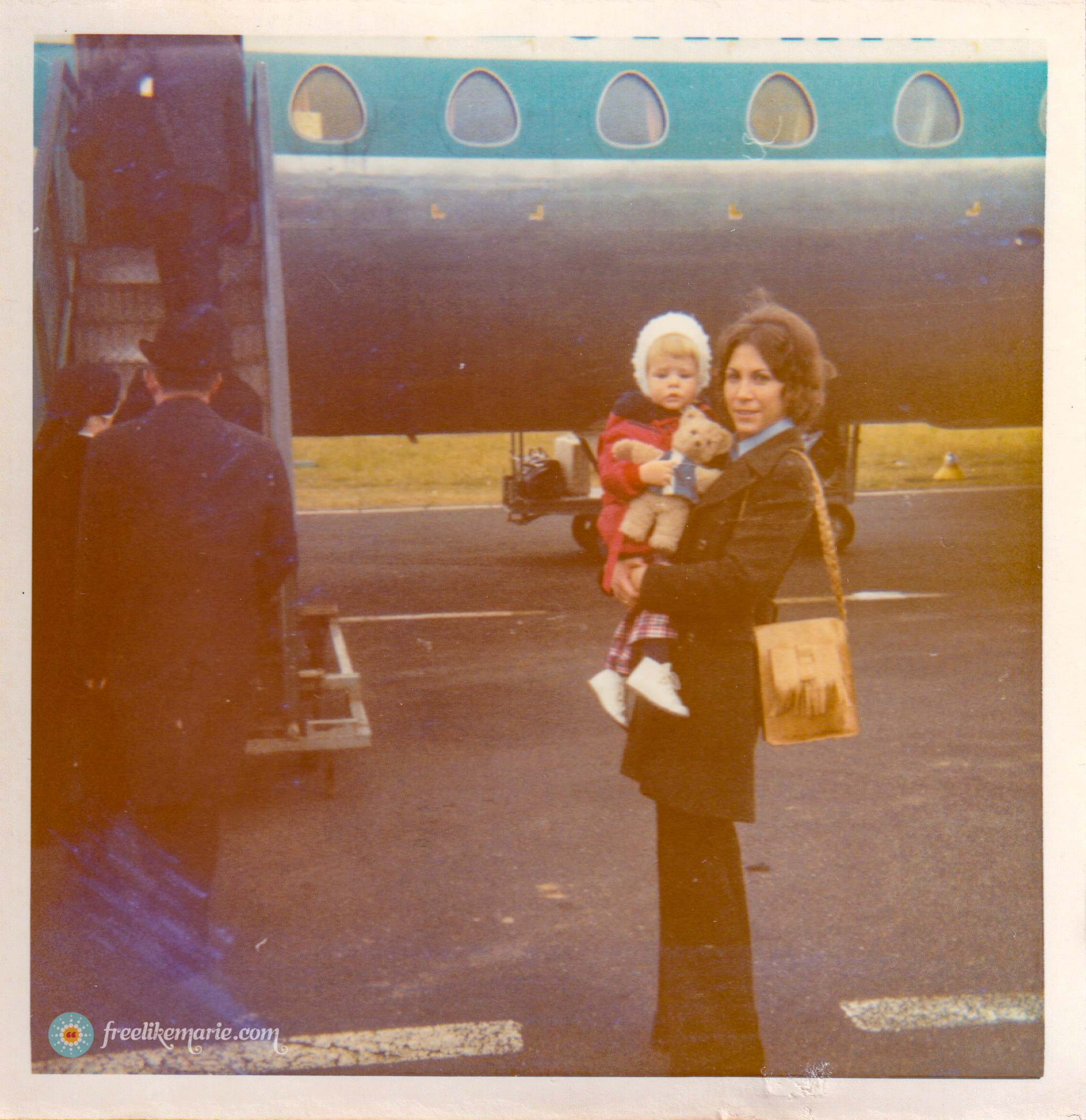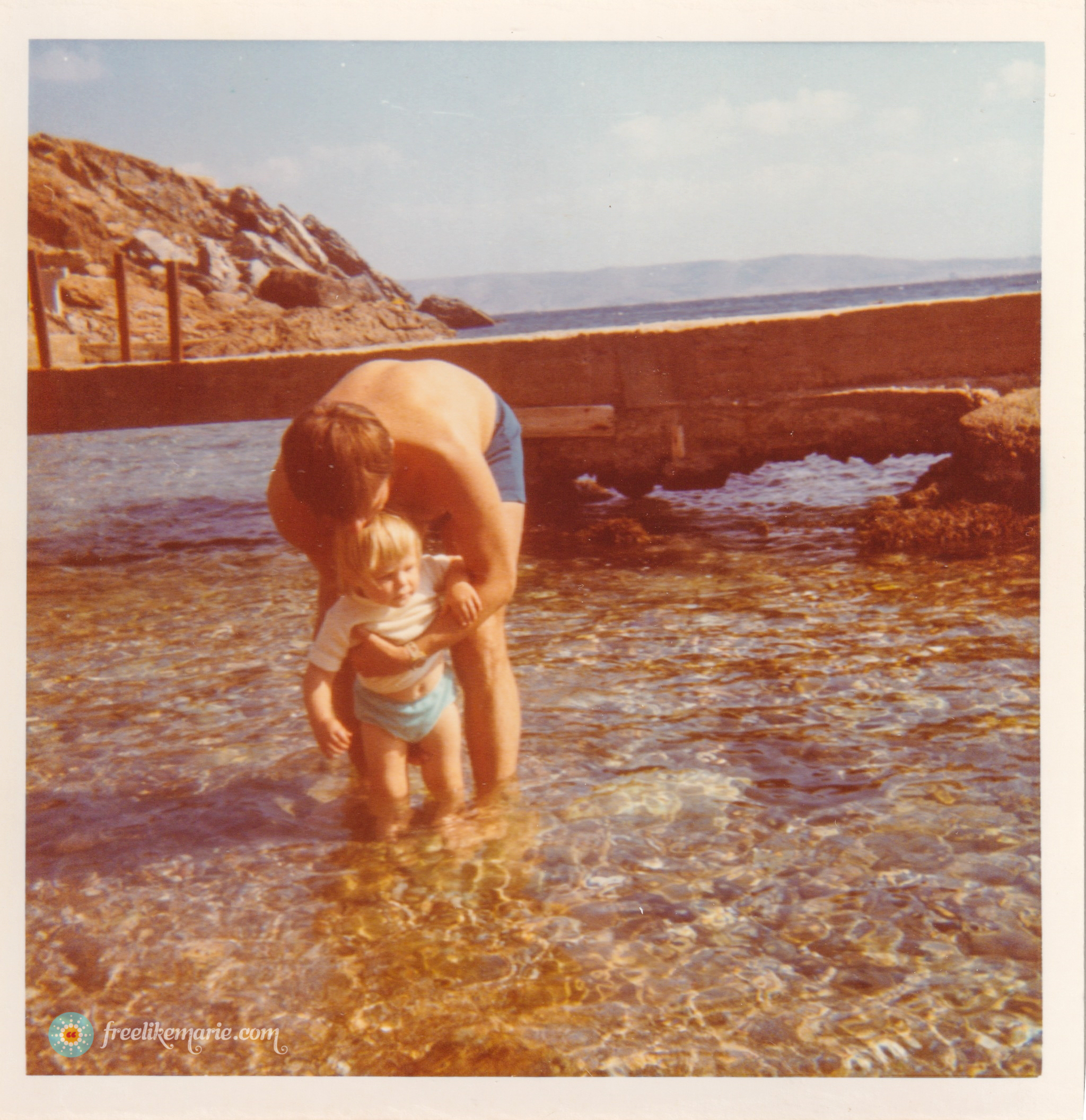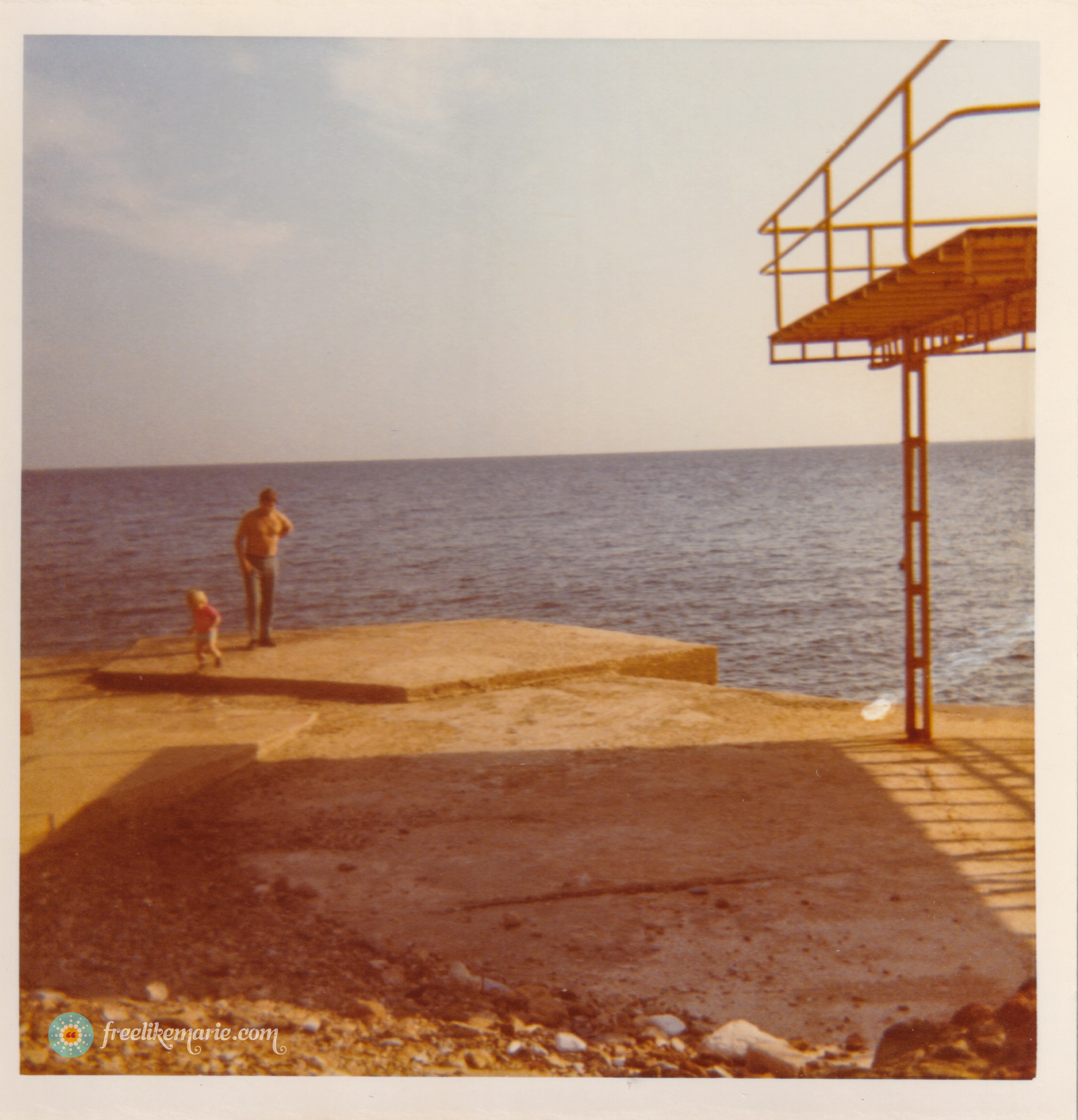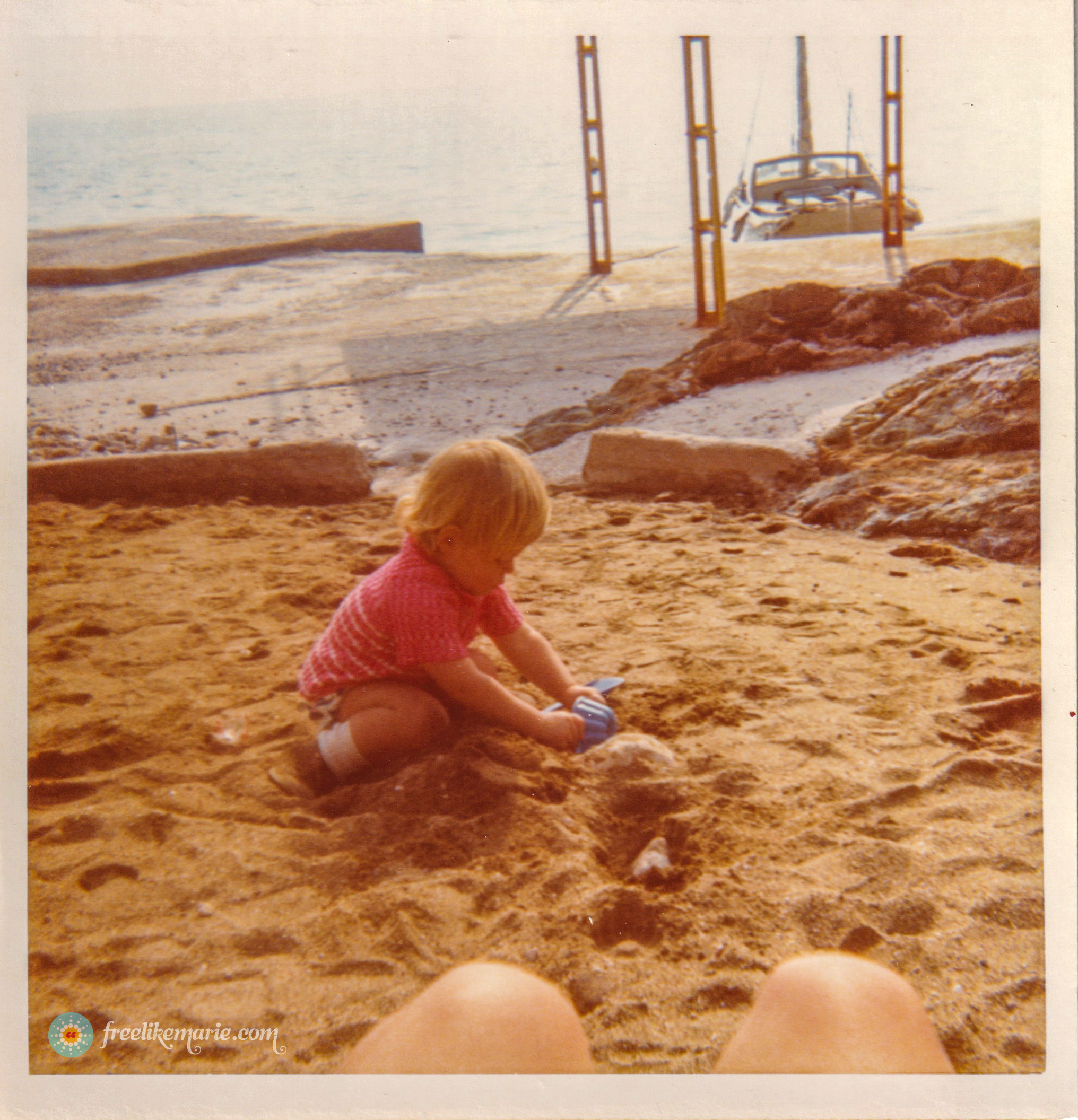 Pisces want to be near water  – right from the beginning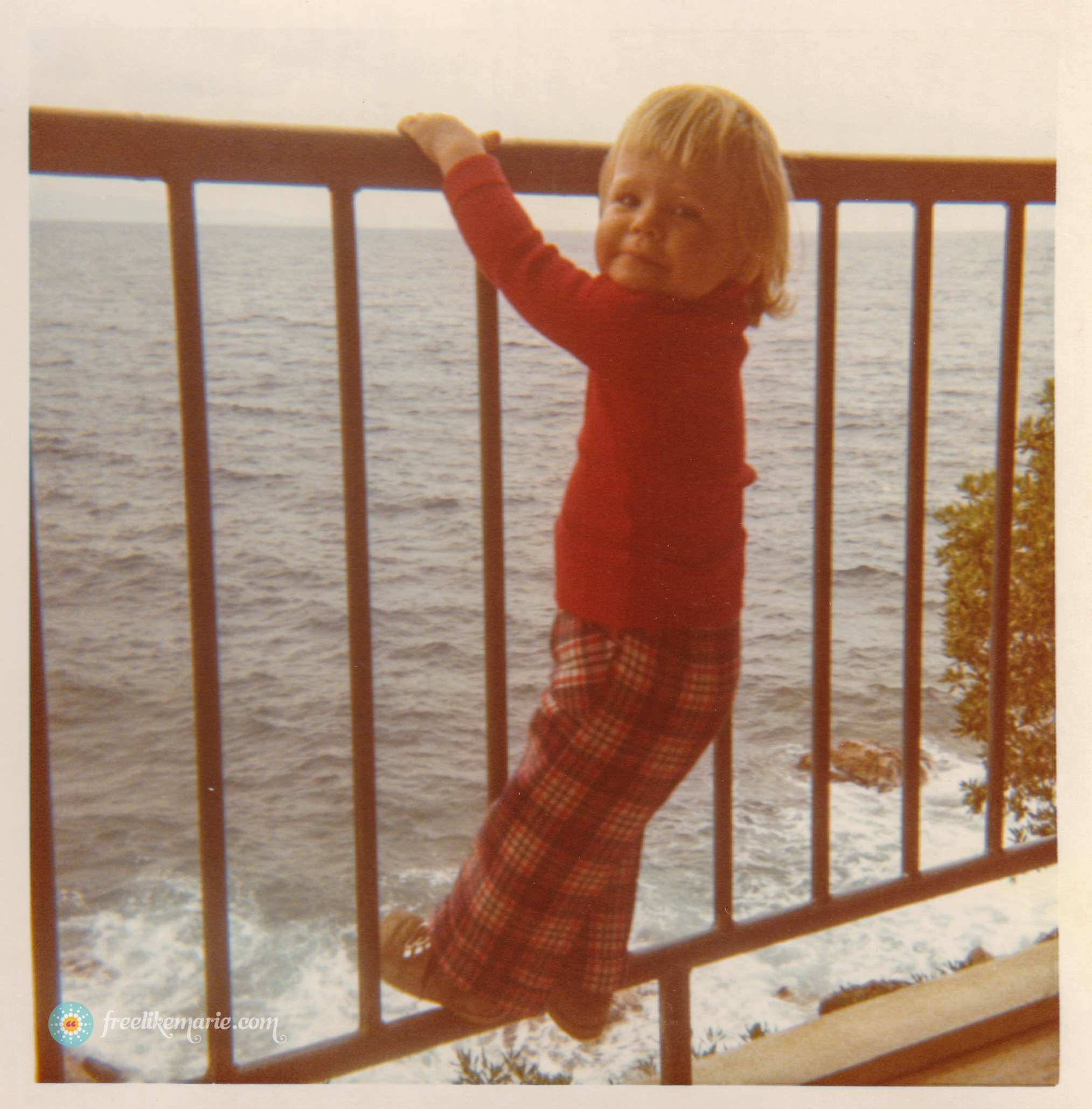 There followed many a vacay: Austria, Italy, former Yugoslavia, Spain; always southward bound, though. Sun and warmth were what holidays were made of in those days, and counting mosquitoes in Sweden was not really hip yet.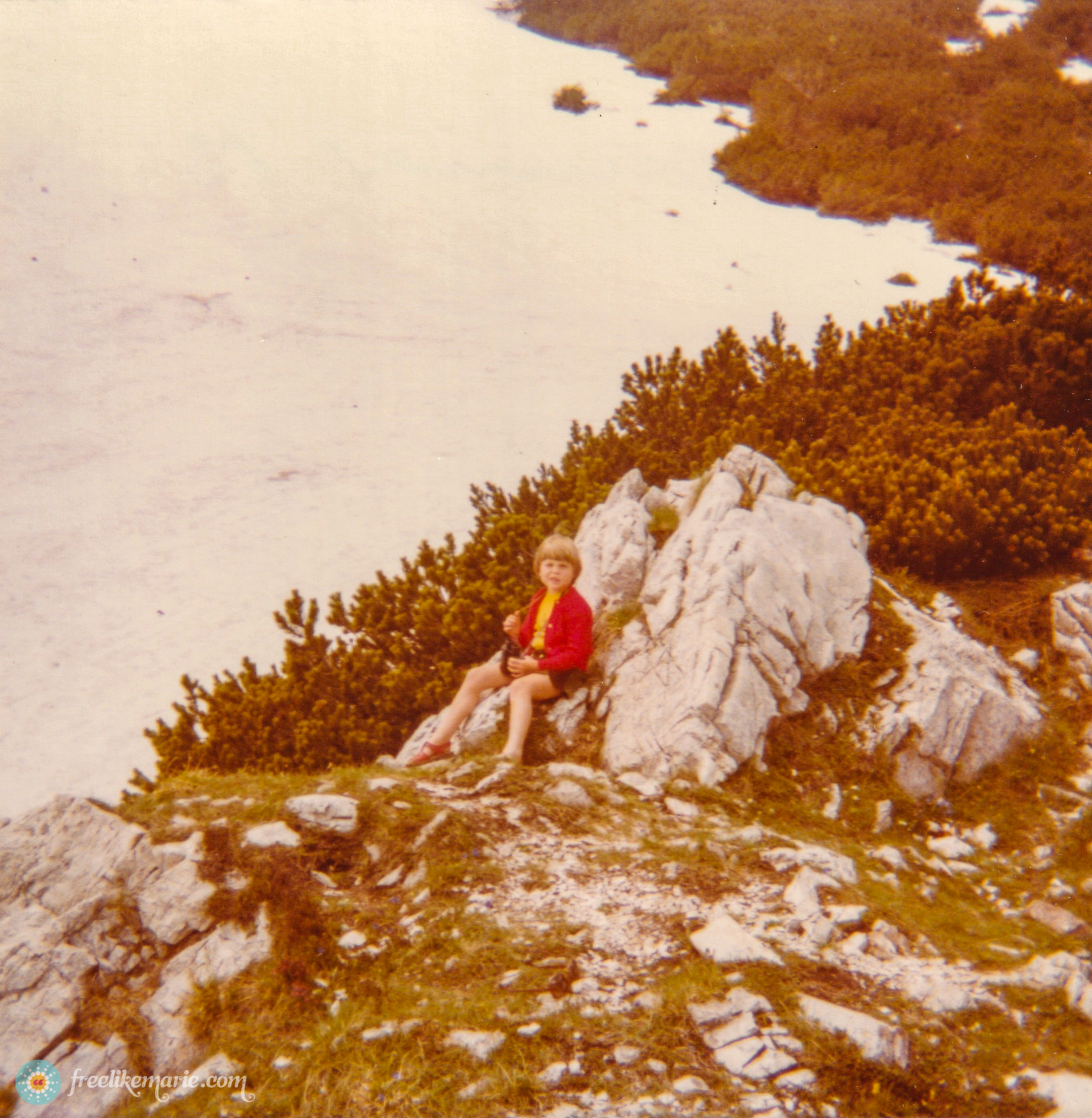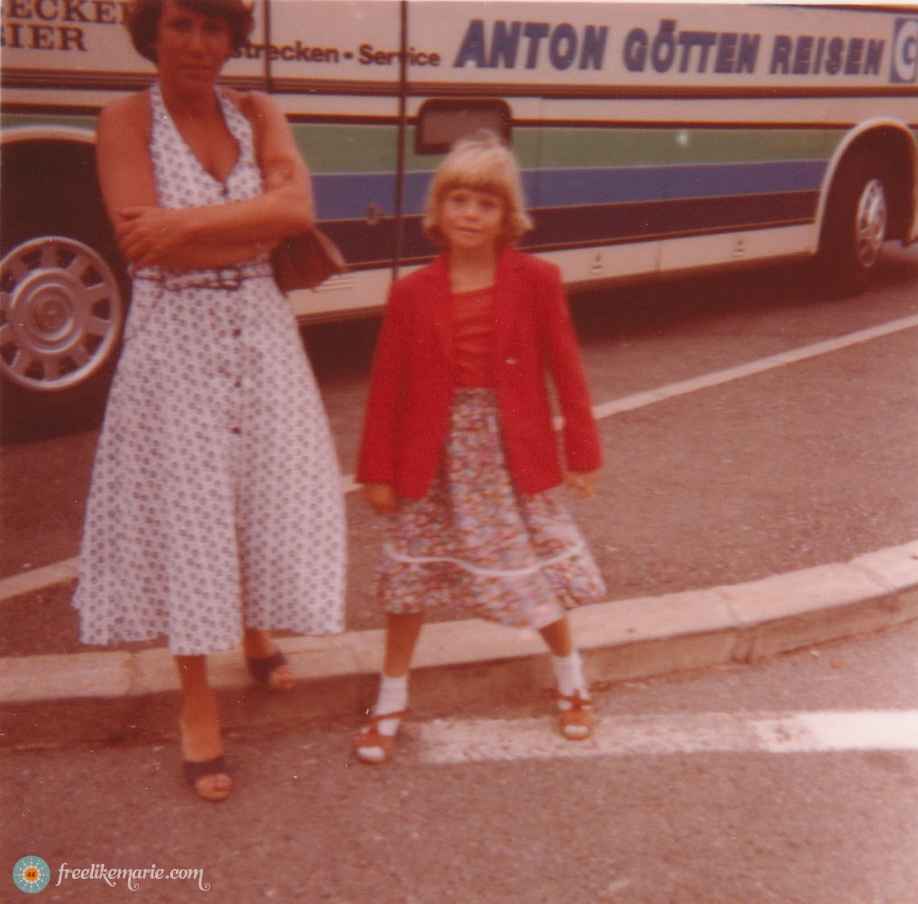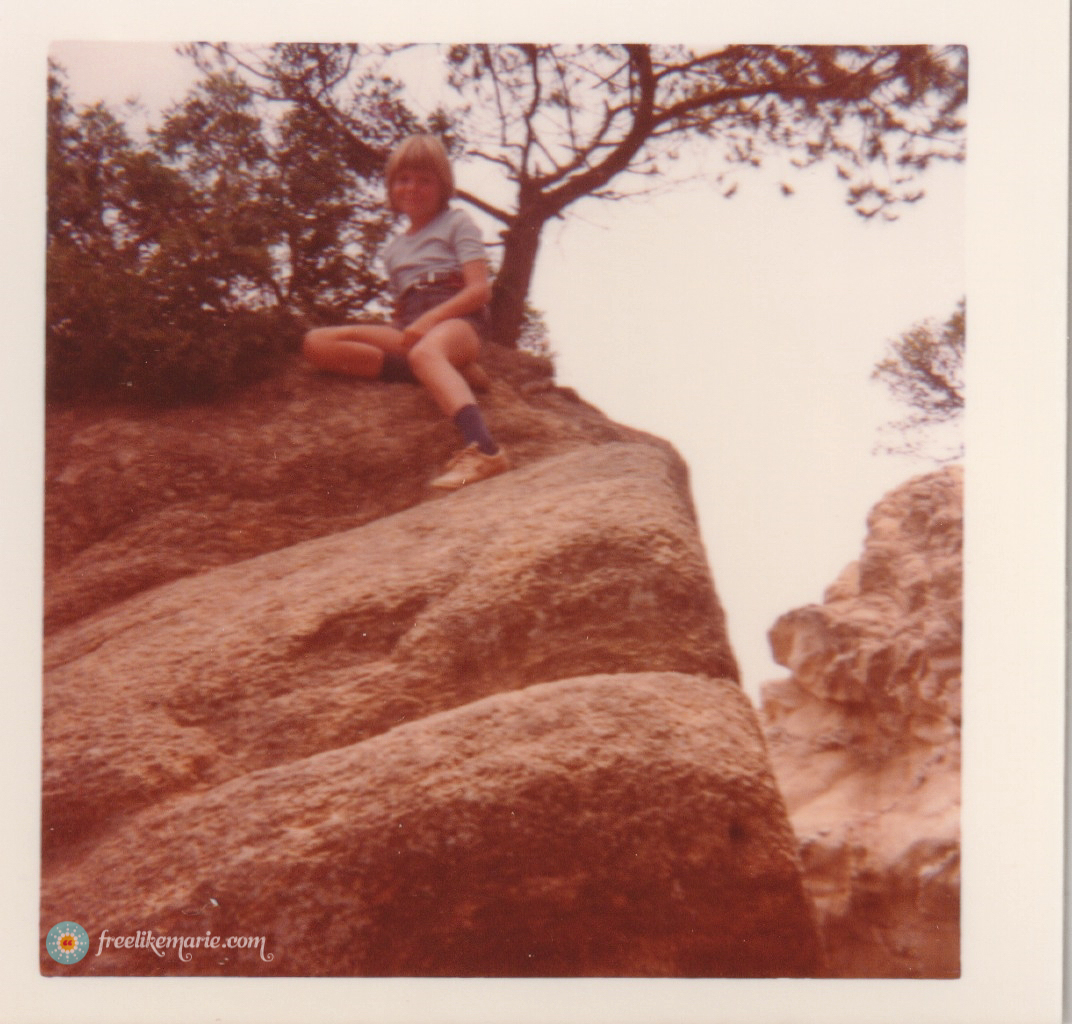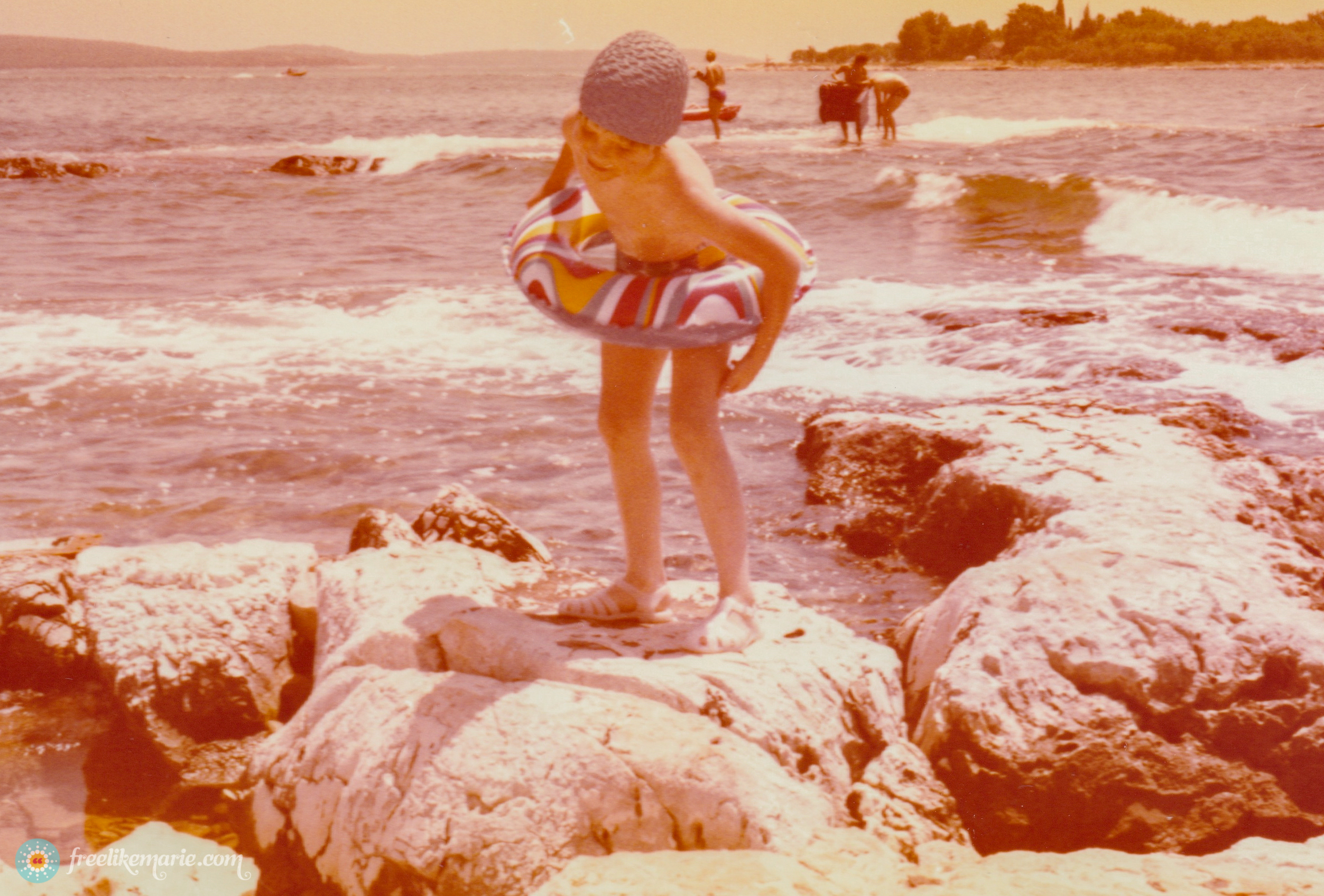 Water – my preeeciiiooouuusss!
Thanks to my dad's job we went on cruises when roughly 0.002 percent of the population knew of or went on them. So at age 9 I got to see the bazaars of Marrakech, the basket sleighs of Madeira and the monkeys of Gibraltar (we are talking about the 70s here, so this kind of trip was rather the exception).
And how cool to travel when there were no cells. All you had as memories were some Portuguese Rooster de Barcelos figurines collecting German dust for years to come, hand-painted ashtrays of Mallorca (smoking was a thing back then), and of course the photos.
Ah, the photos. Only 36 exposures per roll of 35 mm film which cost a hunk of change to develop, so you better were very pickedy-picky and thrifty pushing that button. Probably where Eminem got his famous "you only get one shot" line from.
Result: a very manageable amount of photos. As opposed to the gazillion point five photos taken today with digital devices (I can't be the only photo hoarder out there?).
That small number of photographs led to memories becoming very iconic. Watching those real paper photo albums over and over, the pics somehow became larger than life and the thing itself. When I try to remember those early travels, in truth, I remember the photos.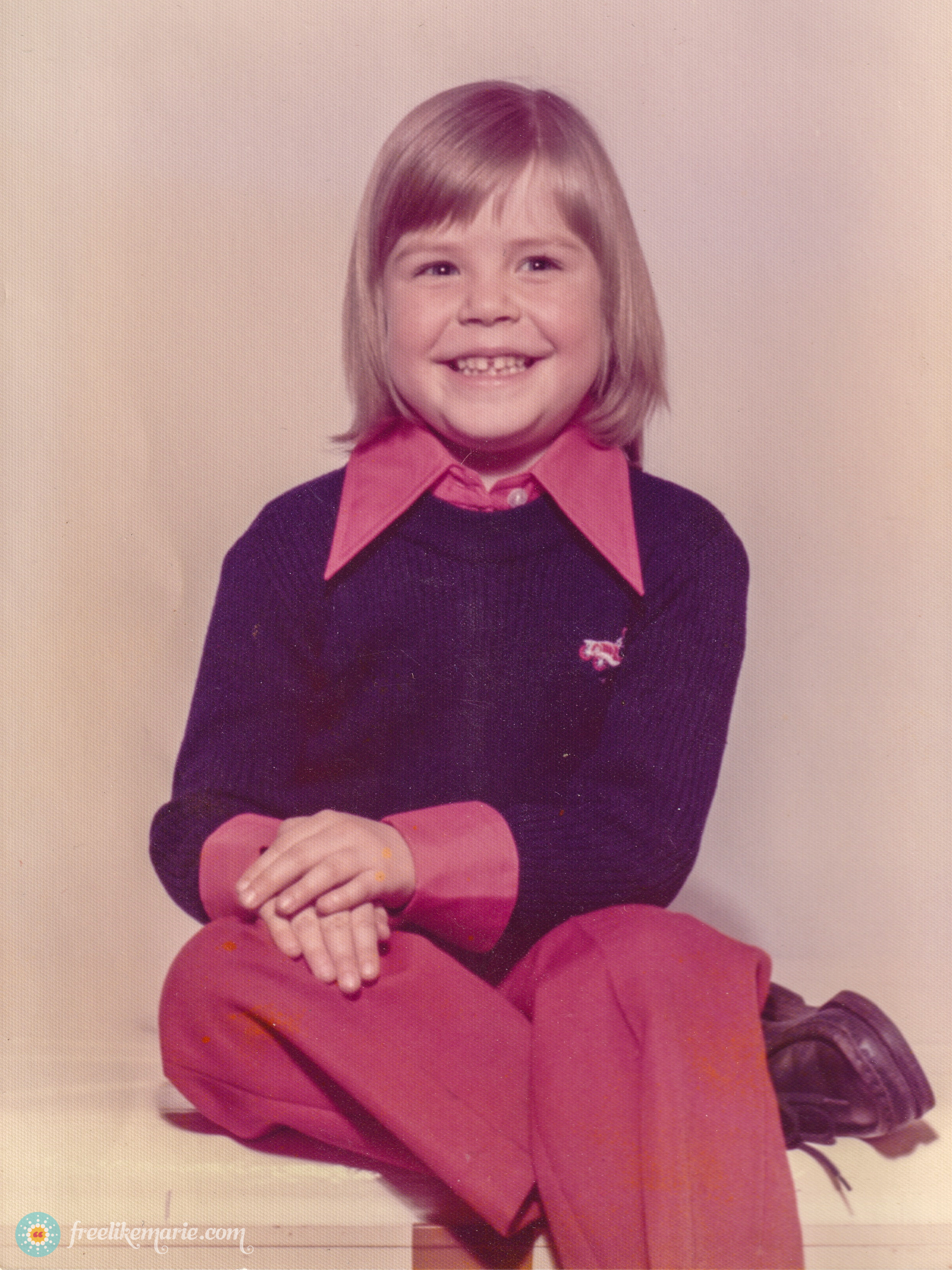 A Portrait of the Artist as a Young Cheshire Cat
Karma Chameleon: My Teens
Main summary of my teenage years: school and, later on, beginning crisis. Traveling a bit – skiing, Egypt, Russia – and trying out different styles (which I continued in my 20s until I turned boring).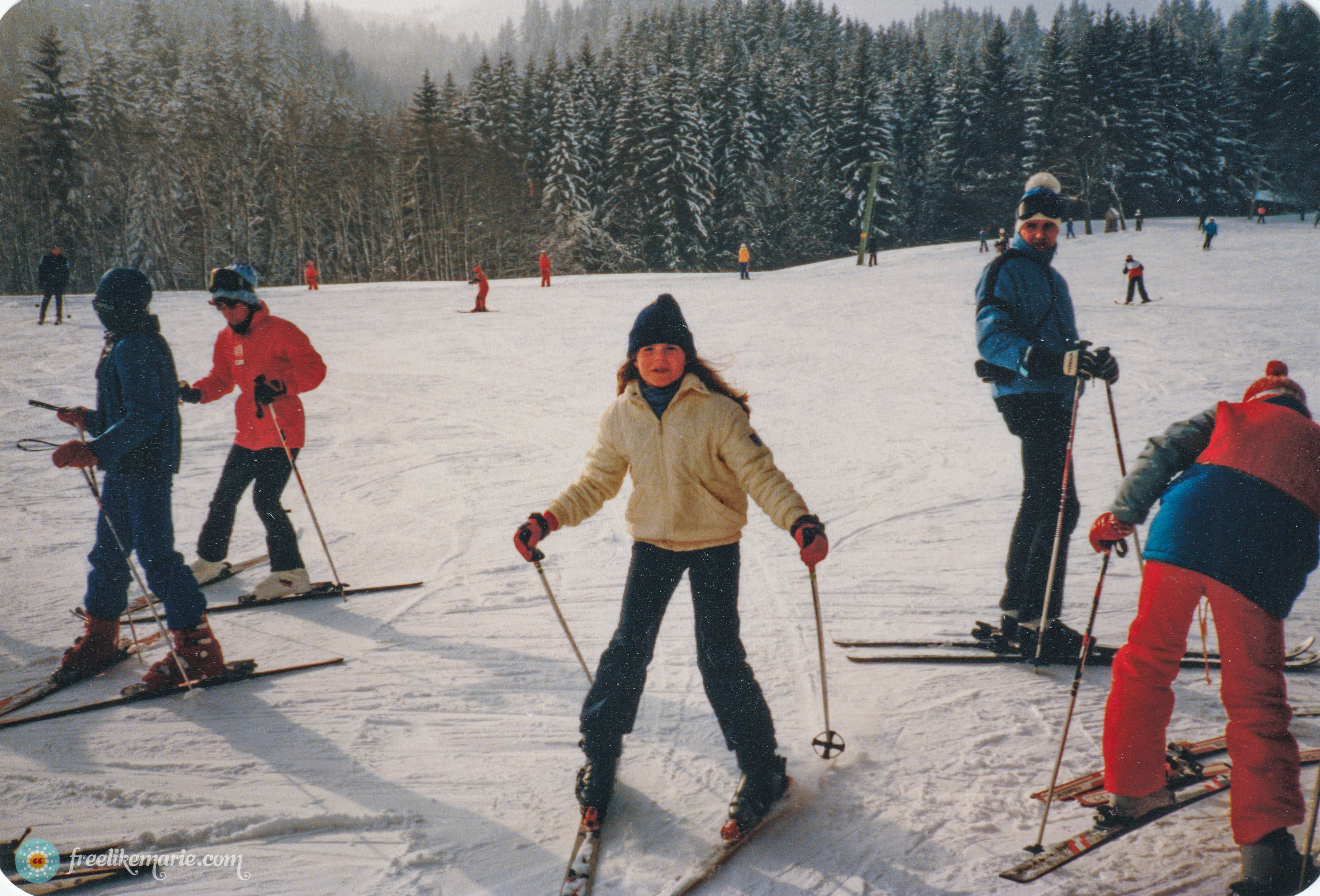 This was the phase when I started to notice that I do not fit in. Just a very small example: I loved all kinds of music from punk to Richard Wagner's operas but my peers either liked punk or classical music. Today I know that I am a scanner/multipassionate/polymath or whatever you want to call it, and only in my 40s, when a plethora of other scanners became visible, for the first time I did not feel so alone.
Also, I scared away any boys interested in a teenage love plot by my sharp tongue. Result: At all our volleyball or handball matches, every single girl on the team had their boyfriends cheering for them, except one girl. Odd one out.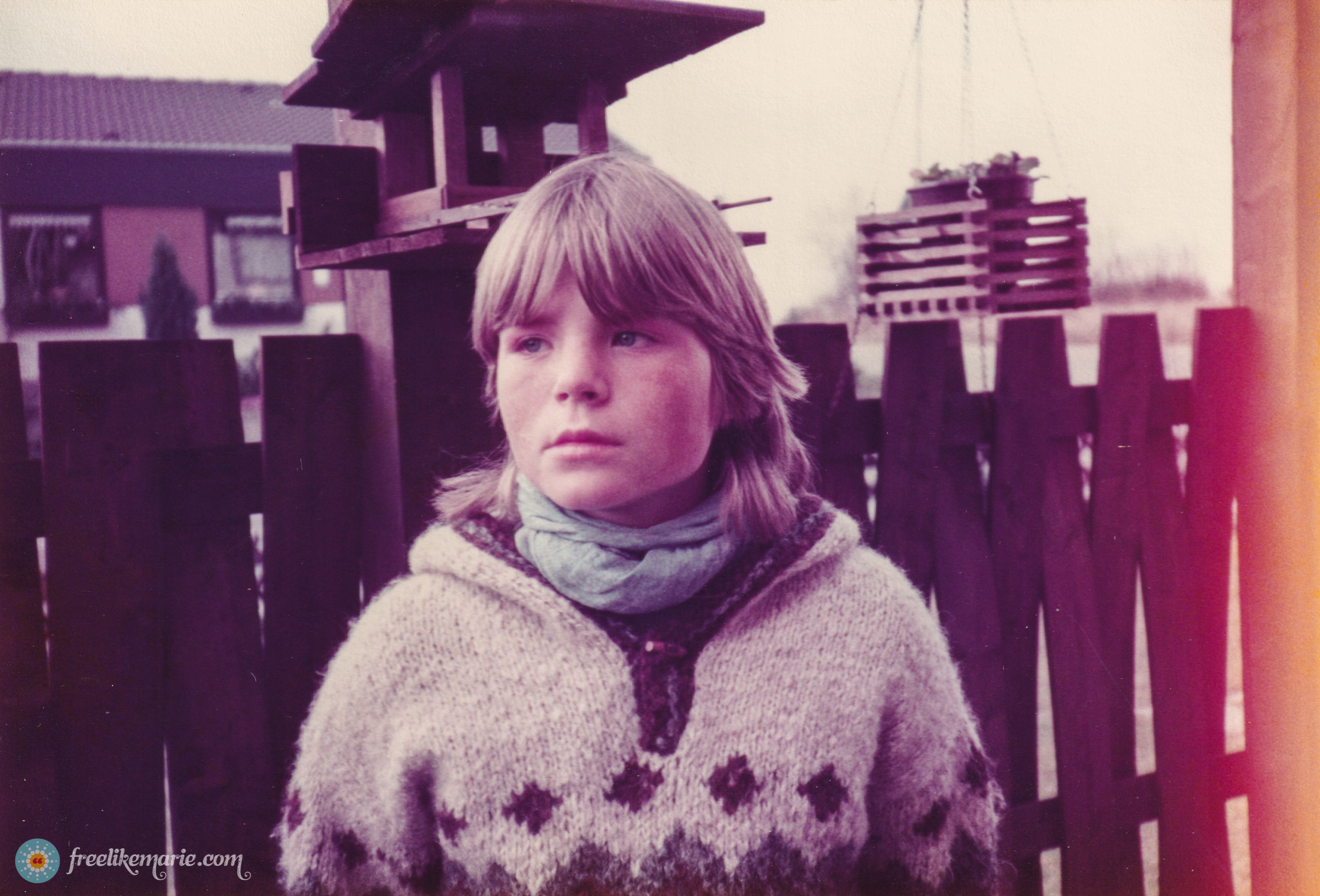 Maybe smiling would have helped? I was severely sunburnt from skiing here, though, and that was no joke
In Germany, we finish college at 19. So the years leading up to that had me wonder what to do with my life.
I loved writing. I loved traveling. Hey, let's be a travel writer!
Somehow I never got round to doing it, though, and step by step, without me noticing (like a frog in cold water when you turn on the heat), I slid into an existential crisis and depression.
Who am I? What do I want? Even if I know what I want, how should I go about it? And even if I know how to go about it, what is keeping me from doing it?
The 20s looked promising.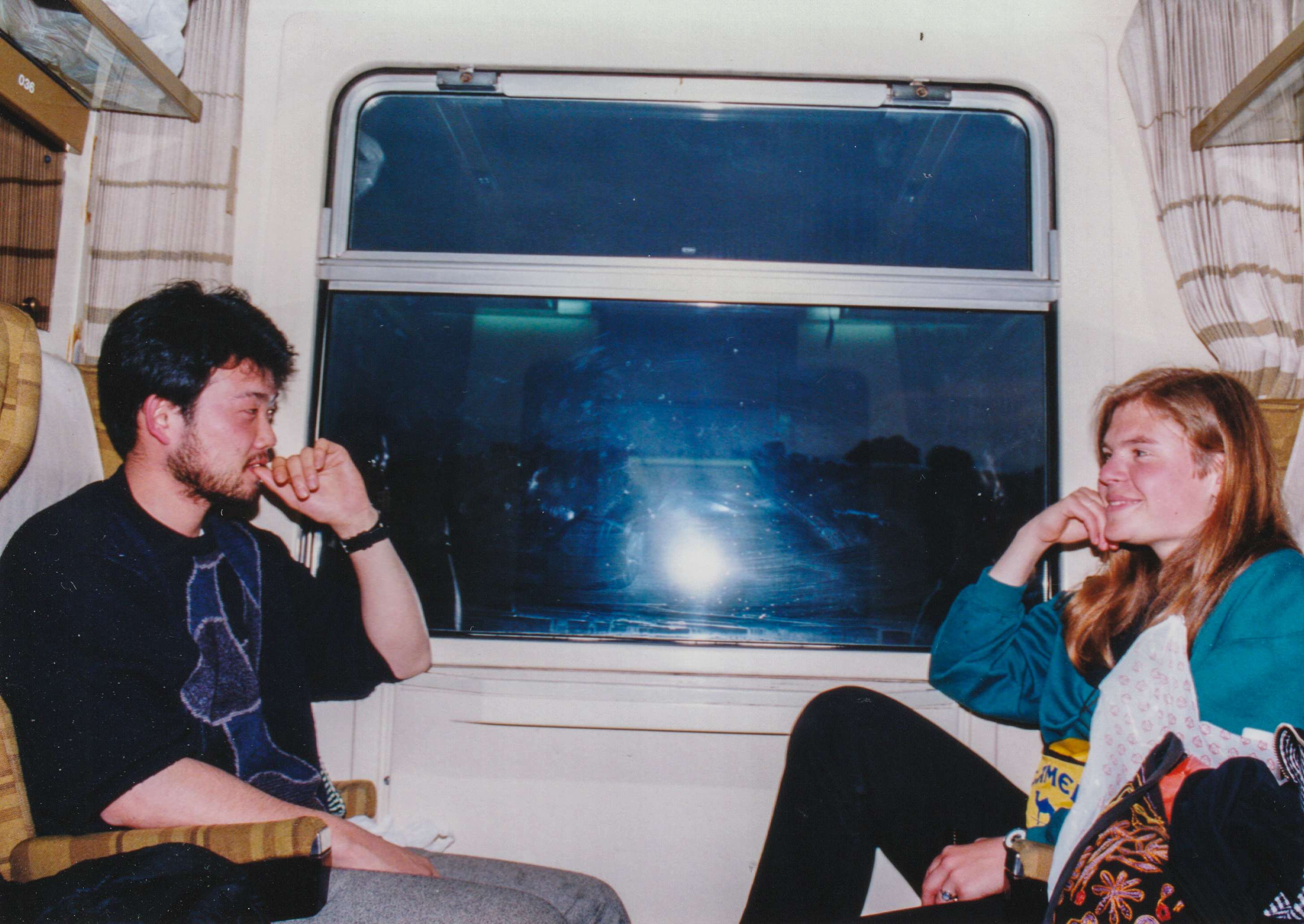 Celebrating my 20th birthday in 1990 with strangers on a train during a trip to Spain; the lovely Japanese guys shared their canned sausages with me
Depression had me in its claws, without me knowing that I was depressed. As I did not know what profession to take, I read American and French studies, the aim being to spend a study year in the US.
Instead, I ended up with two study years in Dijon, France (reading English, ahem). Not what I had wanted but still abroad, and therefore worth the experience, of course.
In uni I met a nerd who was into that new thing called internet. She must have been one of the first bloggers out there – we are talking about the early 90s here. No social media, no nothing. The Stone Age, basically.
And right there and then, I made the biggest mistake of my life.
When she told me about weblogs and links and interactive storytelling and hypertext, I was not intrigued. My thought: Well, just some tech stuff which, too, shall pass. I could not have been more wrong.
Had I started a travel blog back then – in 1993 – my whole life would have turned out differently. I would have been 19 years ahead of Germany's most famous travel blog which was launched in 2012 by Conni Biesalski. They would have called me The Perambulating Pioneer, The Godmother of German Travel Blogging.
Instead, I chose stuckness. If I was to blame it on life – that one had other plans for me, namely living in Detour City for the next 30 years.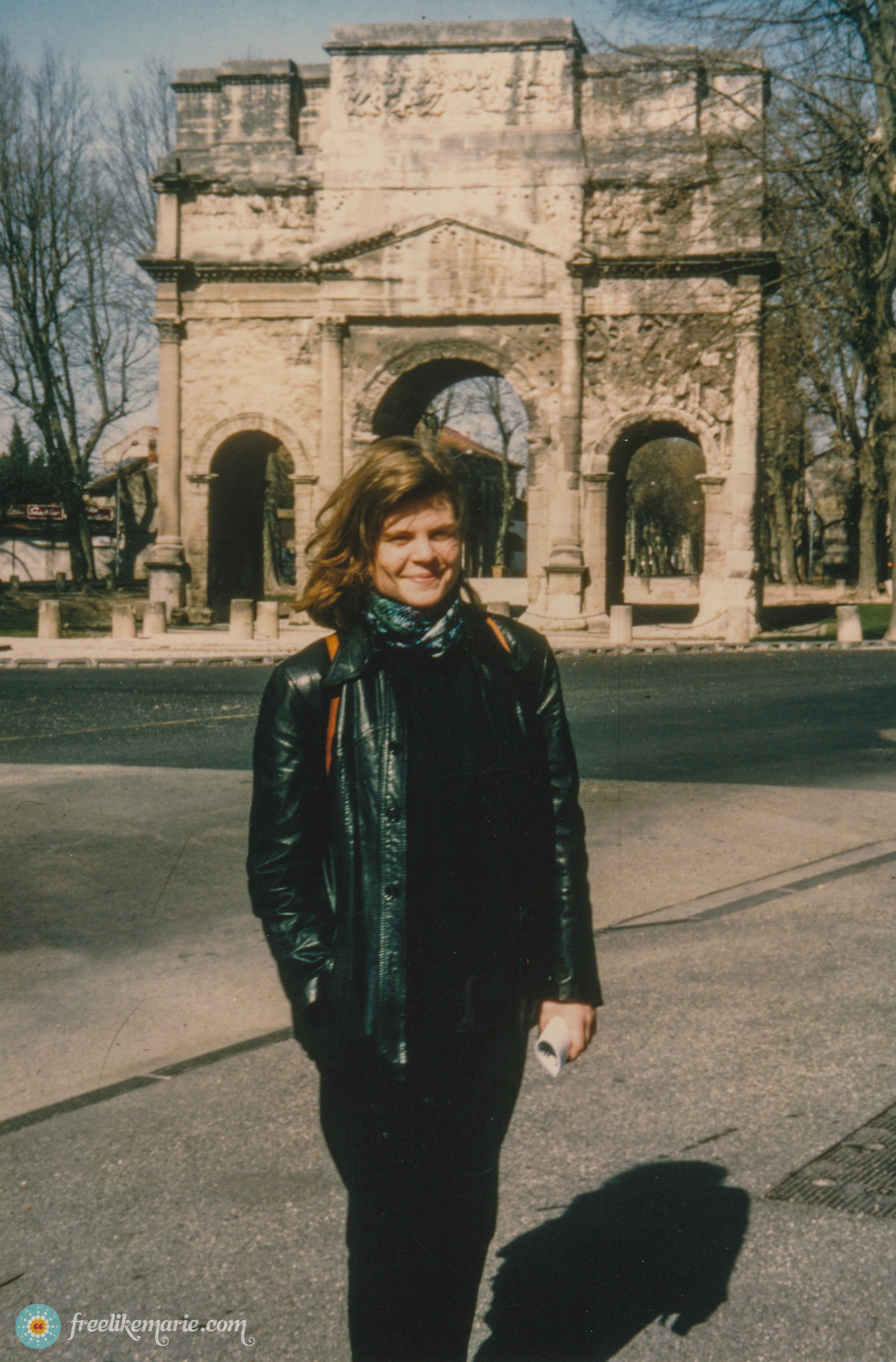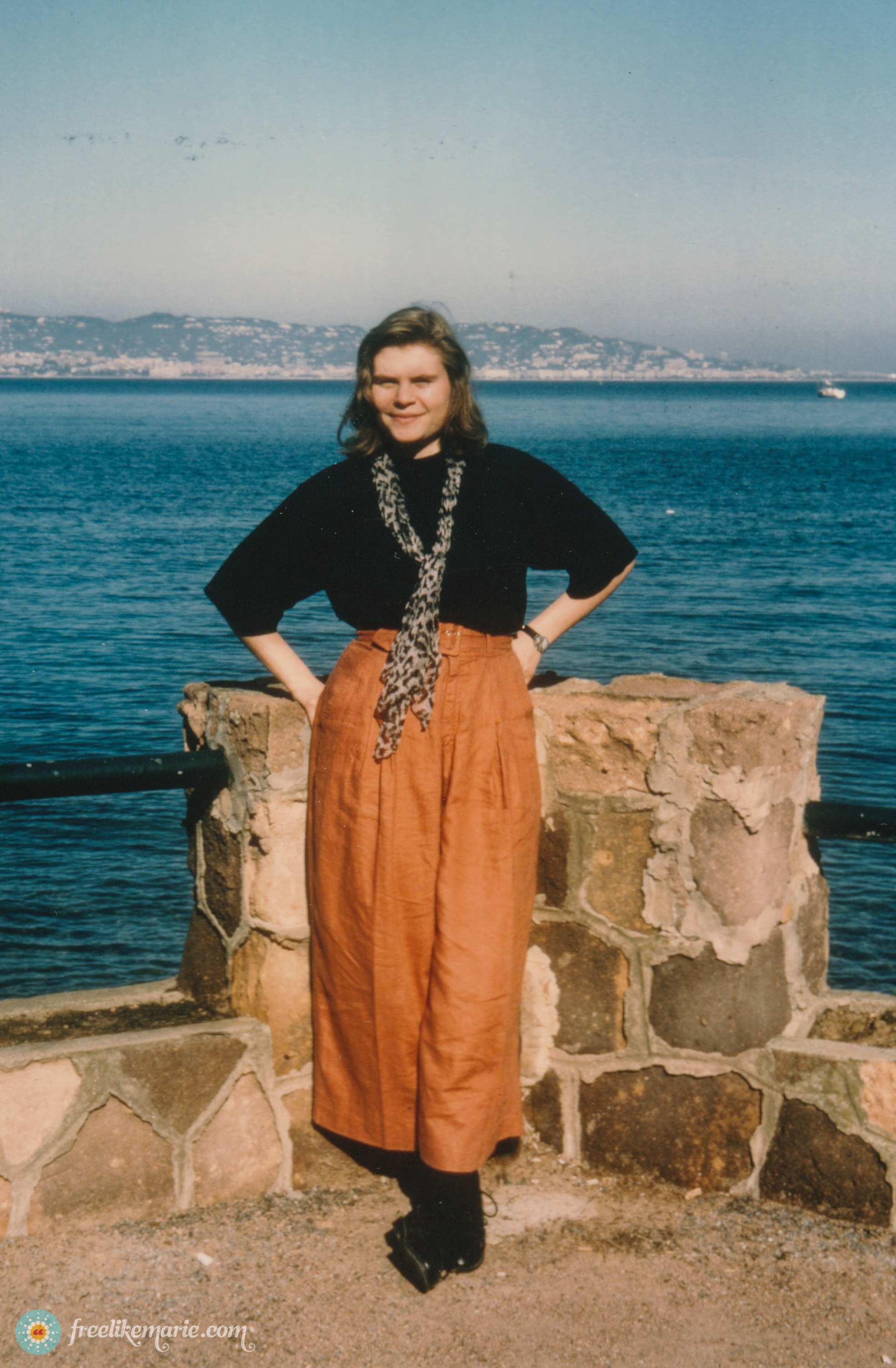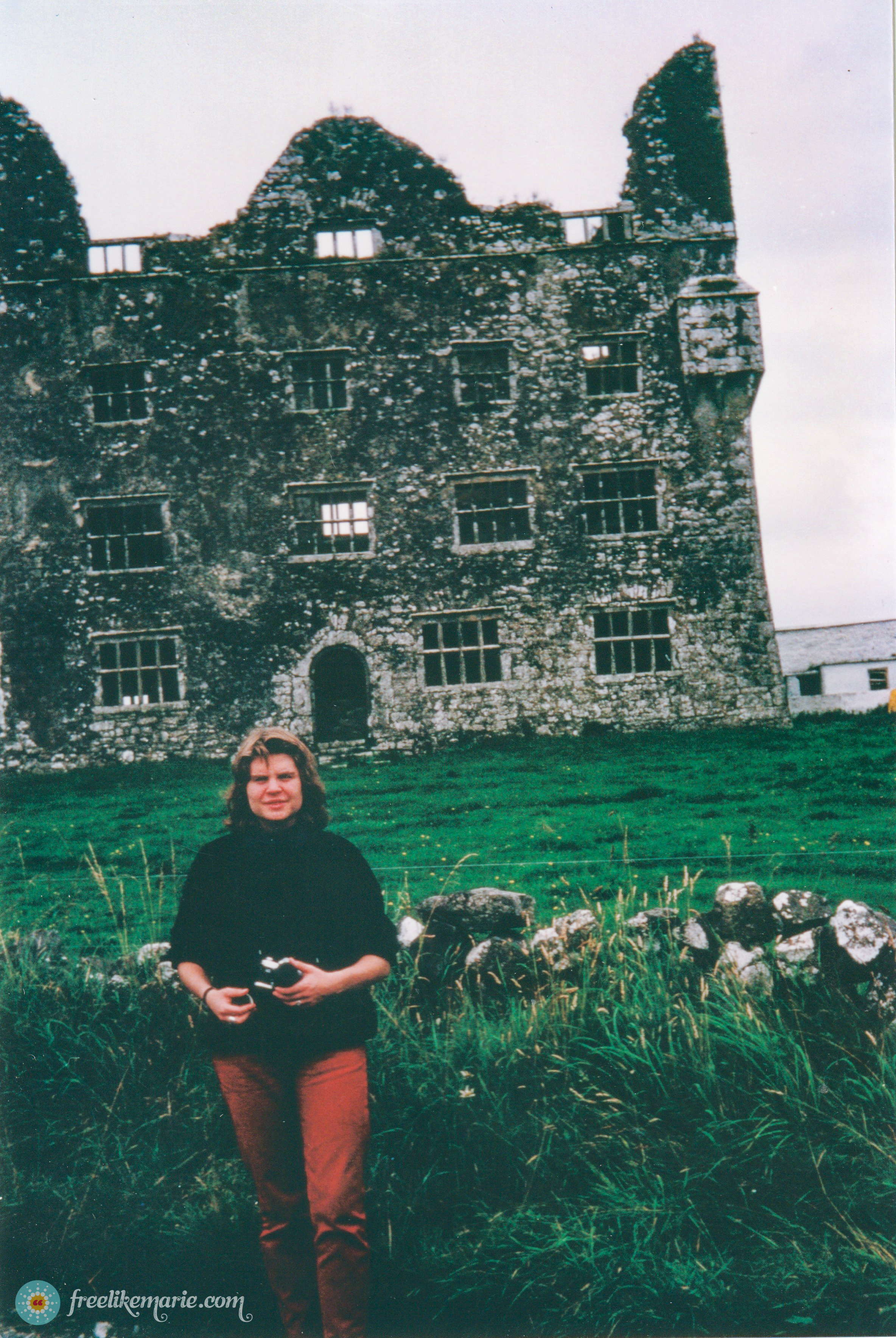 1994 trips to Southern France and Ireland, and defo my not so nice phase
Today I am at peace with this, even though launching a travel blog in 2020 probably makes me the-latest-adopter-there-has-ever-been. Well, nevermind.
Let's sum up the rest of my not-so-rip-roaring 20s: Finishing my studies with a Master's saw me panicking about what to do next, so I just continued with a PhD for lack of alternatives.
That led me to post-grad studying in Bergen, Norway, for two years, which was very cool (mostly literally).
Having spent some months as an au pair in the US and Finland and some "finding myself" time in Poland (not striking gold there, either), at least I could finish my 20s saying that I had been living abroad for five and a half years.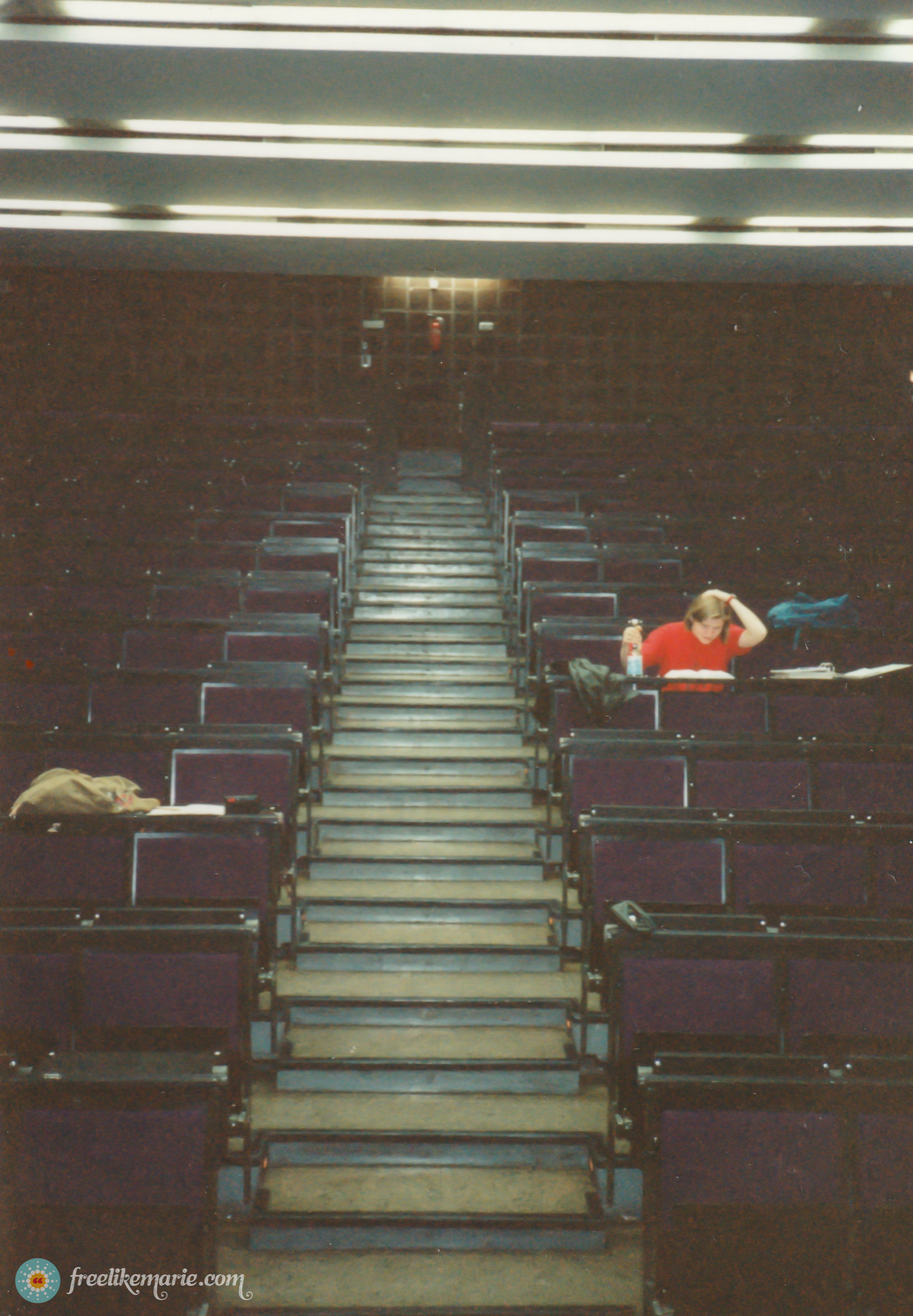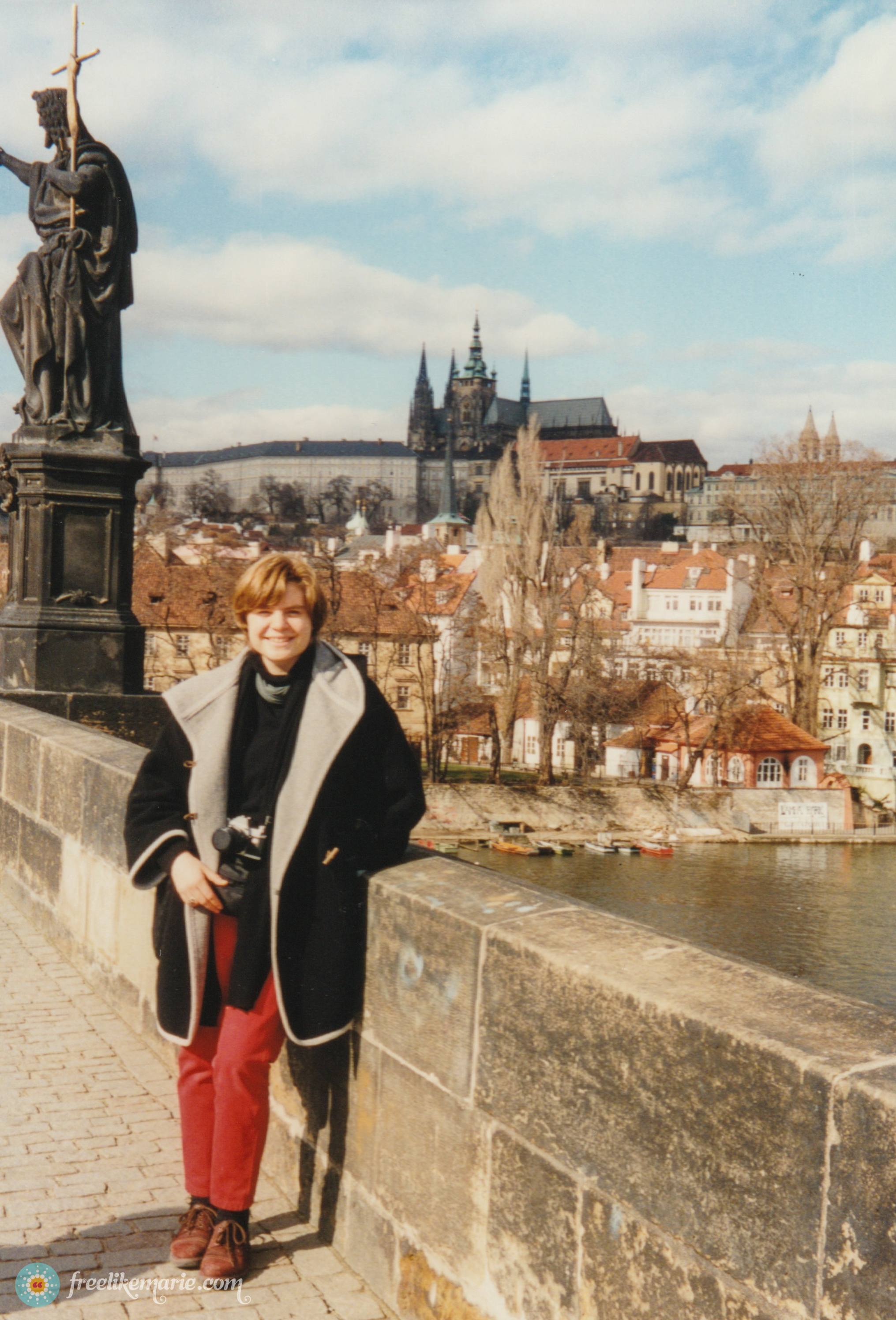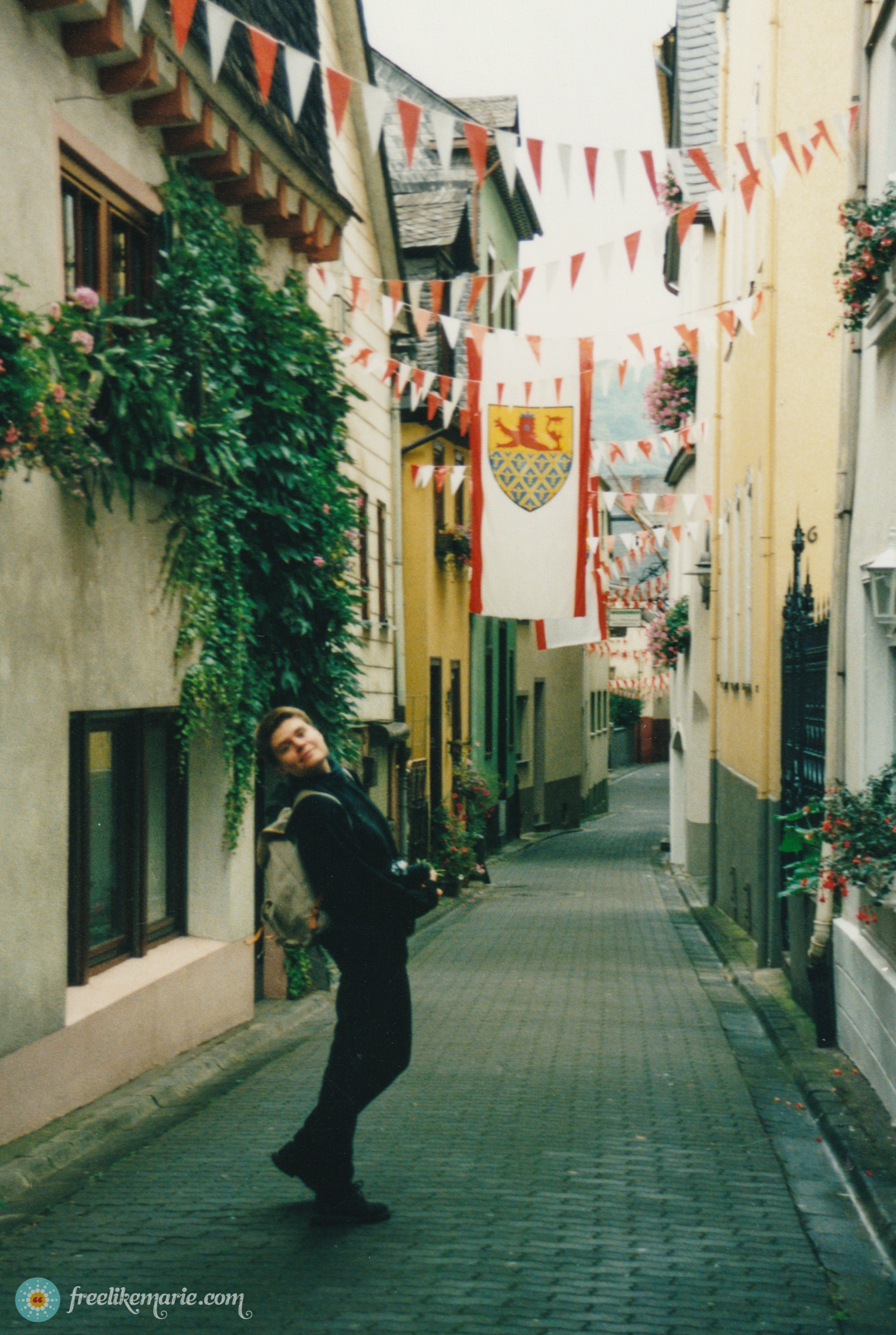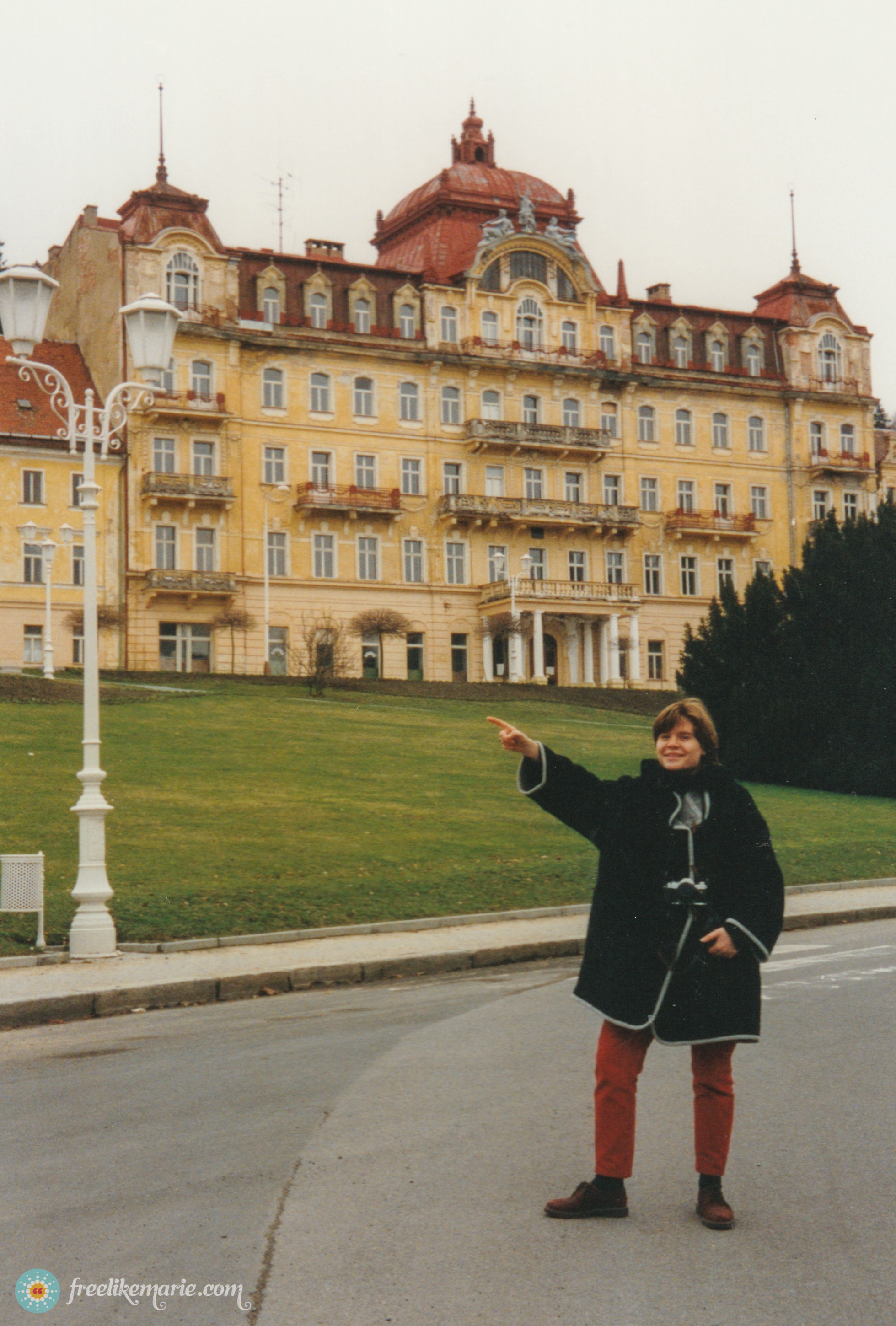 No work, no play: Studying hard, then traveling in Germany and the Czech Republic
Now, you may say, well, this is brilliant, why is she complaining? I am not.
It's just that if you do all this in a more or less dark state of mind, it kind of dampens the experience. The loneliness I felt in the French campus dorm. The aimless drifting around, not knowing how to put my horsepower on the tarmac, so to speak. The purposelessness. The perspectivelessness.
Traveling was a band-aid, but it never cured anything. Tecum fugis was real.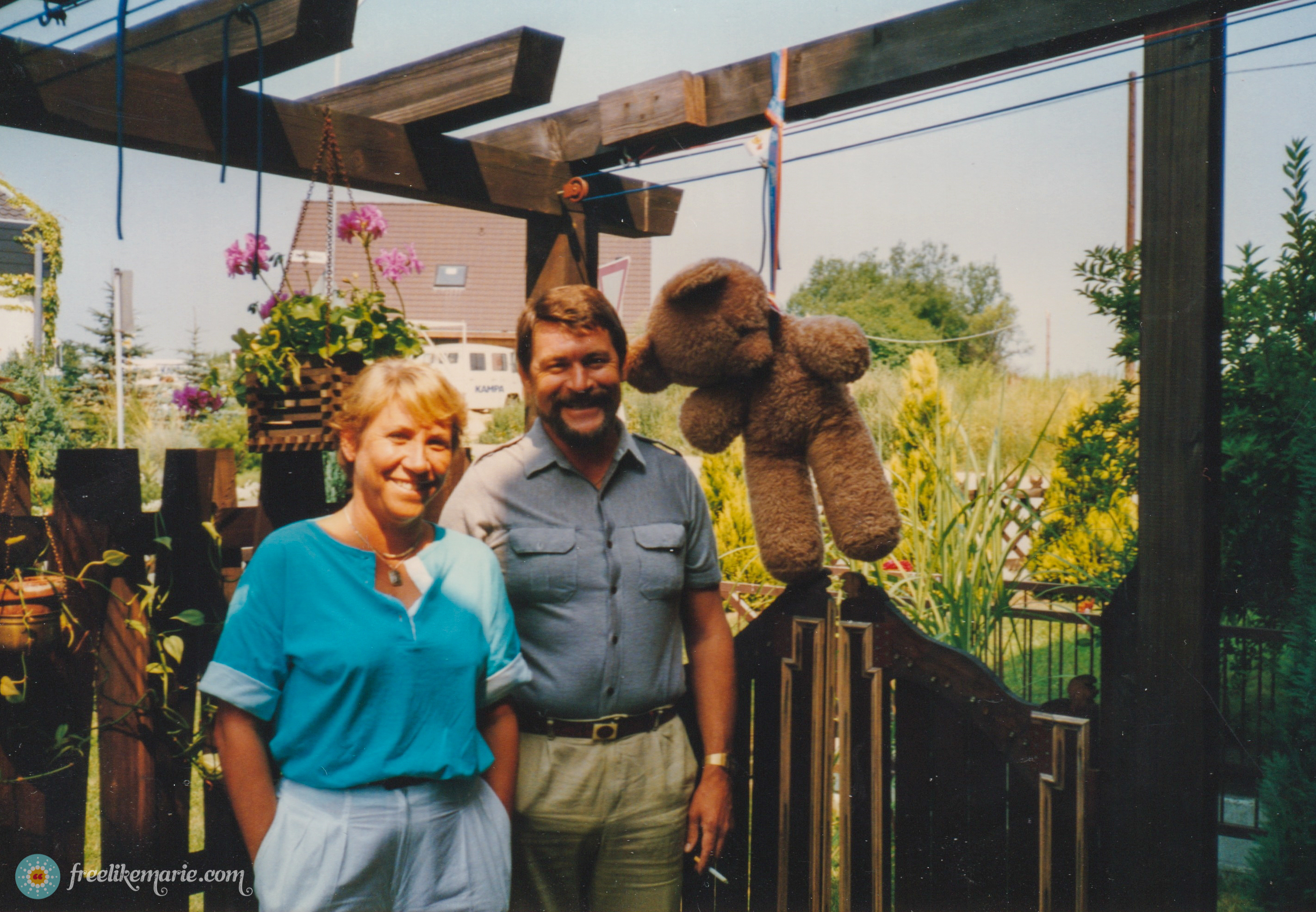 When I was 14 or 15, there was a competition for kids by a company that had made a branded measuring tape. The goal: Send in a photo where you use the tape in a creative way. Just the outlet for my kind of humor (apparently approved by my parents). Little did I know how foreshadowing this was.
In Norway, I was diagnosed with depression for the first time, as that doctor saw what others before him didn't see (even when I was close to taking my life in my early study years, the doctor I had been calling just told me to go to therapy, while it takes months and months to get a place on a treatment program. Very helpful in such an urgent situation).
That diagnosis was the turning point of my life. Finally I knew what was happening with me.
And from there: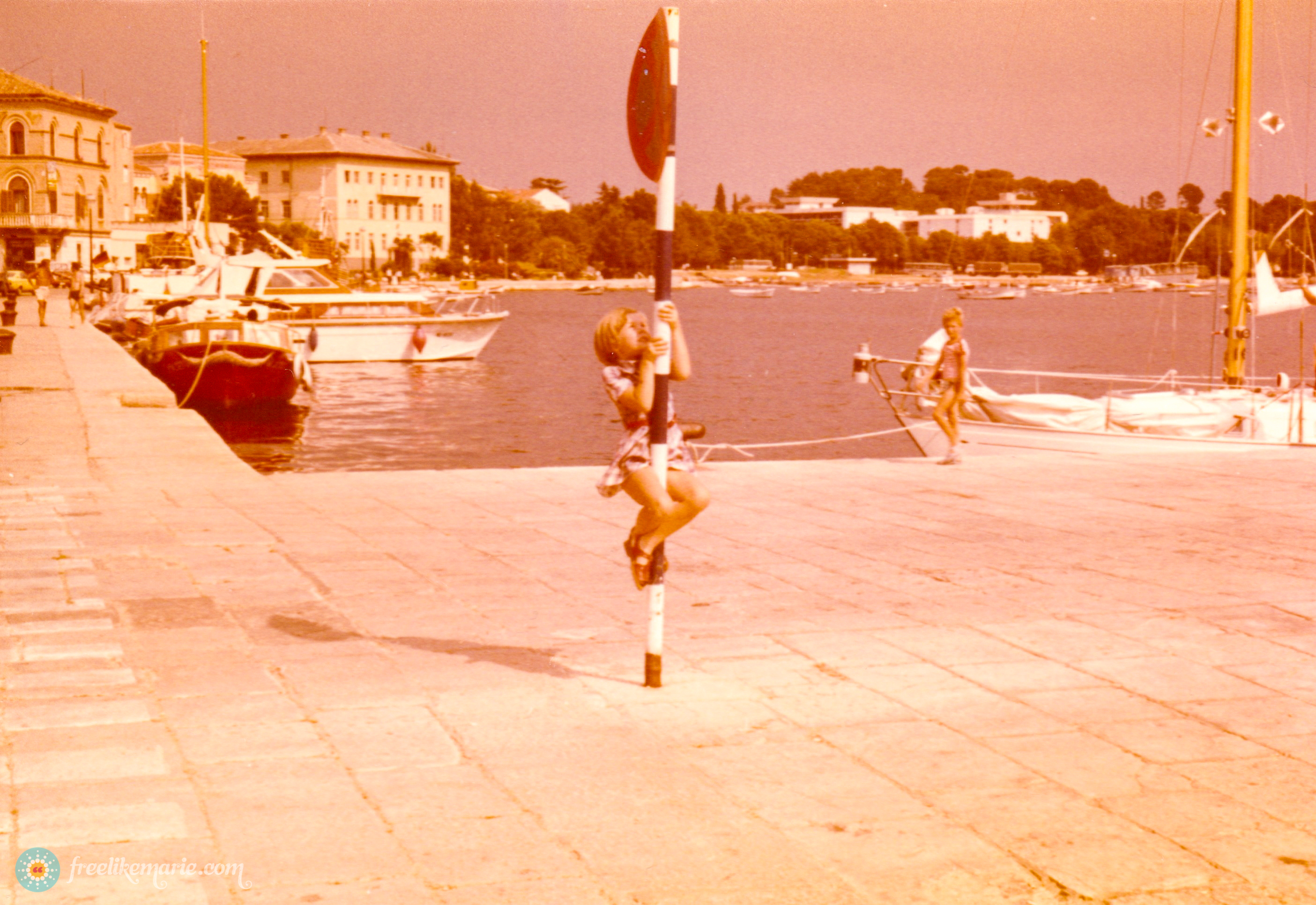 Self-Searching Thirties
The 30s will go down in history as my stuck'n'searching years. Being stuck at home most of the time (no money, no travels) I mainly groped around in this thickly misty what-to-do-with-my-life (aka The Fog).
At least, I had the diagnosis – I knew now what was wrong with me, and that I had to do something about it.
The end of a relationship I had ruined due to my traumas and resulting destructive behavior patterns accelerated things. I went to a psychosomatic clinic in 2001, and that truly sparked Life 2.0 for me.
The beginnings were hard, though. I started off working as a proofreader and editor and finally launched my copywriting agency in 2006.
With which I quickly got clients, but somehow I had acquired a severe money mismanagement matrix. It was not until I went to a money mindset seminar in 2019 that I stopped living around the financial flatline.
Living under existential threat for long years does have an effect on your psyche. When you wonder more often than not how you can pay your rent it sucks the life energy out of you.
Being a loner in tendency did not help, either. Luckily, my 30s taught me that friends are everything. And so I started cultivating friendships – a life-saver and joy-bringer and more important to me than romantic relationships, really (thanks, all my near and dear ones!).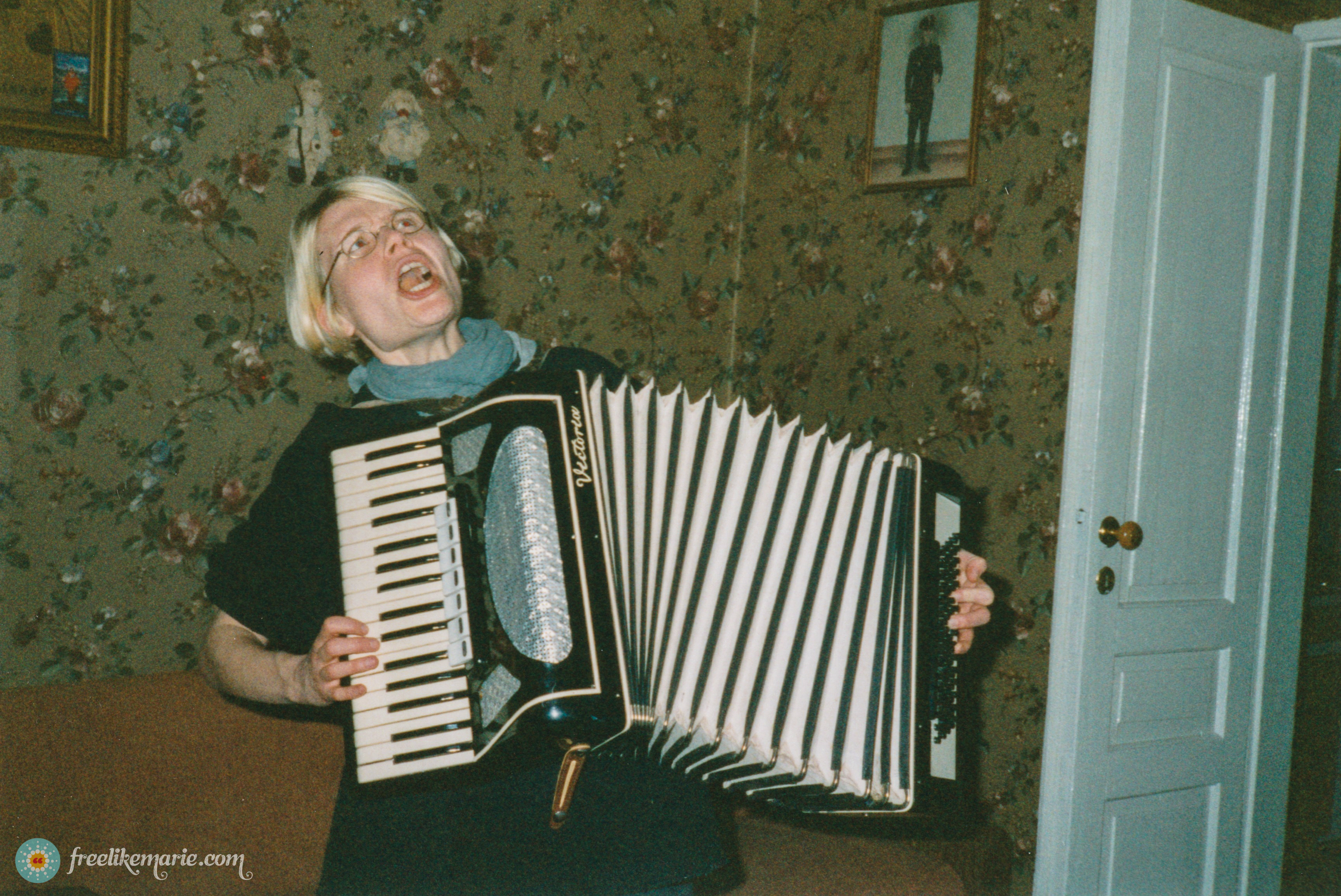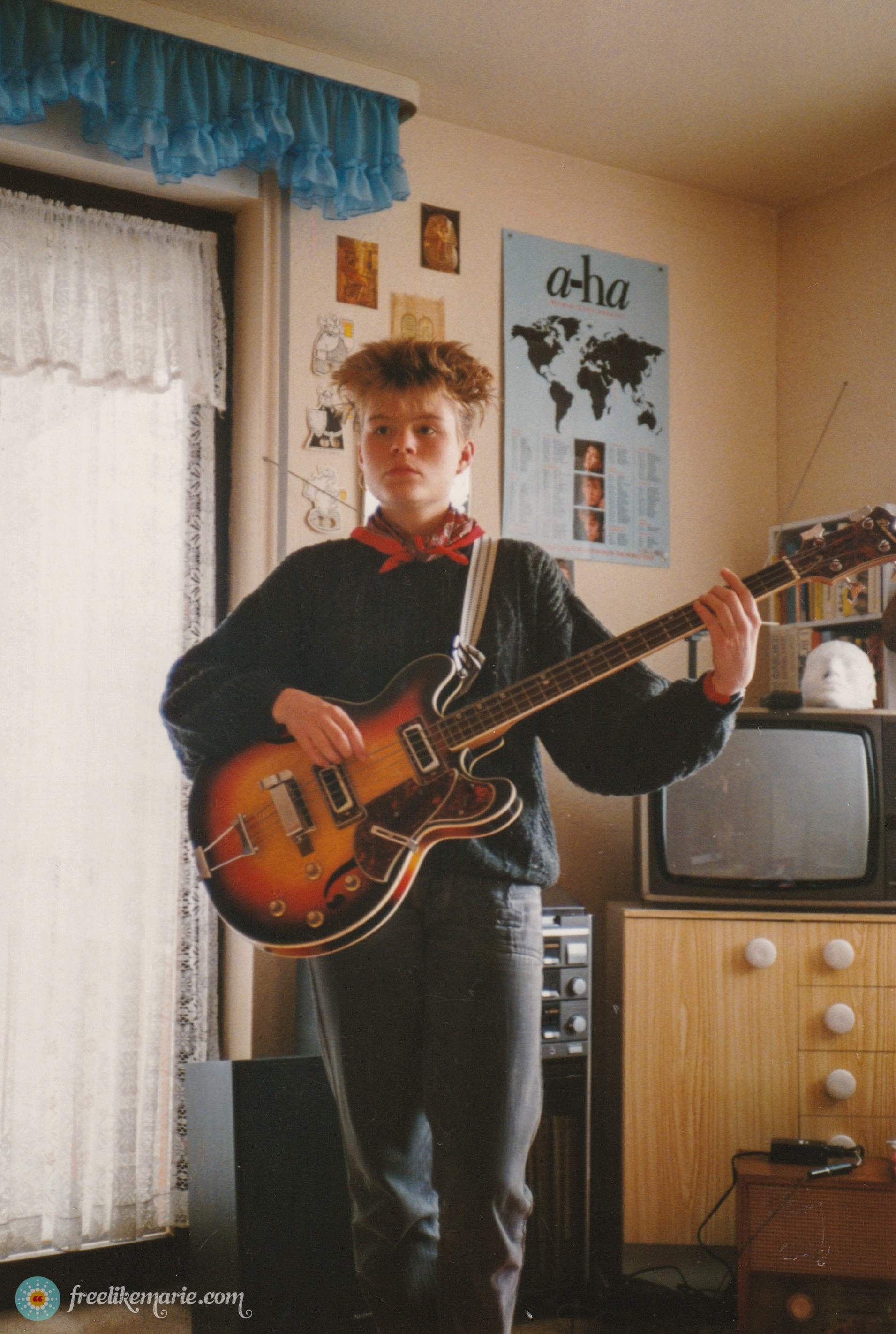 My music pulls me thru… Even though I may look like Brian May or Molly the Shanty Queen, I am the Great Pretender when it comes to playing instruments. Alas.
A yoga friend told me about a self-awareness program which I could not really afford but somehow managed to scrape together. Luckily, because it brought me Life 3.0 – a life with a reconnection to the spiritual, from which point everything got gradually better.
(Funnily enough, the same thing as with the missed blog opportunity happened again. I graduated from that program as a breathwork teacher but did not do anything with it. Fast forward 14 years to 2020, and breathwork has become THE shizzle (some even say breathwork is the new yoga). Again, I could have been a trailblazer. Again, life just passed me by, waving cheerily to passive me behind that big, big glass wall of lethargy.)
Still, things took time, and sssalowly, sssalowly they fell into place.
Right before my 40th birthday I moved to a small village in Northern Germany, my favorite region that I had always been drawn to. And in this idyllic rural setting close to the Baltic Sea, I finally became ready for Life 4.0.
Happyish Forties
Hopped into the new decade with a big party where I invited friends and the whole village.
Learned surfing, sailing, and boating. Met a guy who golfed, so learned golfing (life motto: learn till you drop).
Had a 5 year on-off relationship with him (don't even ask!) but managed to take up traveling after almost 15 years of stuckness. Hit some Greek islands (bucket-list Santorini), Sicily, Southern England (bucket-list Scilly Islands), Mallorca and others.
Finally split up with the guy, broke with back-stabbing so-called friends, quit the unbeloved proofreading and started working remotely in Portugal, my happy place.
Life 4.0 was in full swing now!
And in 2017, finally, finally, I booked that one-way flight to Bangkok and traveled South East Asia for 14 months as a digital oldmad. Bali, Koh Pha-Ngan, Penang, KL, Chiang Mai, the Gilis, Siem Reap – you name it, I went there. A dream come true.
And thus, after a pretty long and pretty winding road, the end of my 40s finally saw me becoming the travel writer I had wanted to be since my late teens.
On New Year 2020, free like marie! was launched. Hooray and Hallelujah!
Right after this milestone, though, marie's procrastination station took over. So again I self-sabotaged, endorsed by COVID, because who needs a travel blog in a pandemy?
Lockdown and a mastermind group finally put me back on track, and therefore you are reading those words right now. At least I hope you do.
Fantabulous Fifties?
Starting into my new decade with the Rona in full swing means no party, no travels. Nevermind, those are truly luxury problems.
As I have already lived my dream I am happy with it and keep exploring the microcosm of my home until we travel again.
So here's to fun, fast & furious 50s and to a fulfilling 2nd half-century!
Aloha & Godspeed!