What is almost 150 years old and young as a new day?
Let me explain.
Imagine you do what tourists do in Swakopmund, Namibia – you take a stroll on the famous wave-kissed Jetty. At the beginning of the historical wooden pier you stumble over a small café called "1877 Doughnut Bar".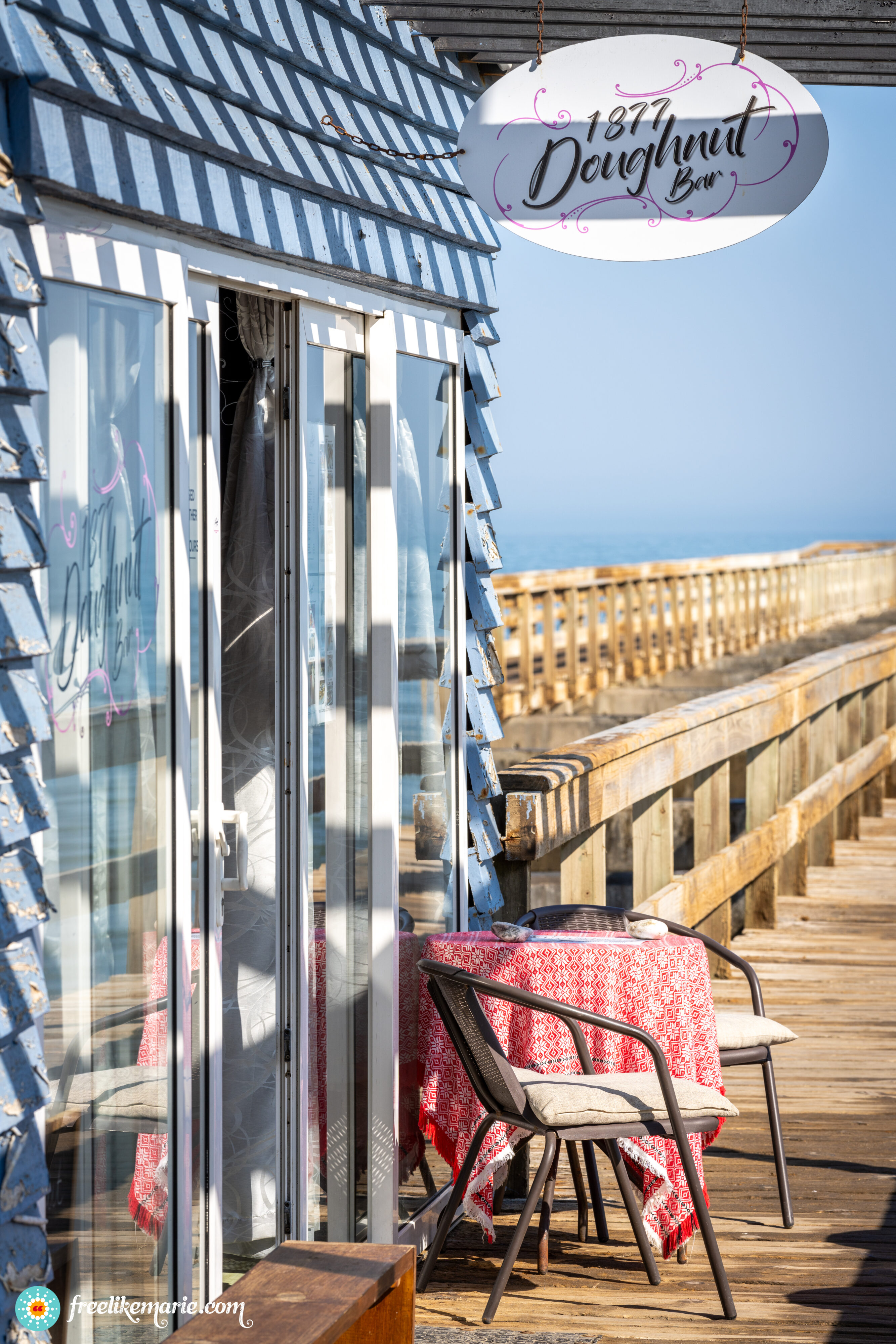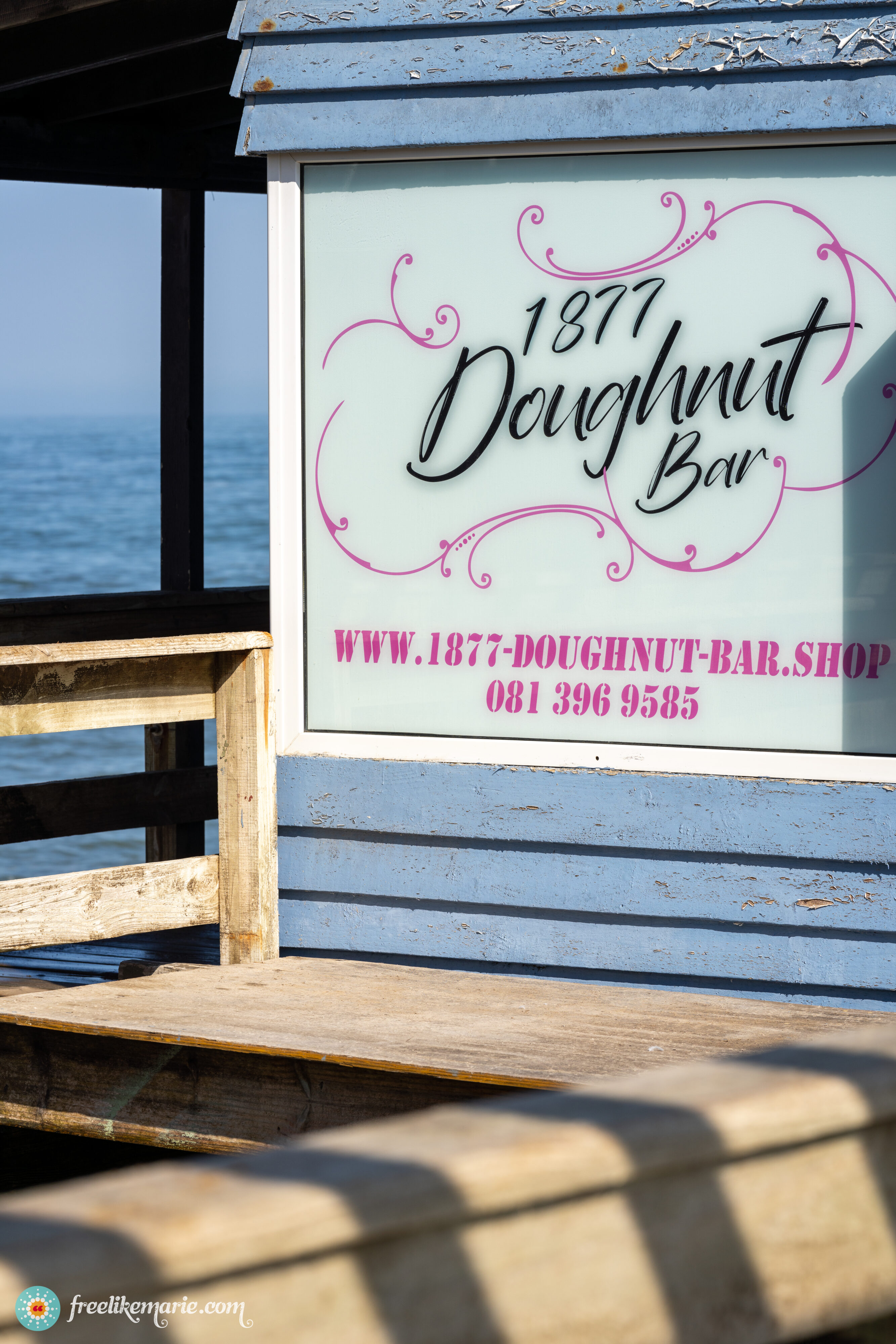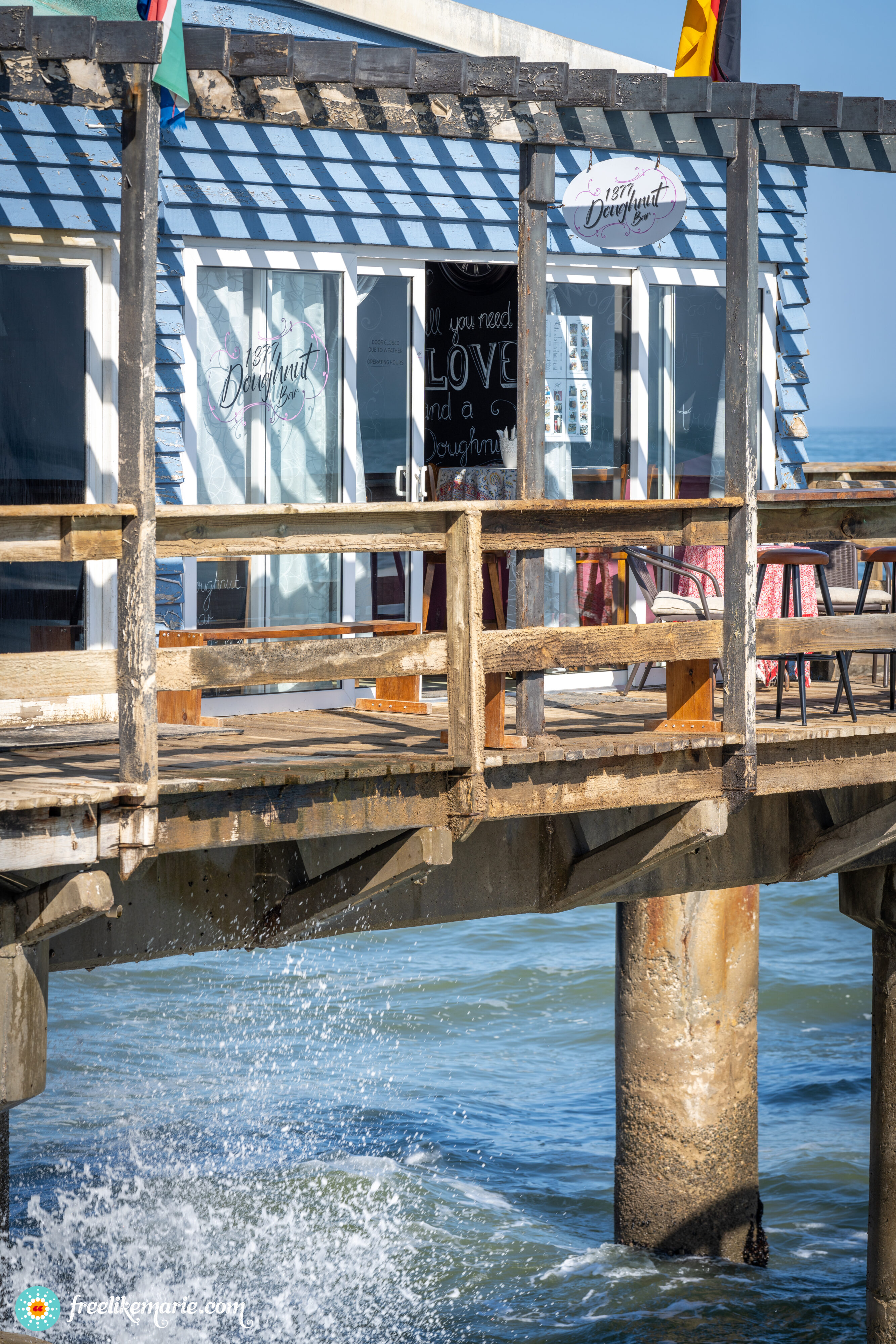 You usually don't eat sugar but you are a foodie, and curious by nature. So you comply to your exception week and indulge in a yummy looking specimen, say a huge salted caramel cream and coconut whopper of a doughnut (let's just stay with the British spelling here).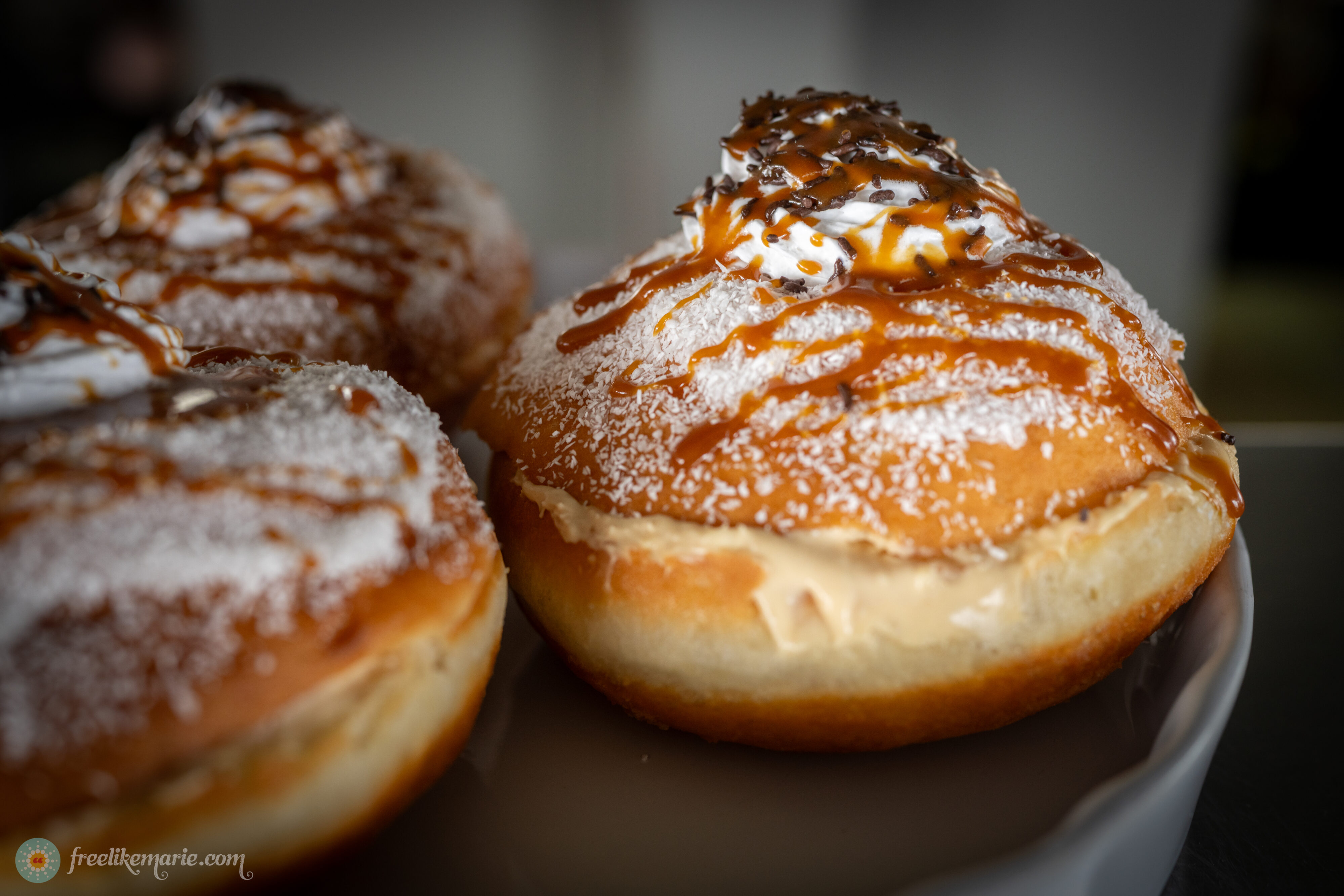 You enjoy that it is not as uber-sweet and greasy as the usual suspects, and that everything is home-made, from the dough to the cream to the sauce.
The doughnut is fluffy on the inside and crispy on the outside. The whole thing tastes super fresh and quite unique. It has a very fine aroma to it that you can't quite put your finger on. It is the same enticing flavor that already greets your nose in the morning when you pass the café while they are baking.
Everything is as it should be in a happy doughnut world.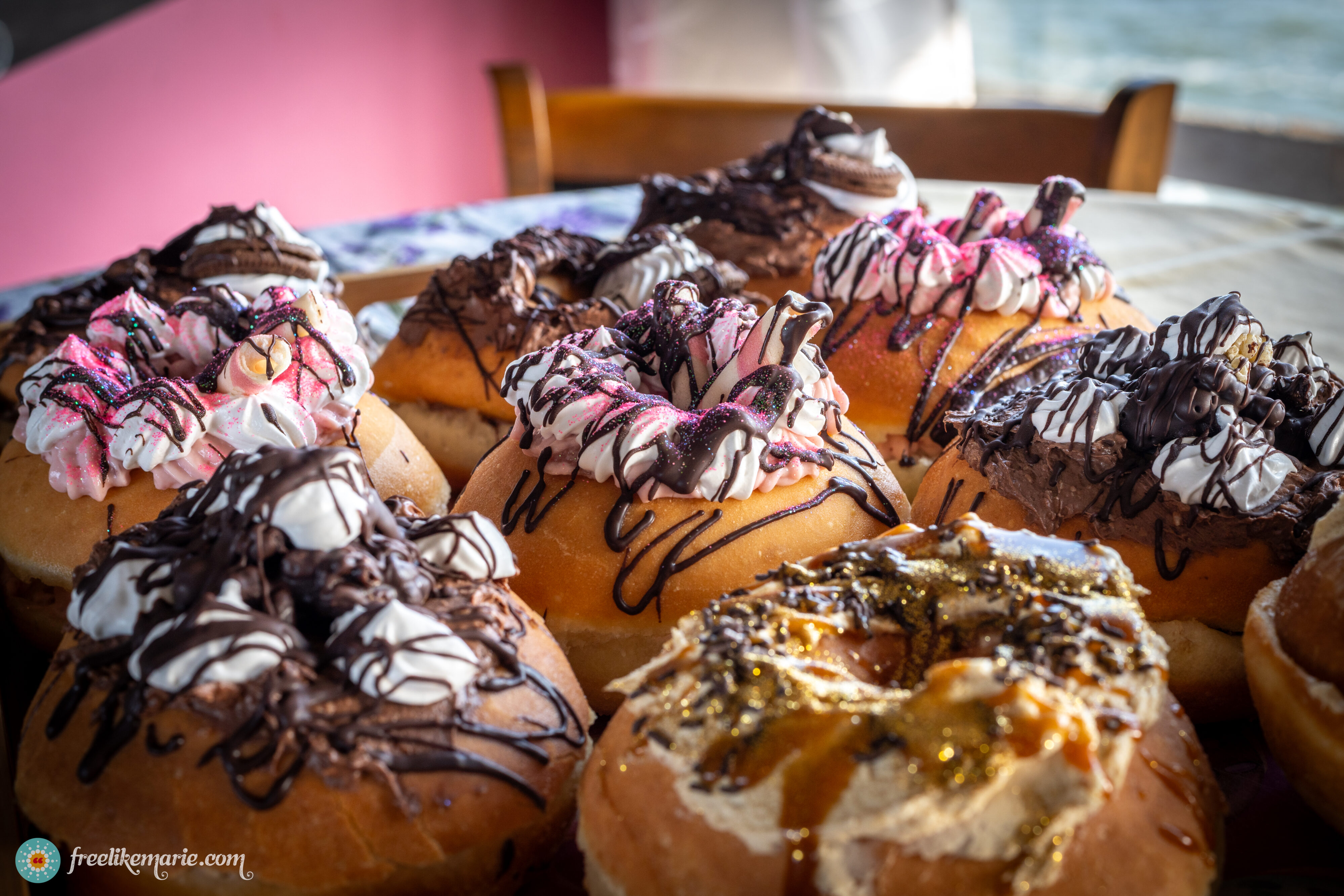 Then Karen, the German owner of the café, tells you that you are just sinking your teeth into a dough that has existed for about 150 years.
"Cool," you say, "now that's an old recipe!"
"Ähm," she replies, "you didn't quite understand: It's a sourdough, and the dough itself has existed for nearly 150 years."
"What do you mean?" you ask a slight bit incredulously.
"Well," she smiles, "this very sourdough has been around since 1877. It has literally existed since then–not just as the recipe but as the physical thing. And it also has a strong personality."
Wow! Wut??
Now I need to know everything about this oldie with attitude.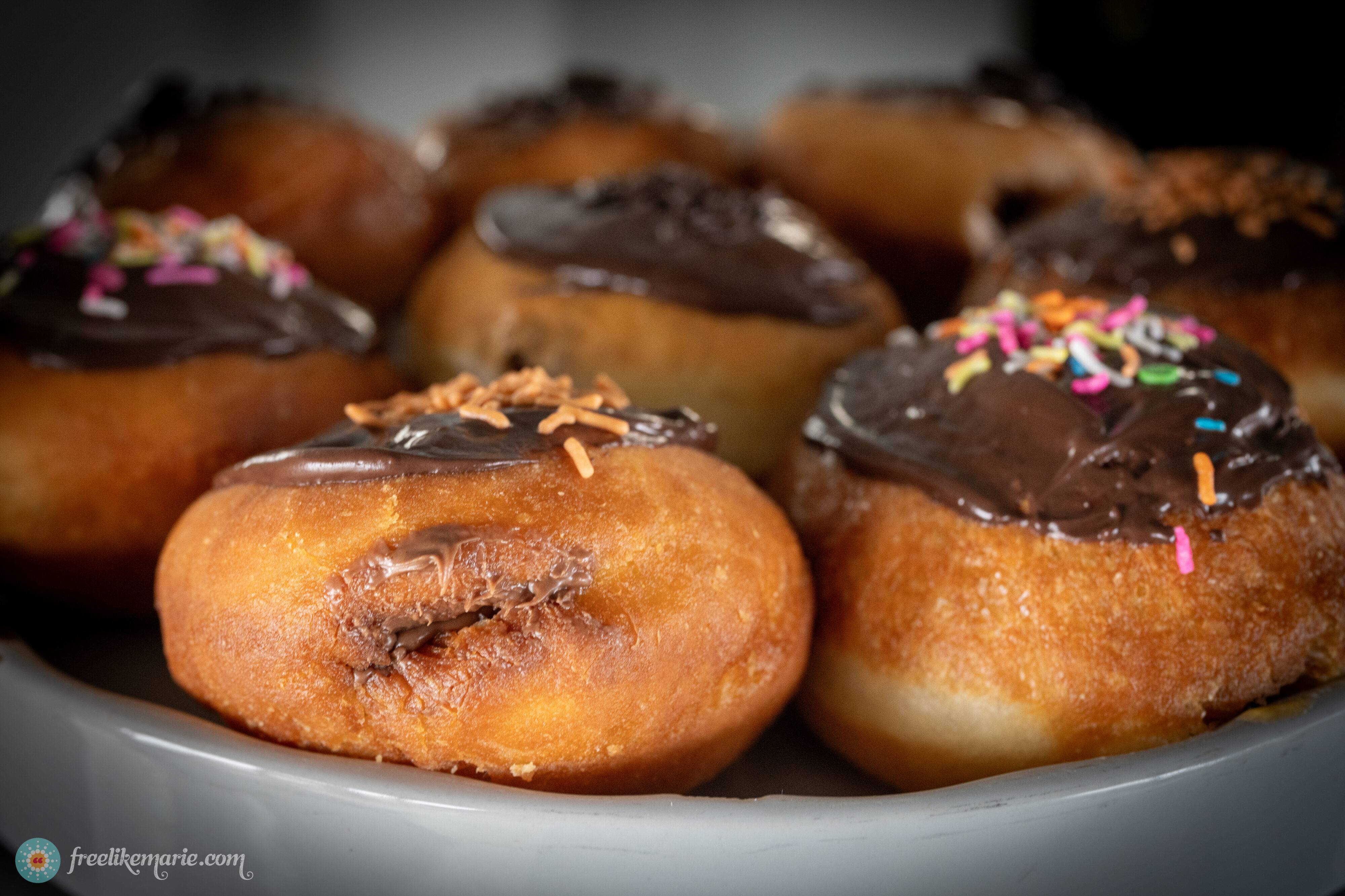 Honi soit qui mal y pense

There is a whole story behind it, actually.
Cut to the second half of the 19th century. What is known today as Namibia (which got its current name after independence from South Africa in 1990) was occupied by the Germans from 1884. They had established "German South West Africa" as their colony in order to stand against the expansion of the British Empire.
By that time, Karen's great-grandfather Albert Ferdinand Kaiser was feeling bored in his office job in Germany. An adventurer at heart, he longed to see new things and live a life outside of the cubicle (yes, that already was a thing more than 130 years ago ! He was basically the Godfather of digital nomadism, just a bit more… analog).
When he saw that the military was looking for volunteers for the so-called Schutztruppe ("protection force") in "German South West", he legged it, enrolled, and soon after set foot in what is now the charming seaside city of Swakopmund.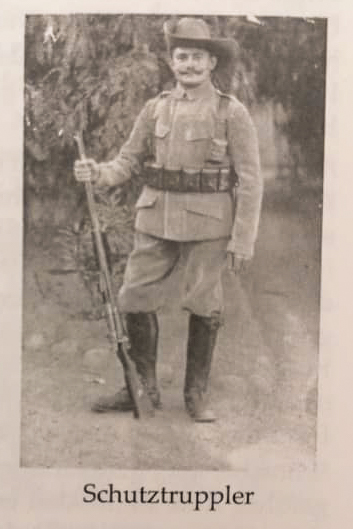 A member of the "Schutztruppe". This is how Albert Ferdinand might have looked like
(image source: Borchert family)

At that time there were only settlements in the area, no cities yet. So the first house he built was local style: wooden pales plastered with clay on the inside and pig droppings on the outside.
This lifestyle was not deemed suitable for white ladies back then, so there were almost no German women around at that time. Accordingly, Albert Ferdinand's wife Gertrud had stayed back home in Germany (surprisingly this worked out even without WhatsApp and FaceTime, go figure!).
After some years the settlement had turned into a Europeanized small town – Swakopmund's official city status was declared in 1892.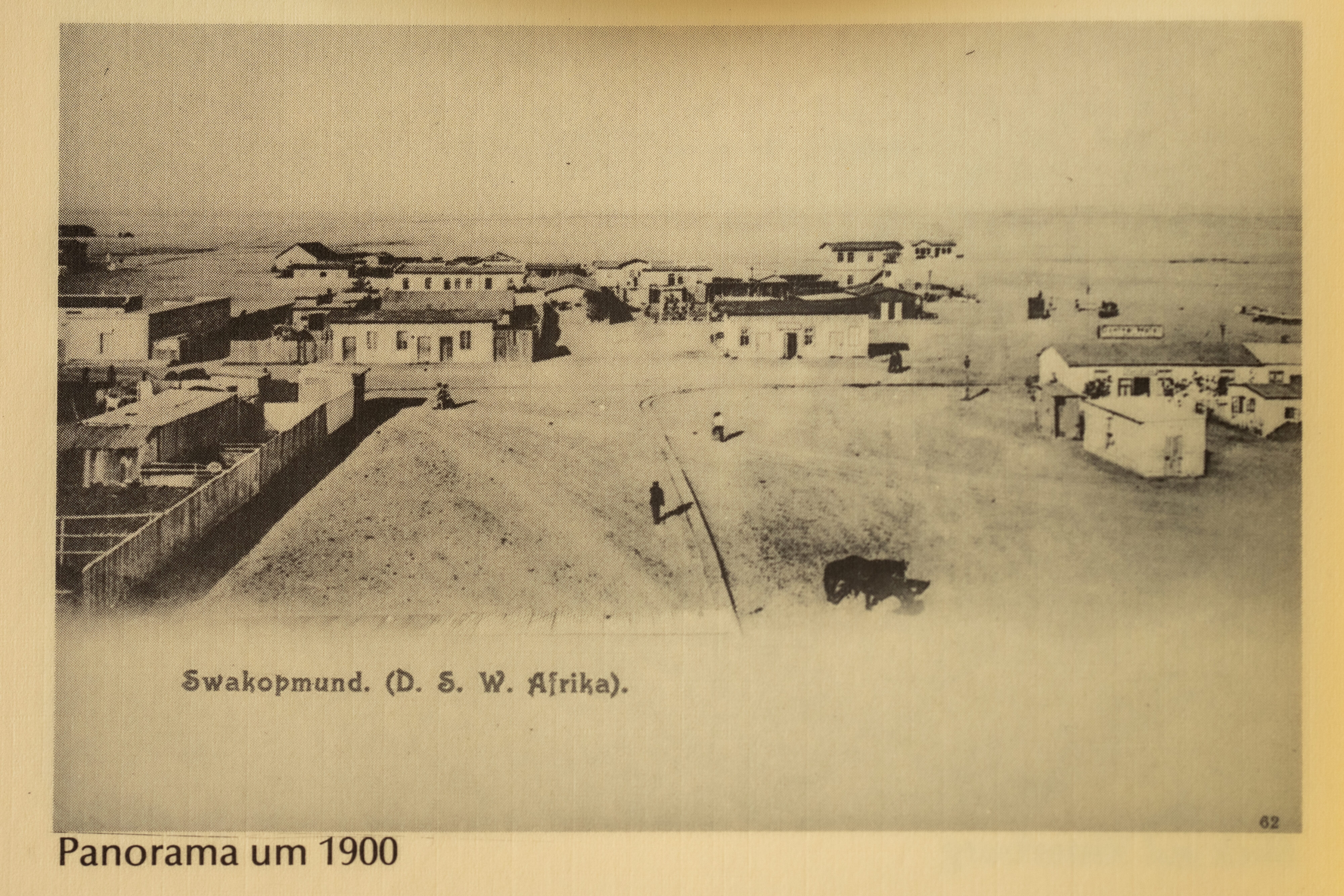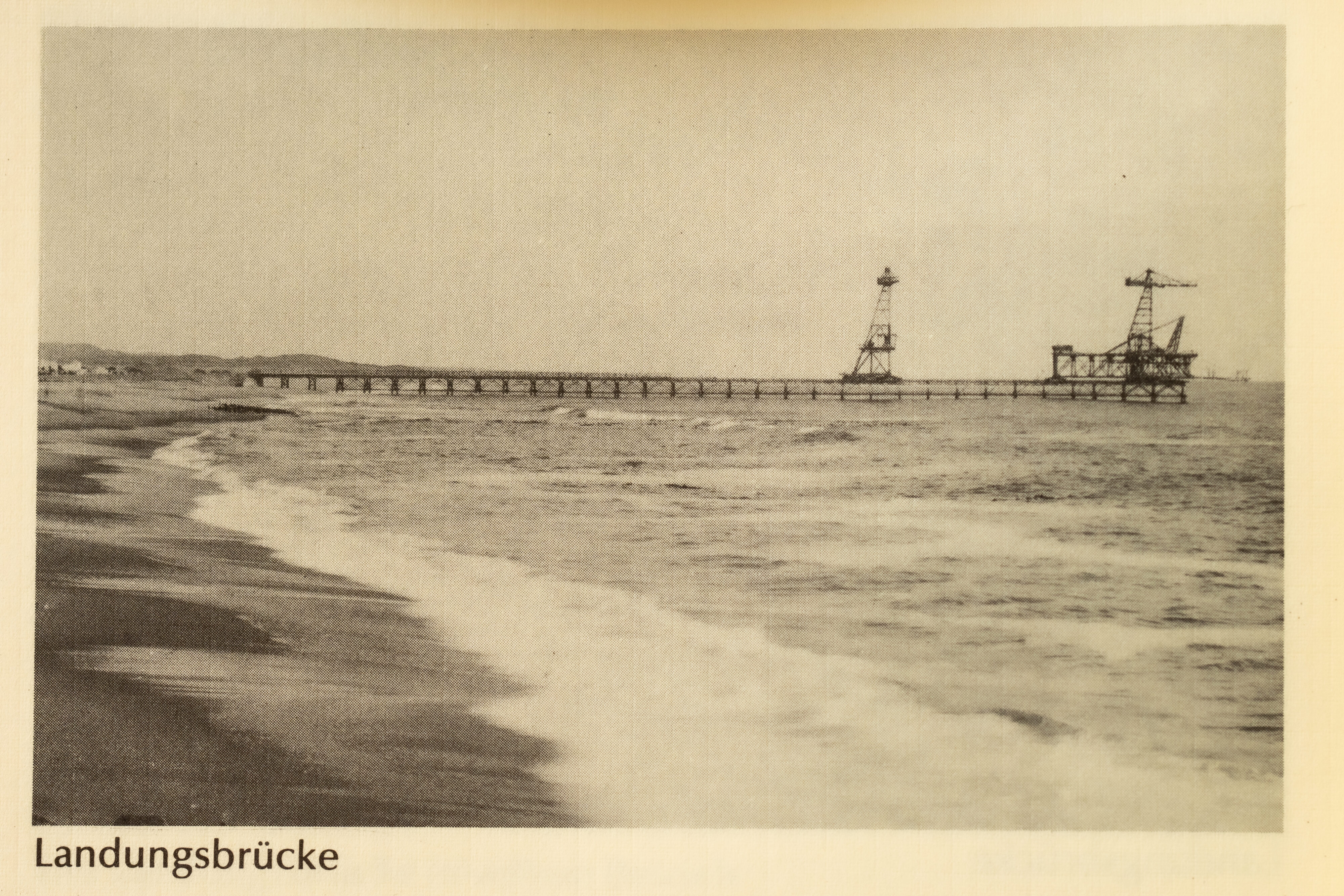 Swakopmund in 1900, already a small town, and the famous Jetty (image source: Peter's Antiques, Swakopmund)

It was a slow process, as basically all building materials were imported from Europe. This meant not only waiting months on end for a glass window or a door to get shipped but also battling to get it when it arrived, as the demand was bigger than the supply (imagine scenes like in front of an iStore when a new iPhone is released).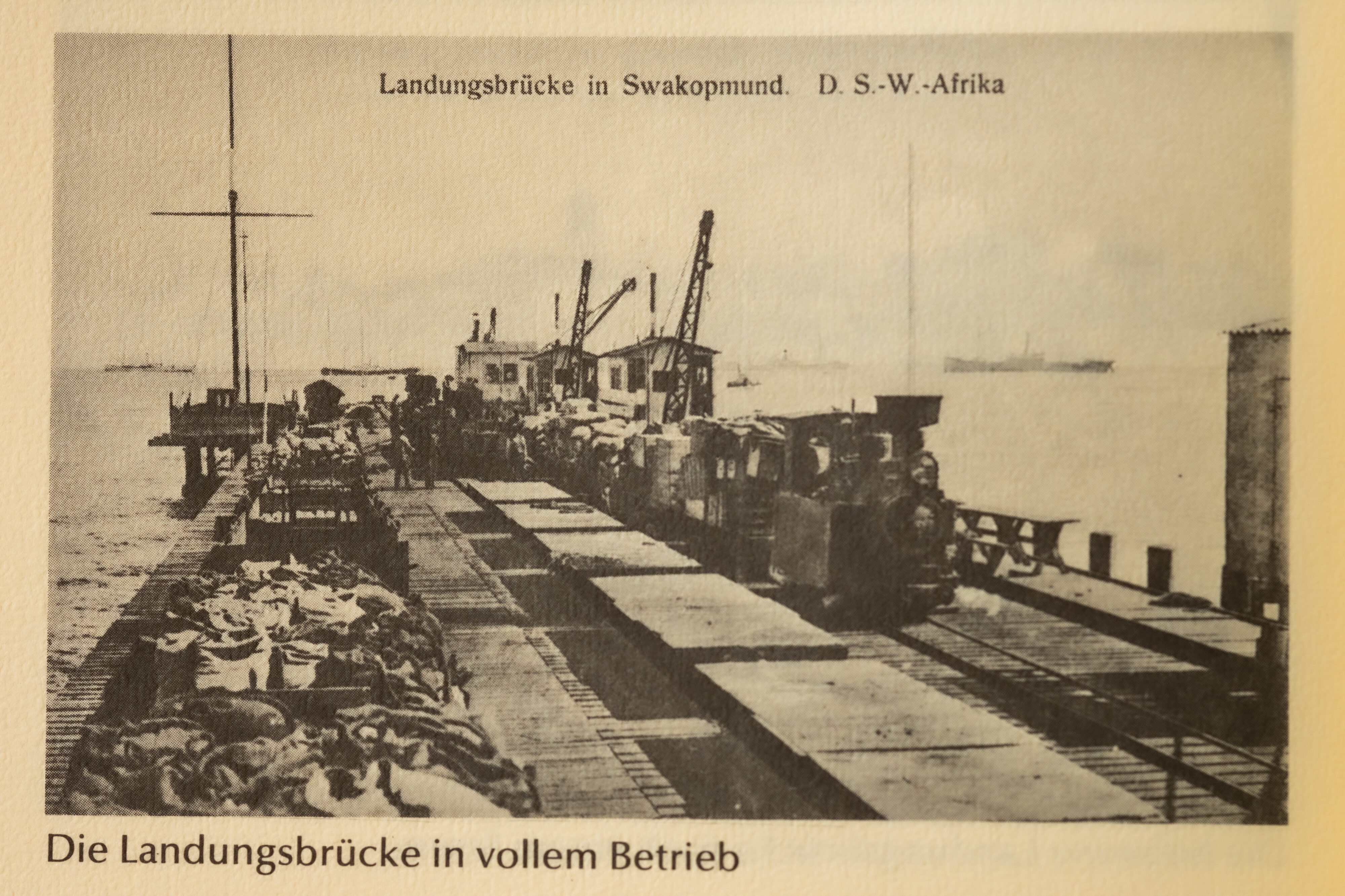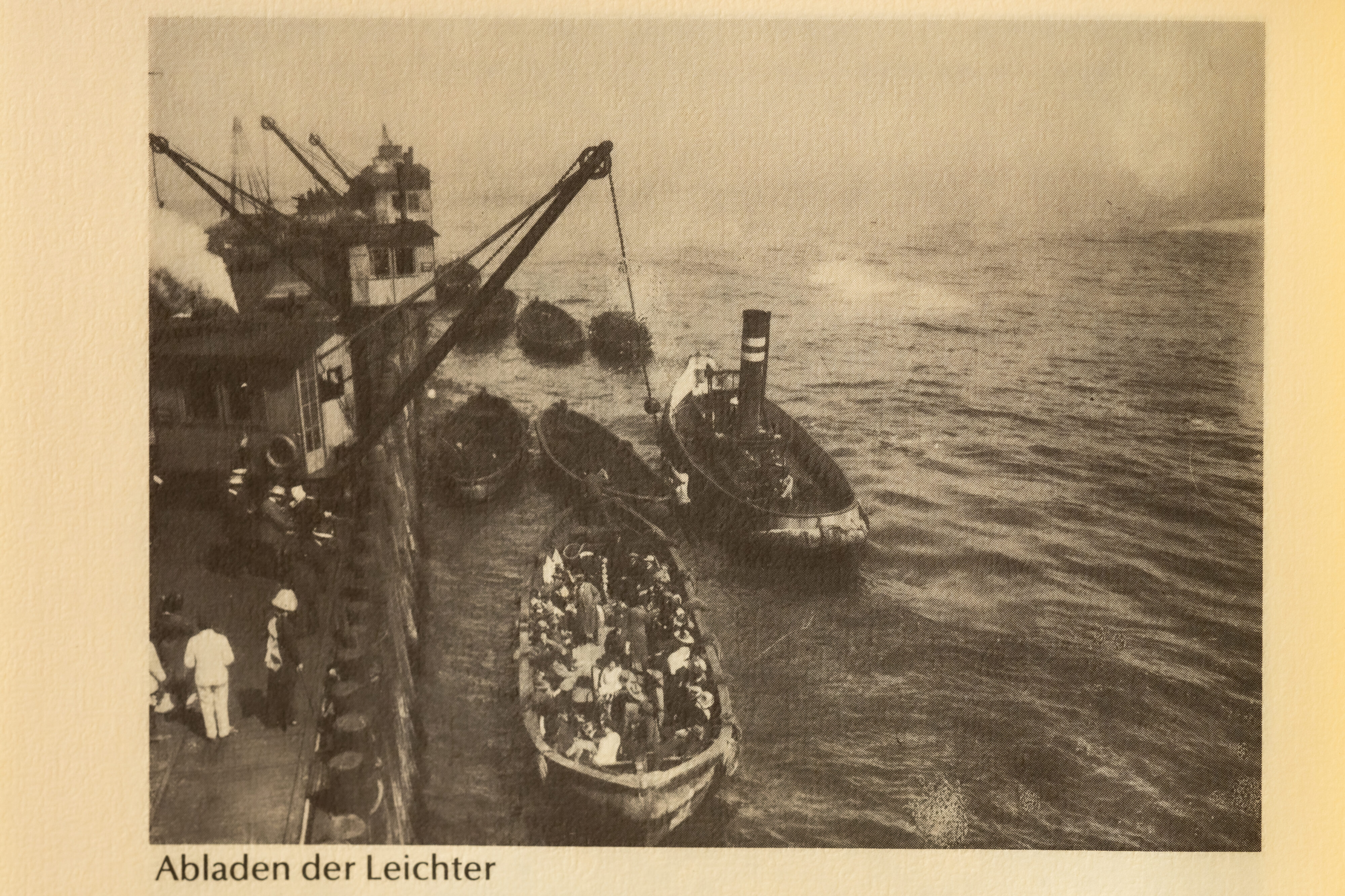 Image source: Peter's Antiques, Swakopmund

When Albert Ferdinand was thoroughly settled, it was time for Gertrud to finally join him. Back in the day, a woman was not supposed to travel alone (as I write this, I feel grateful that things have changed, at least in many cultures).
This is why Gertrud was accompanied by her resolute aunt Irene, who was also quite adventurous and, most importantly, helped Gertrud with a very special mission.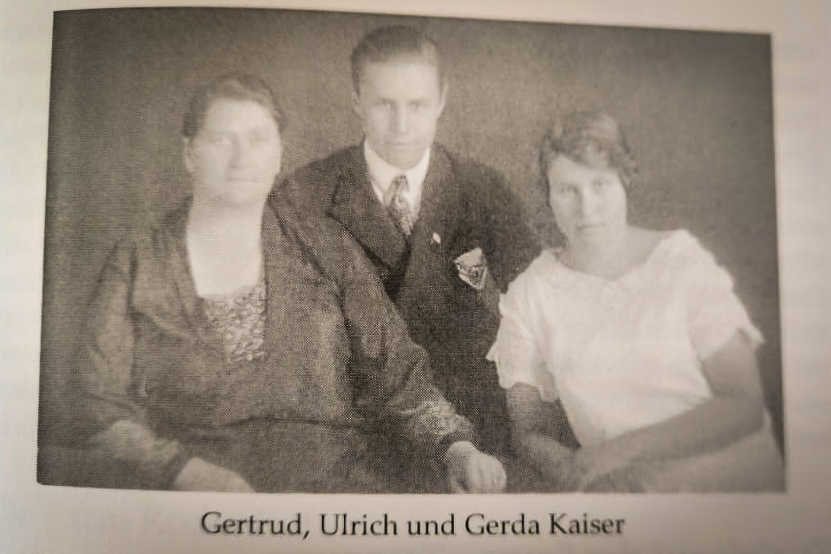 Gertrud and her children in later years (image source: Borchert family)

Put in a (dough)nutshell: Had it not been for Gertrud and Irene, none of us would be able to enjoy those fluffy doughnuts on the Swakopmund Jetty today.
In 1877, Irene had started the sourdough that would survive her for generations. The two emigrating women had been using that very dough in Germany, as it was the baking method back in the day and got passed on from mothers to daughters. They thus decided to take it with them on the passage. And the rest is history.
How they managed to keep the sourdough alive during the long months of the sea journey remains their secret (more on nurturing the dough later on).
Maybe they were making friends with the kitchen staff and thus able to keep it going. Maybe they even allocated a part to the ship's cooks so they could bake fresh bread while on board.
We will never know. But the important part is: The ladies and the dough made it alive!
Little did Irene and Gertrud know that their efforts would turn into a "flour"ishing baking business more than a century later.
The two women stepped on land right next to the current Jetty, and Gertrud was finally reunited with her beloved Albert Ferdinand.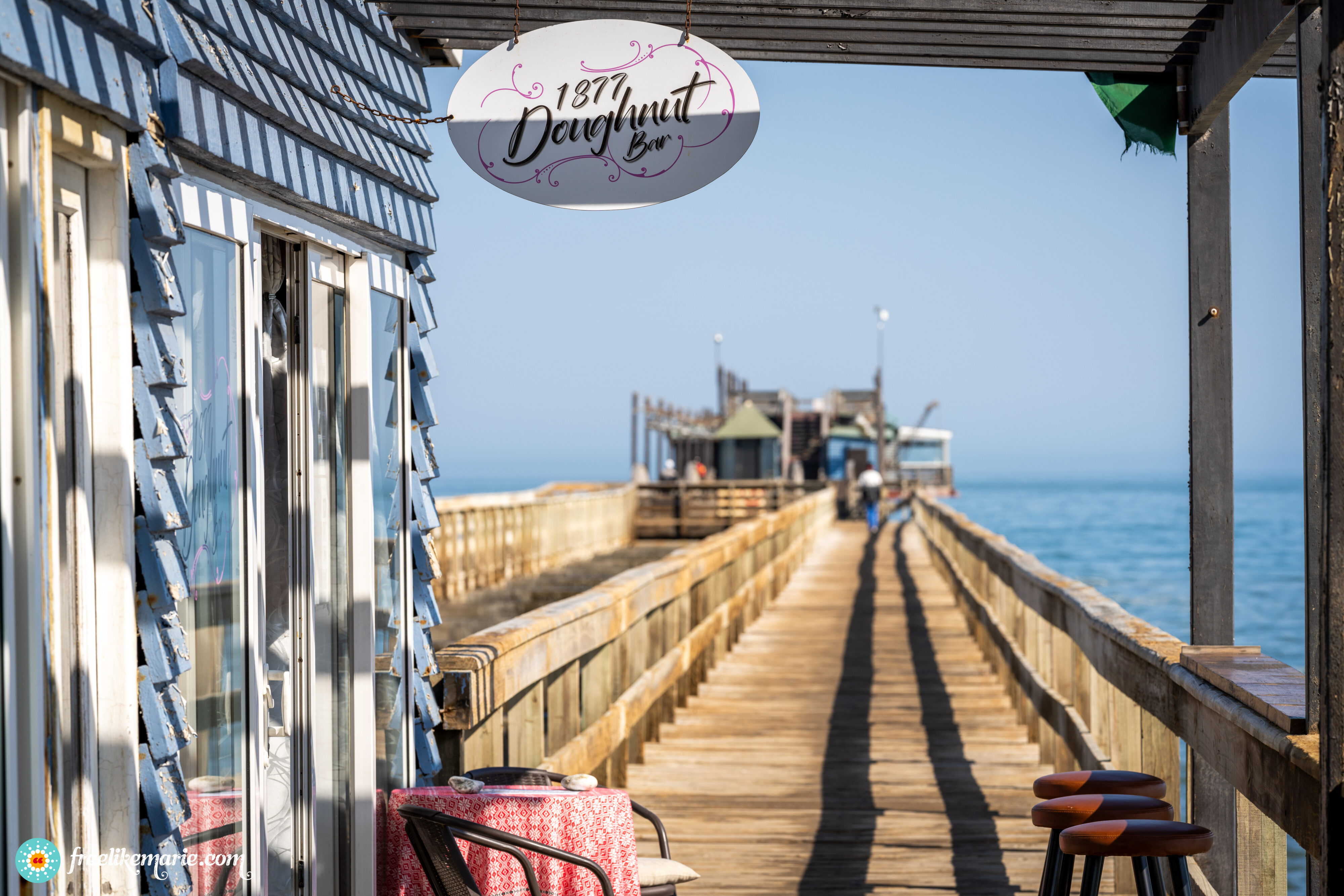 The Jetty at Gertrud's time and now, with her great-granddaughter's café (left image source: Peter's Antiques, Swakopmund)

Over the next generations, the sourdough became the star of the family. It was kept alive and bubbling by Karen's great-grandmother (i.e. Gertrud), grandmother, and mother. Today it is Karen and her family who keep it juicy, so that it may also make it through the next centuries.
This generational baking would have remained a family affair, had not Terence, Karen's son, complained one day that there were no decent doughnuts to be had in Namibia. Either they were too greasy or too sweet, or just not tasty.
Clearly a case for Captain Obvious: "Let's use our rock star dough to make doughnuts and sell them in Swakopmund!"
They started experimenting and were soon satisfied with the results. Karen has a background in gourmet cooking, so from the start they used high quality ingredients, which makes the doughnuts stand out even more.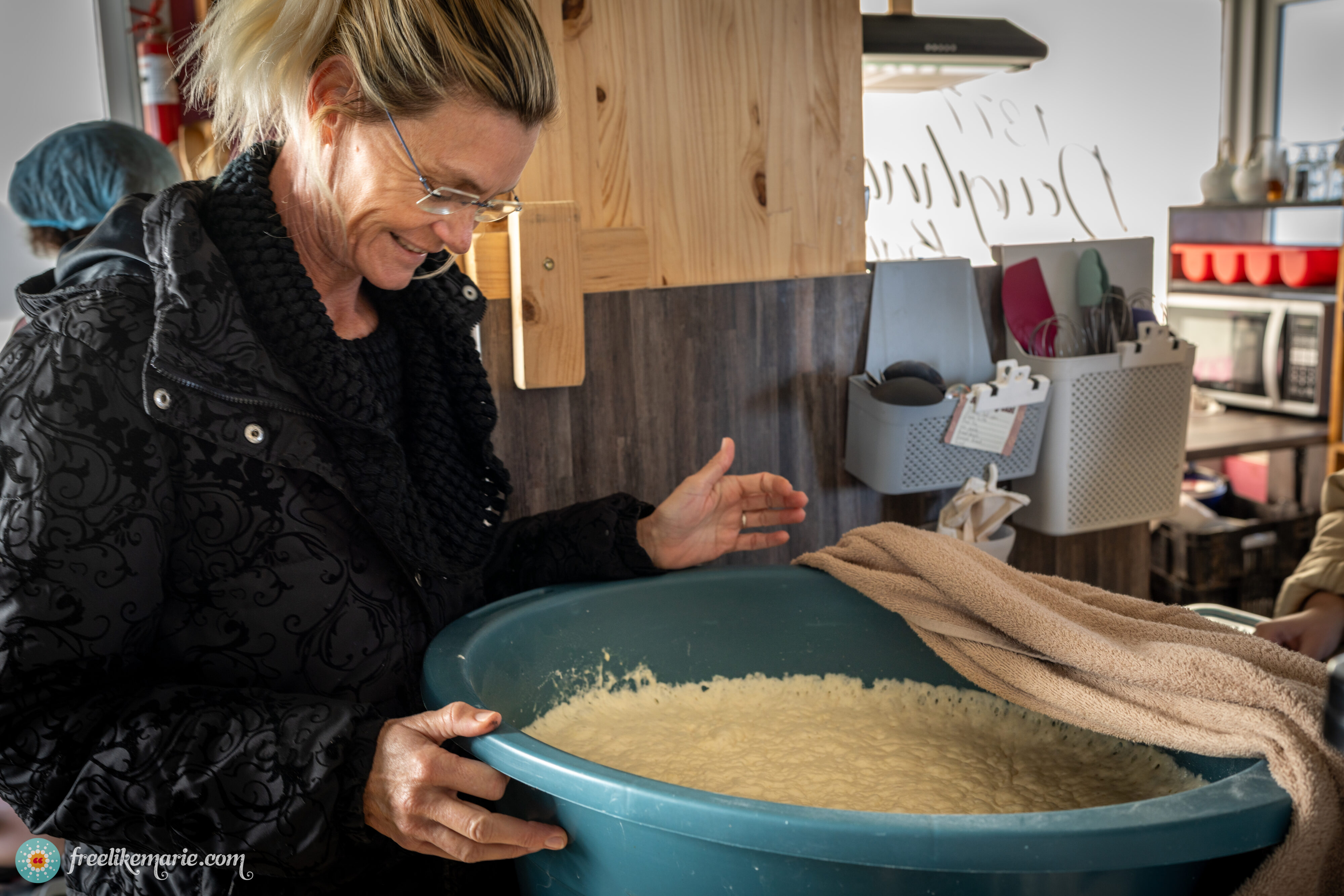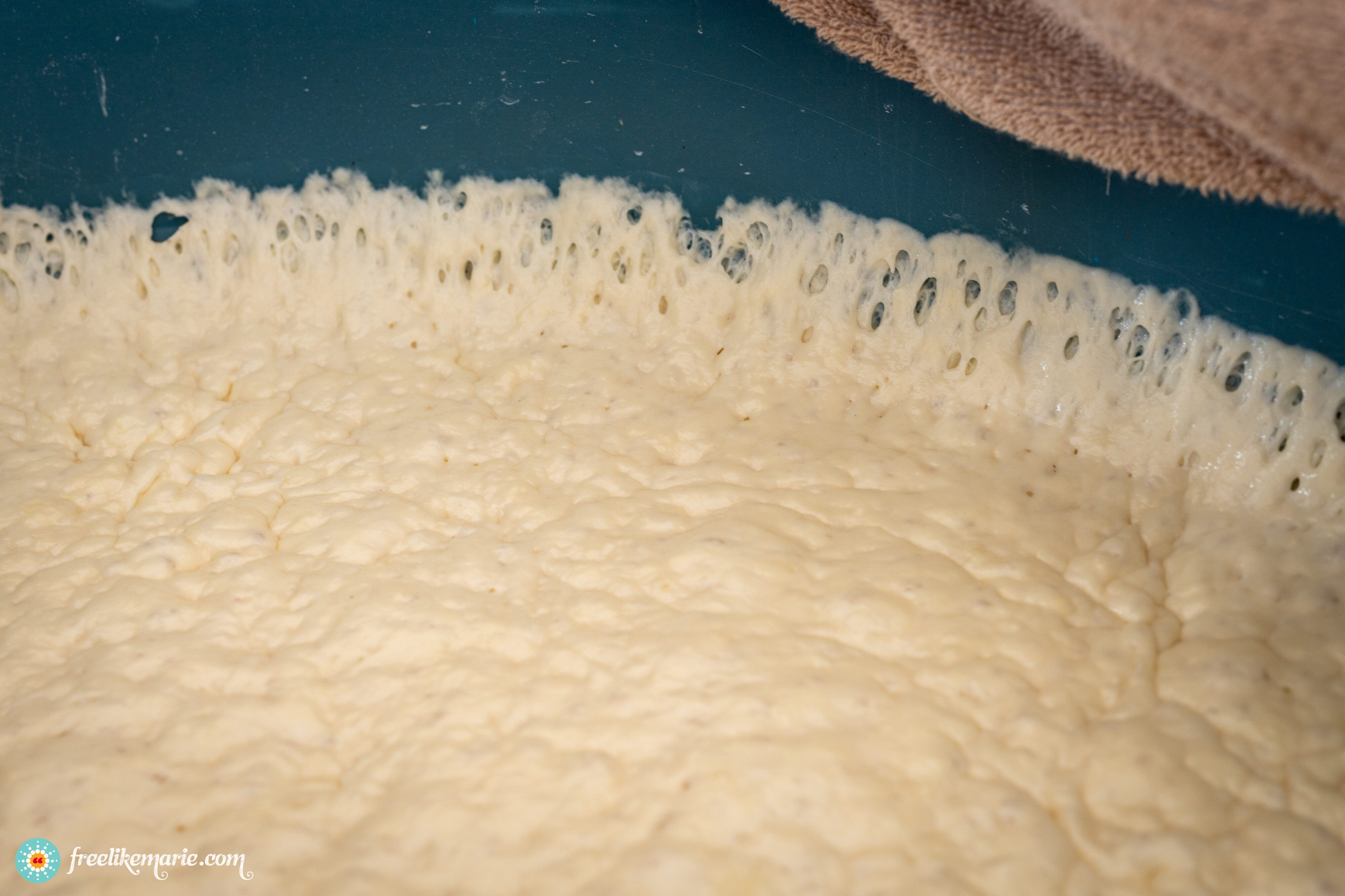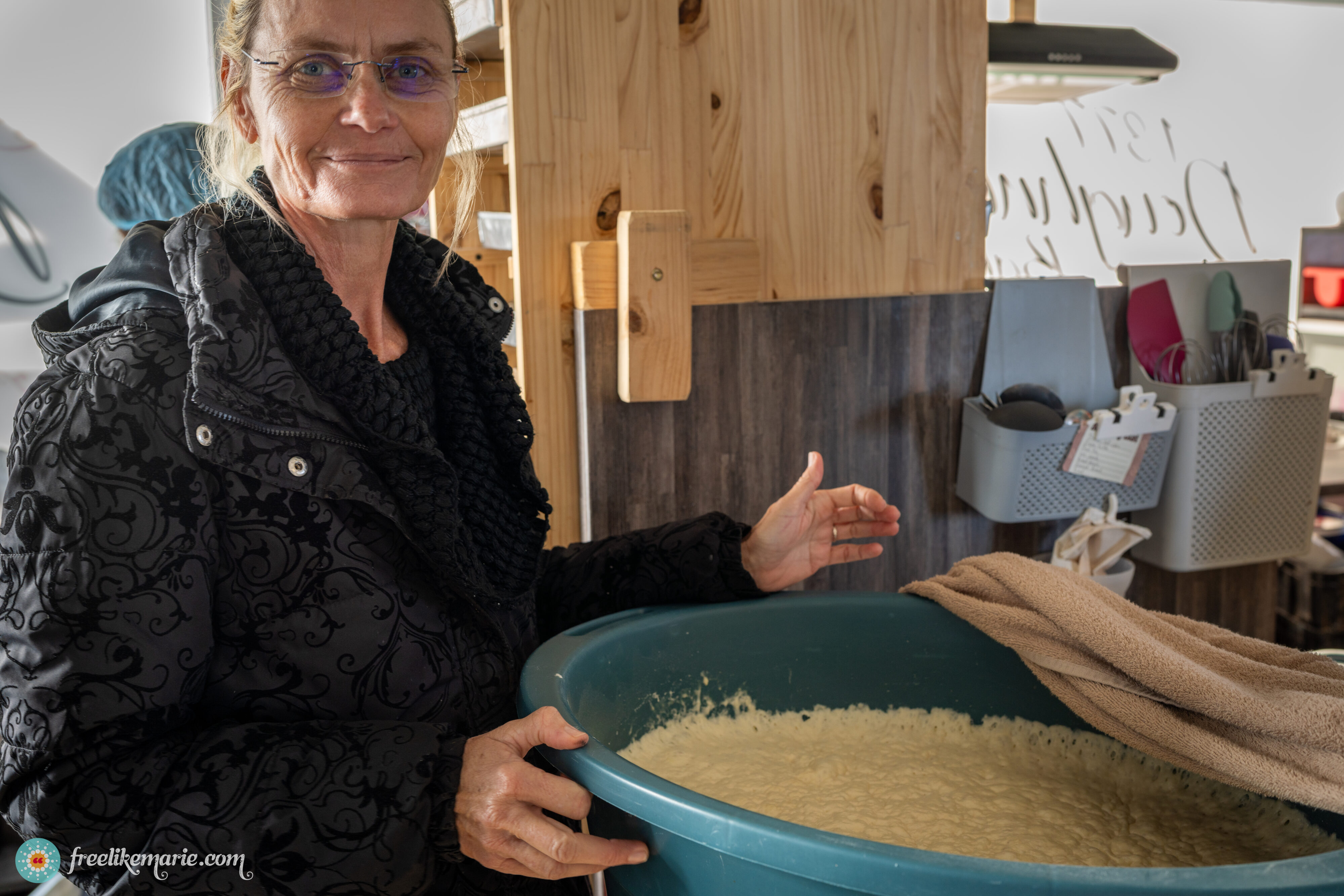 Karen inspecting the sourdough and being happy about the result

The search for a location proved to be quite rough. It was impossible to find a space in downtown Swakopmund, which comprises only about two blocks of gastronomical action.
Then fate had a last twist in store, again quite literally. There was exactly one empty store available… right on the very Jetty next to which Gertrud and Irene had landed more than 130 years ago!
Karen fought hard to get this space. With so much ancestral power behind her, she could not but succeed, of course.
Thus, in September 2021, Karen and her husband André opened the 1877 Doughnut Bar on the very same spot where the dough had wobbled its way ashore in days of yore.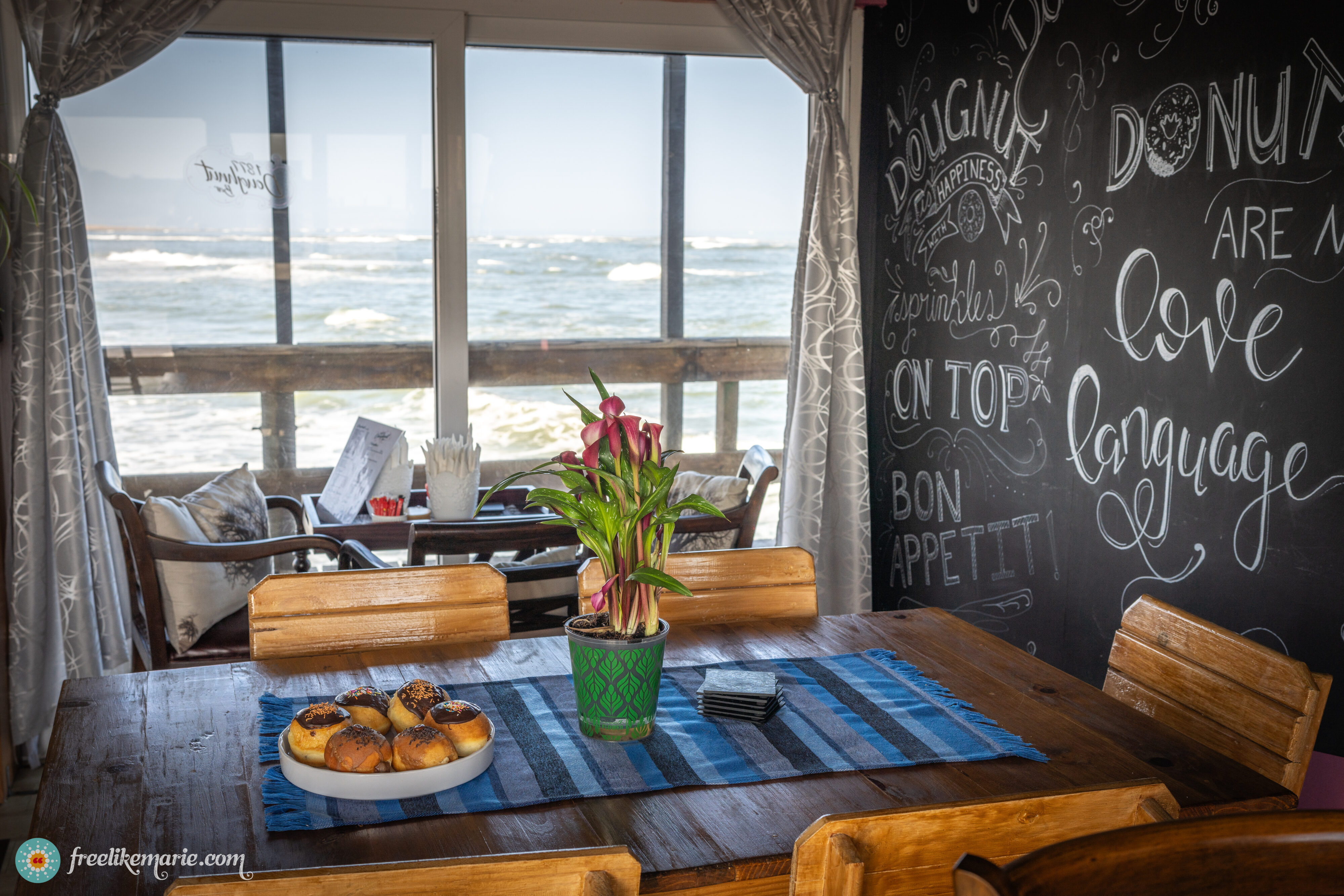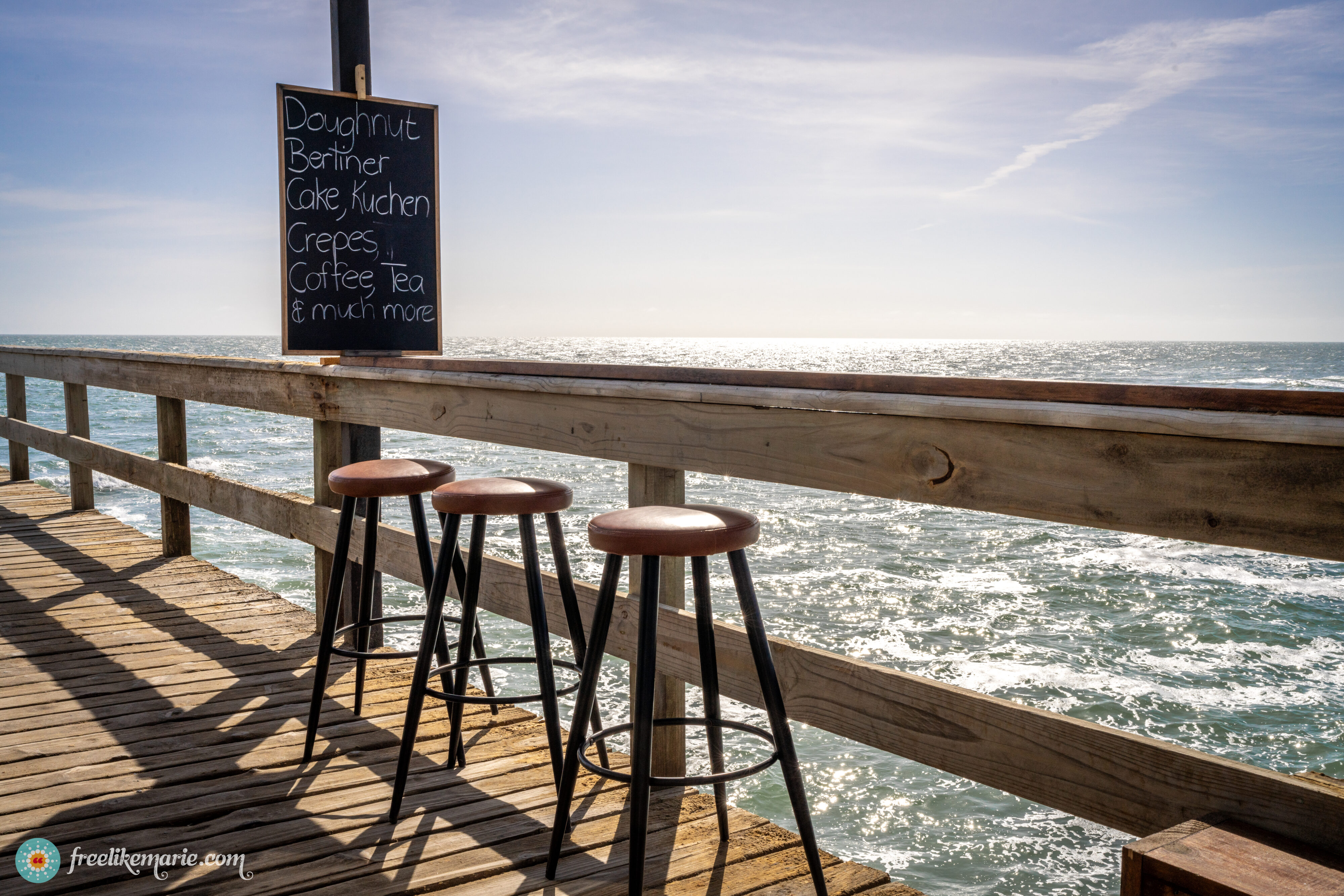 Can't beat the view of the 1877!

For the first time in the dough's long tradition, men became involved in the knead-deep business. Terence, who had studied marketing and psychology, learned how to bake bread and is now working full time at the 1877 Doughnut Bar. André, owner of a gym/boxing center, became the social media manager and started helping out in the café when high season saw long queues full of tourists and locals.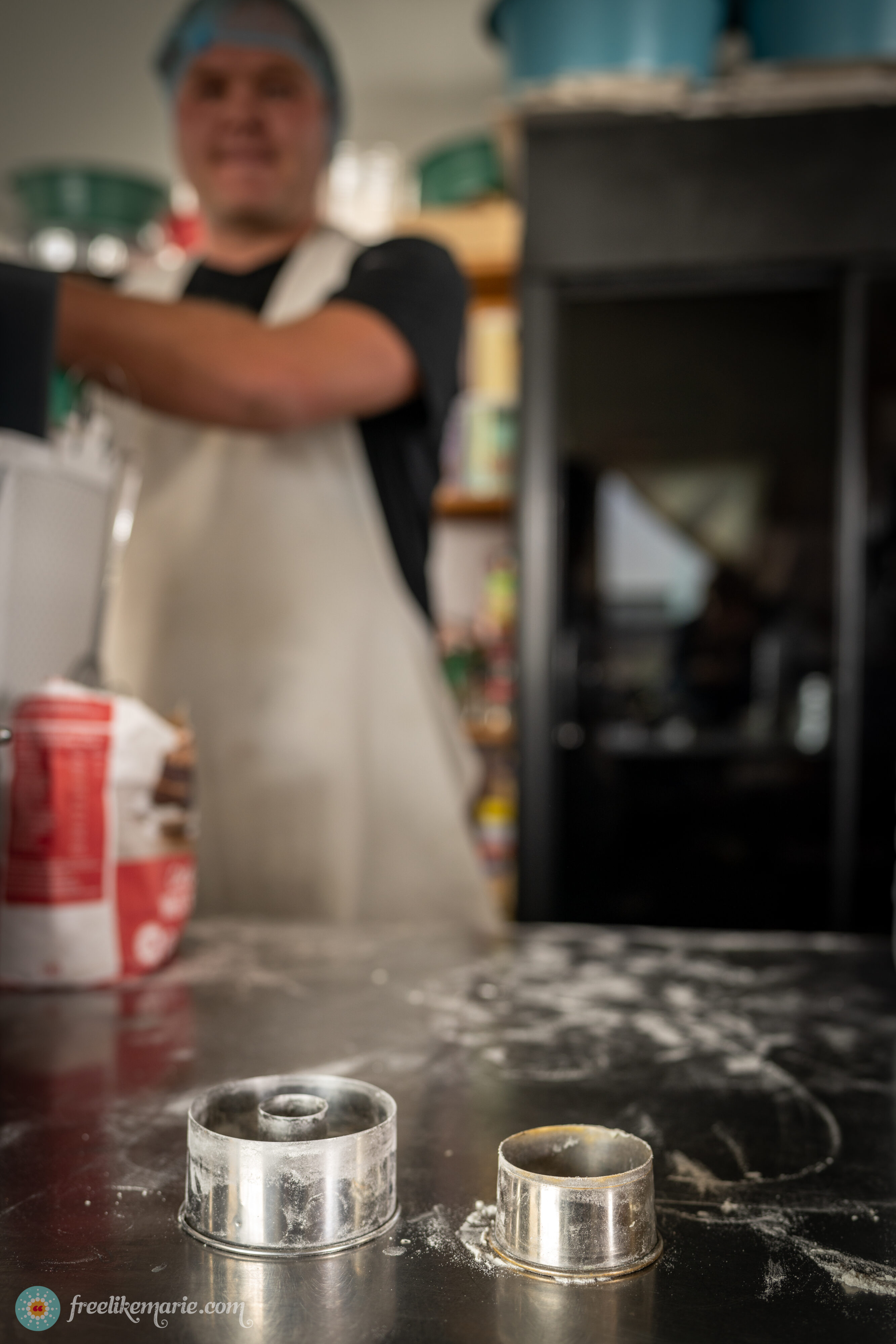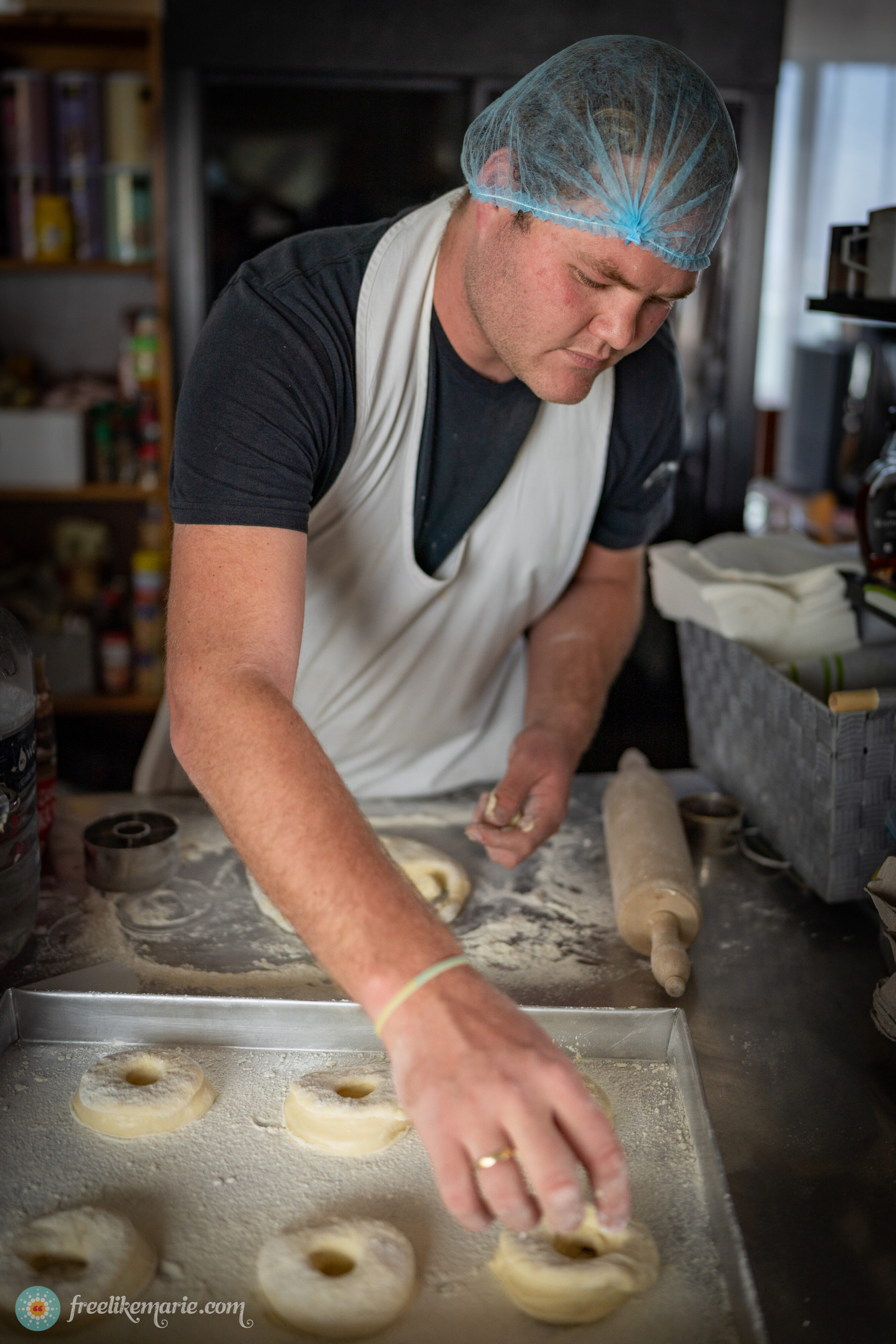 Terence cutting and placing the soon-to-be-fluffy ones

So what about the dough's personality, then? In short: It is a diva that makes Liz Taylor seem the easiest-going person in history.
Remember the fairy tale of the princess and the pea? That's your sourdough!
As opposed to pure yeast dough, the sour cousin is running a strict zero tolerance policy. The slightest bit of draught? Too hot? Too arid because of the East wind from the Namib desert? Any of this, and you will get elephant's feet instead of airy fairies.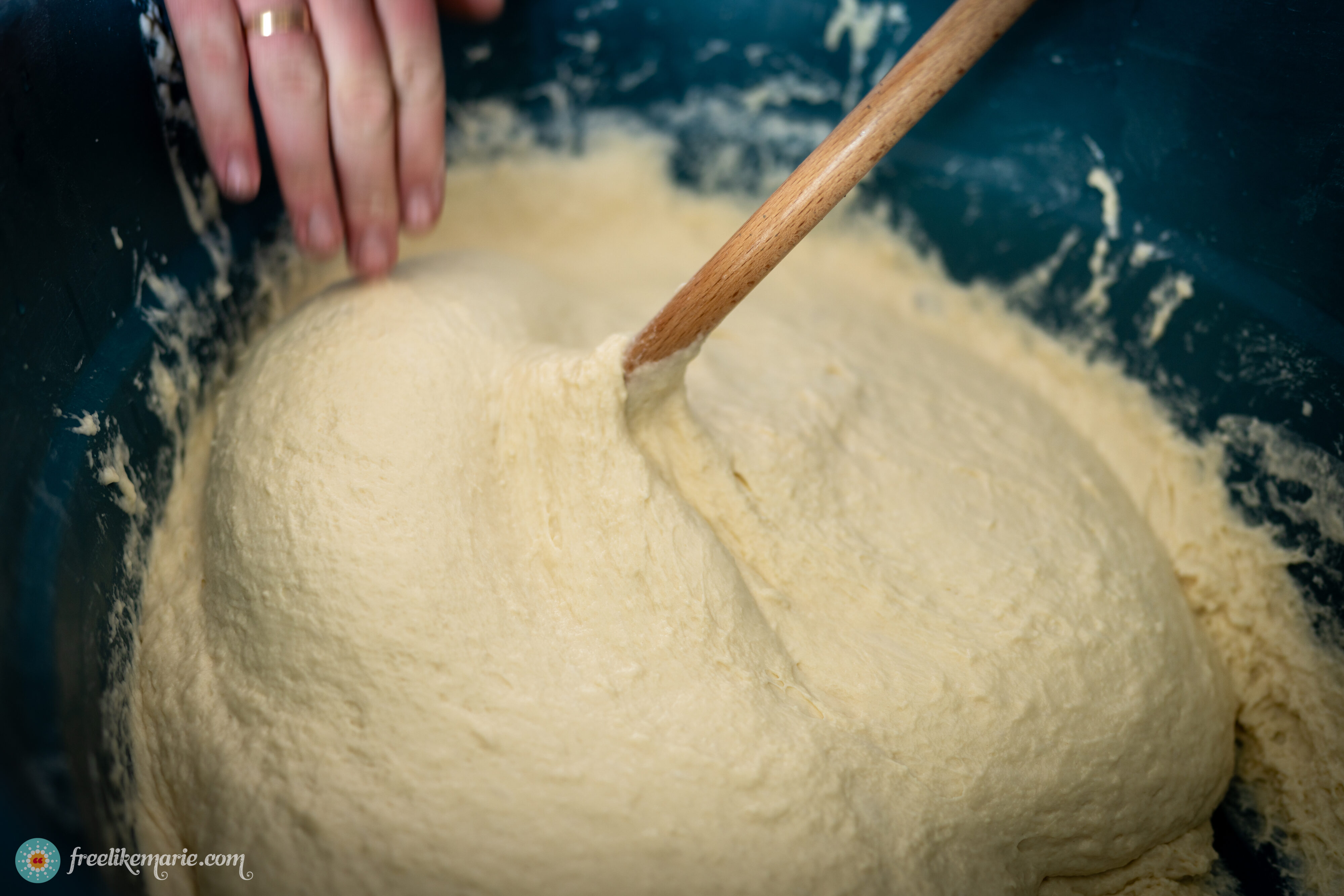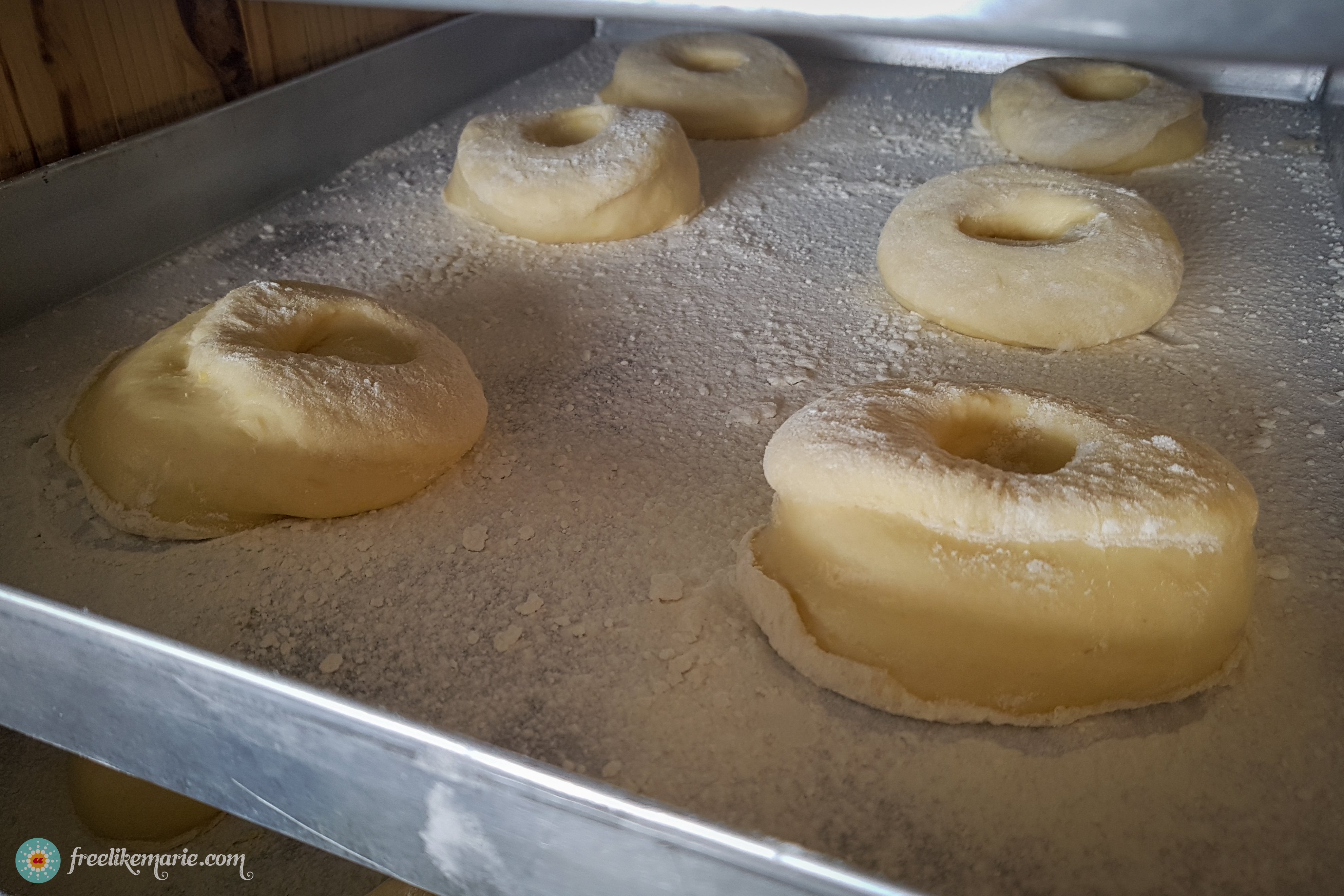 Big bubbles first, then the guys need some rest

The golden rule is: the more, the fluffier–the more you tend to the diva, the heavenlier the sourdough. Once a week is the absolute minimum, comparable to an oil change for your car. If you want to not only keep the sourdough forever young but also nice and delicate, you really gotta ramp things up and nurture and feed it every. Single. Day.
And what exactly does it mean to nurture it?
Well, your Royal Doughness is quite into spanking: You add sugar, water, flour, and then you beat it with a big muddler like your life depends on it.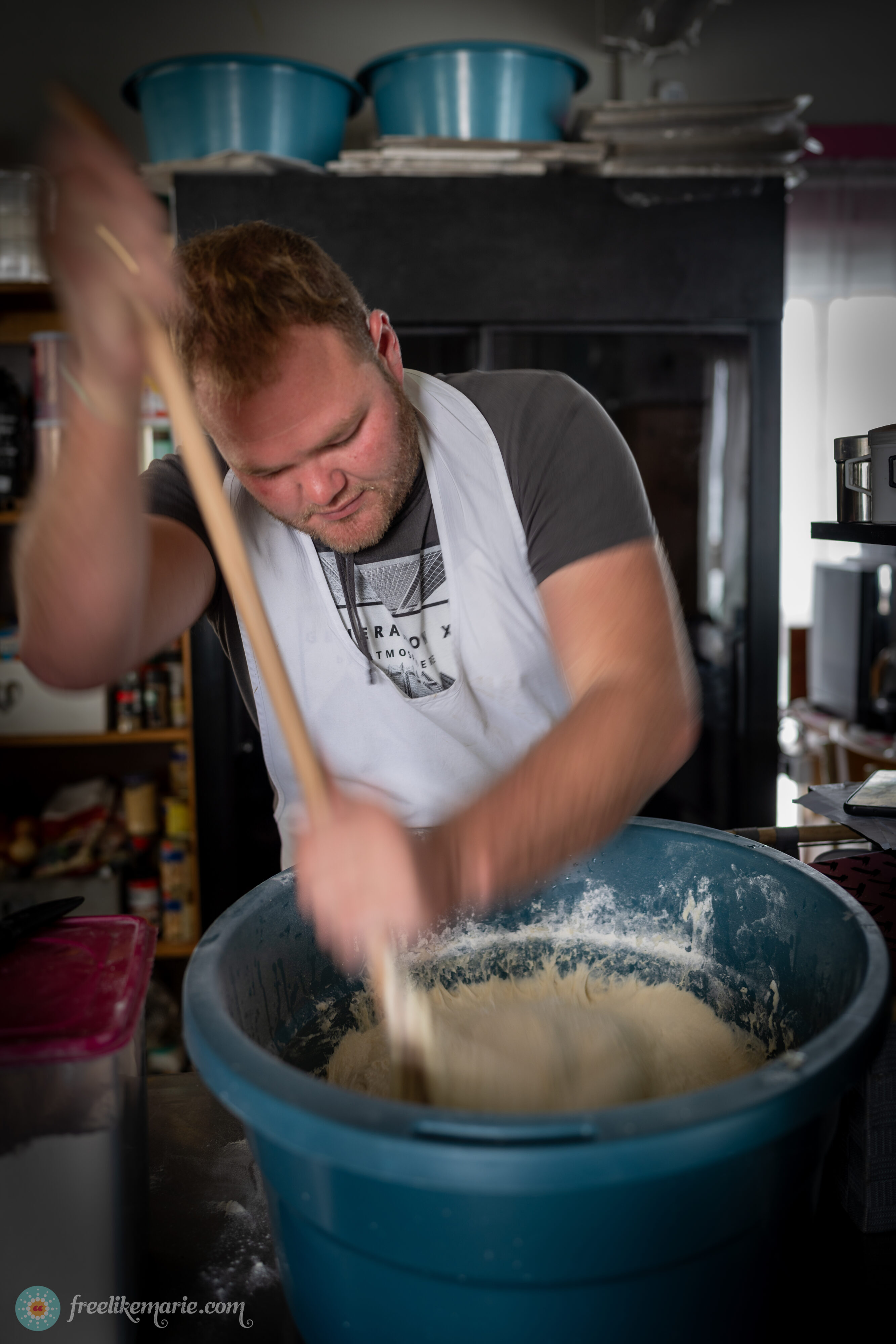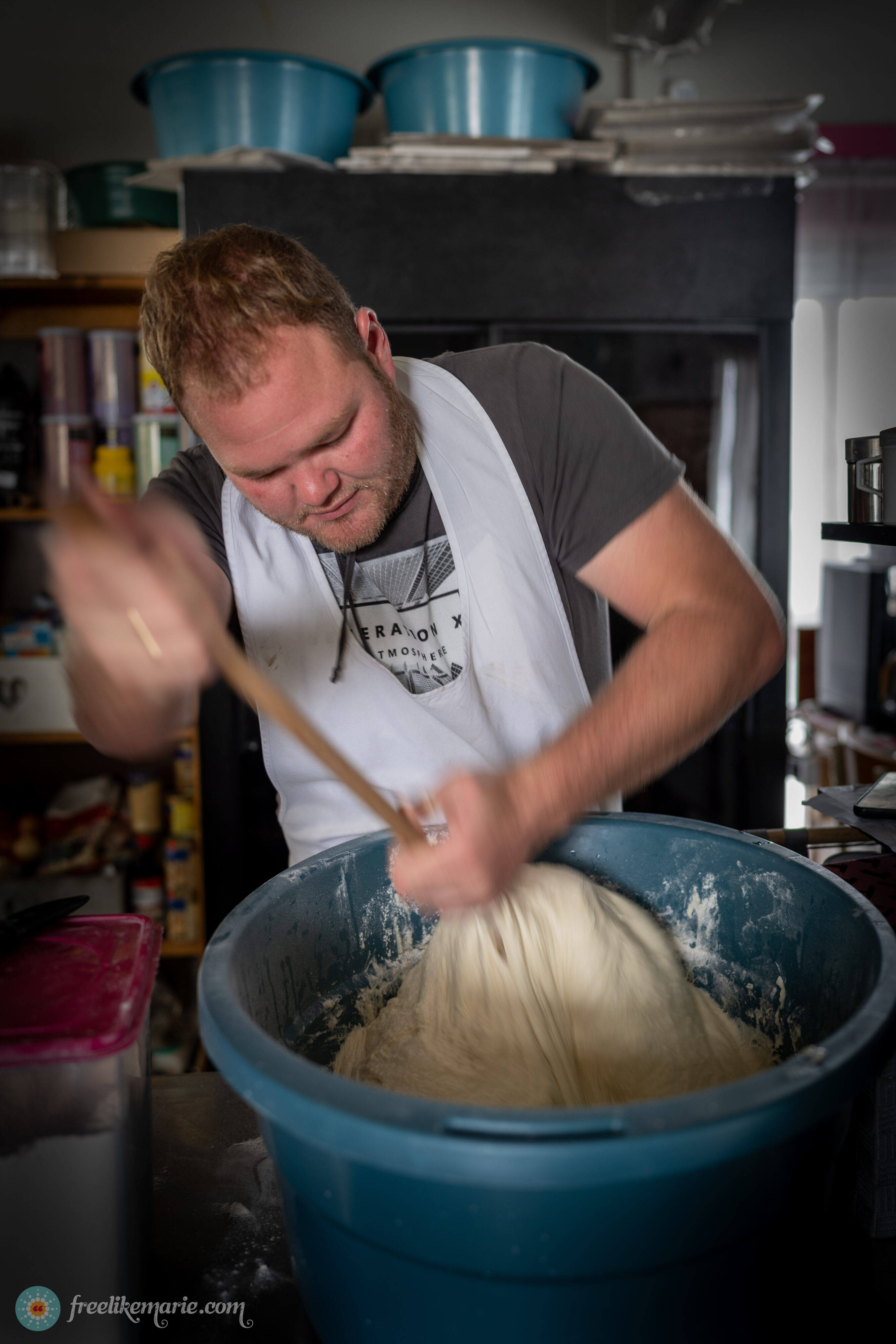 And then, some more workout.
By 2023, this very dough has thus been fed for almost 55.000 days in a row. Gotta beat that!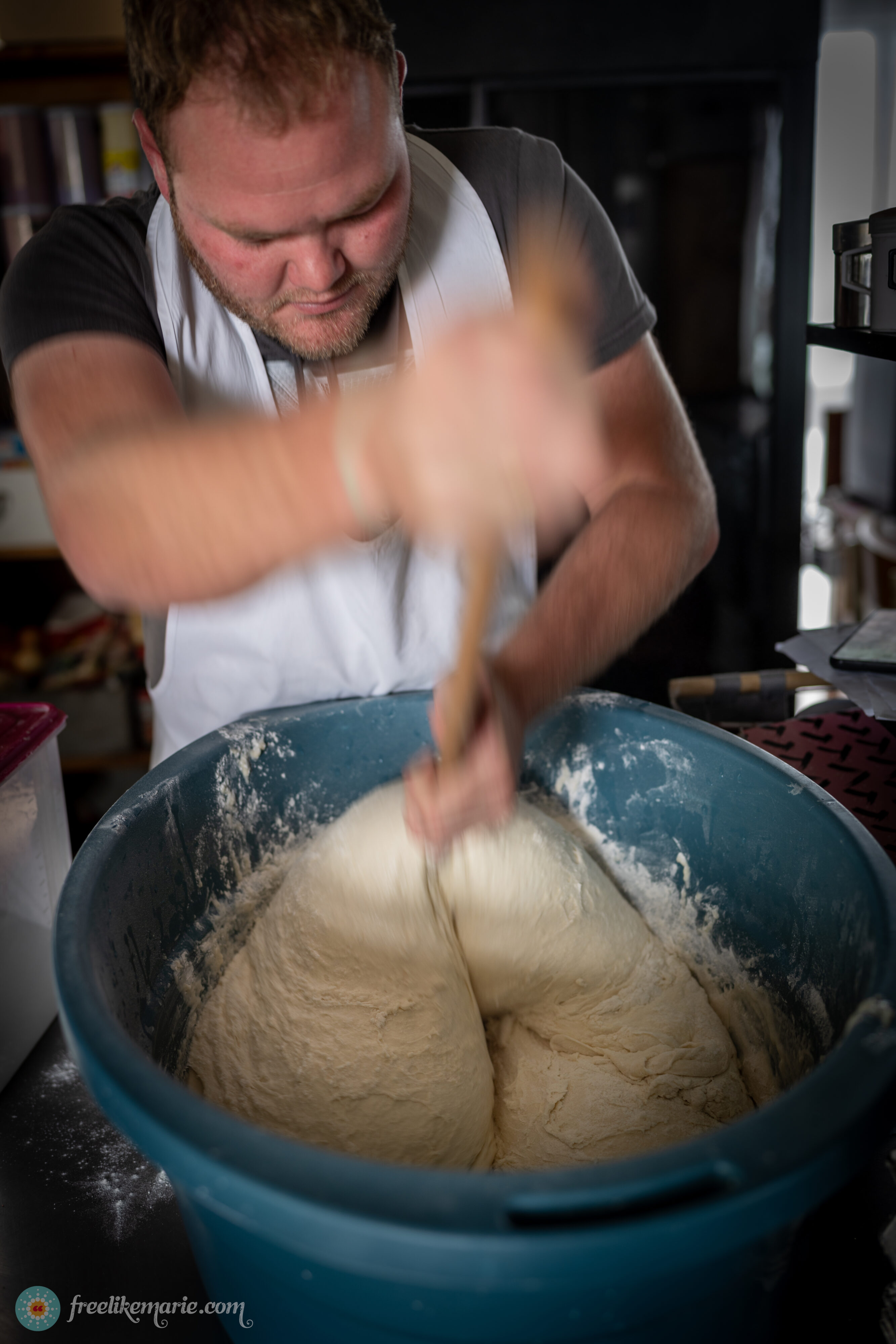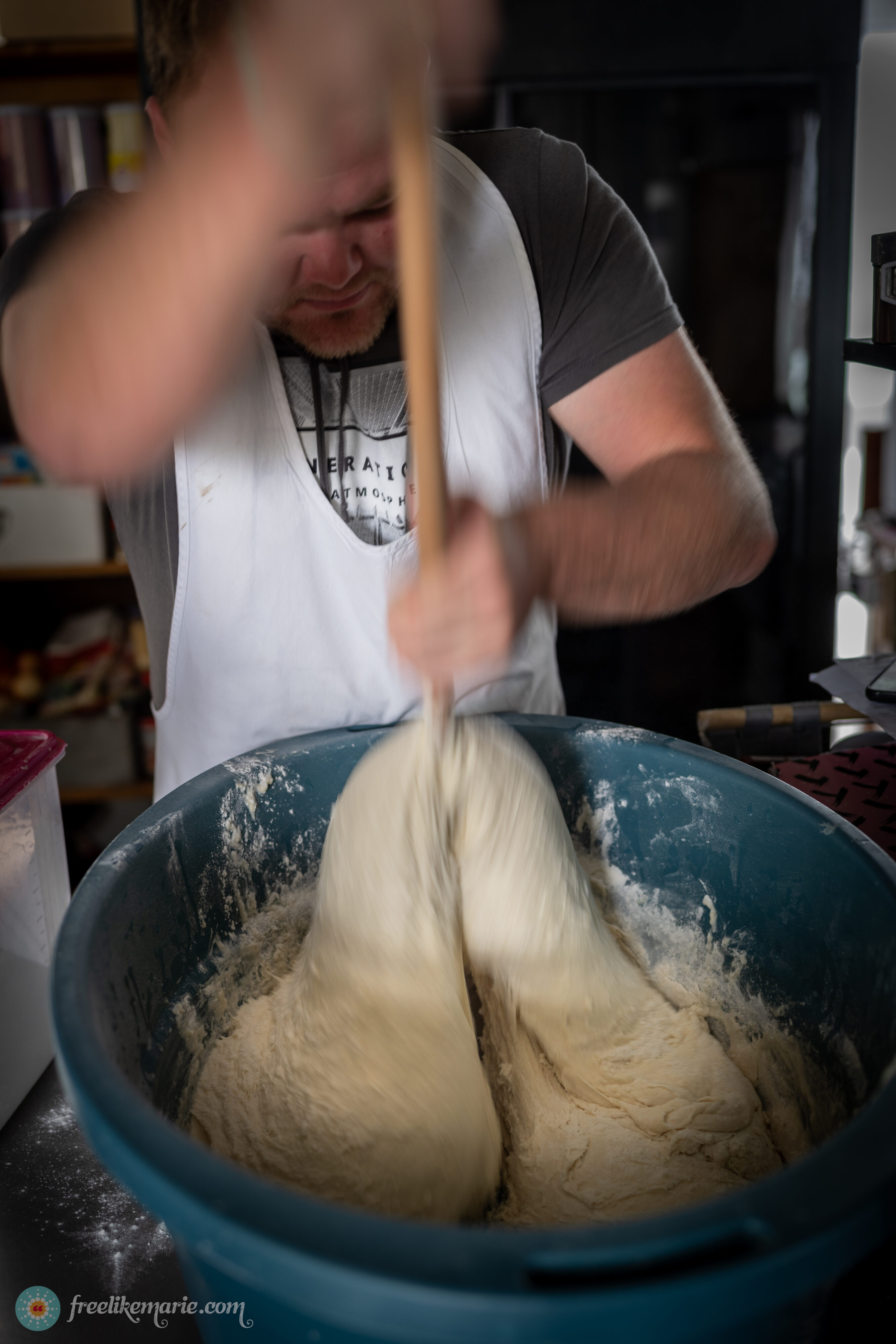 Just feed it (feed it), beat it (beat it), we all wanna go and eat it 🎵

Um, but what about holidays?, you may ask. Does the family have a dough sitter when they go on vacation? How dare you think that! The 1877 sourdough is, of course, a family member. It enjoys the holiday in a little dish, just like back in the days on that ship from Germany.
One of the 1877 team's secrets is the water. Tap water in Namibia has a rather distinct goût de chlorine, so special water does the trick.
'Tis like with all good food: the better the ingredients, the better the result.
The 1877 sourdoughnut is lighter in color than other sourdough pastry, and, as mentioned, has quite a filigree taste.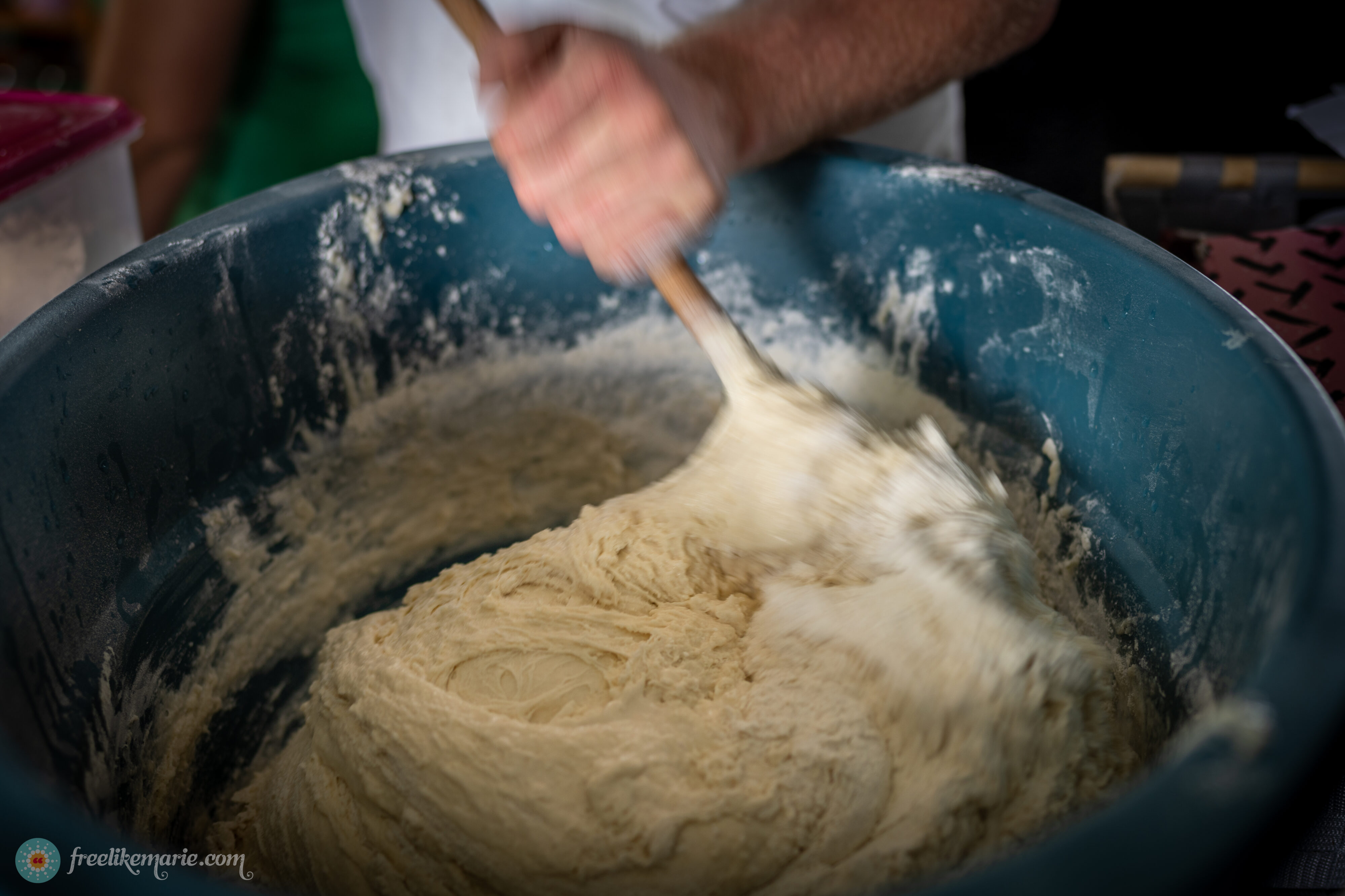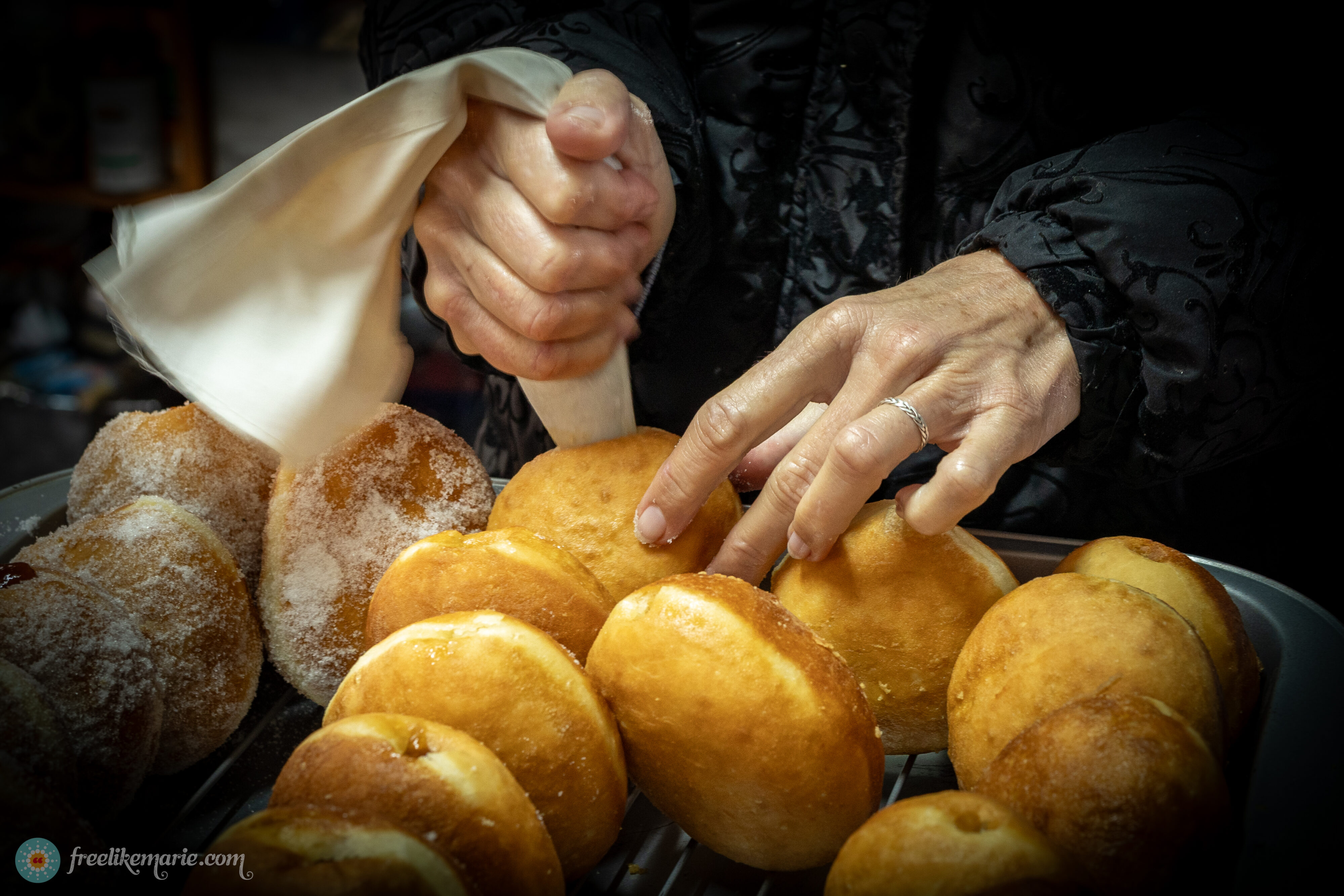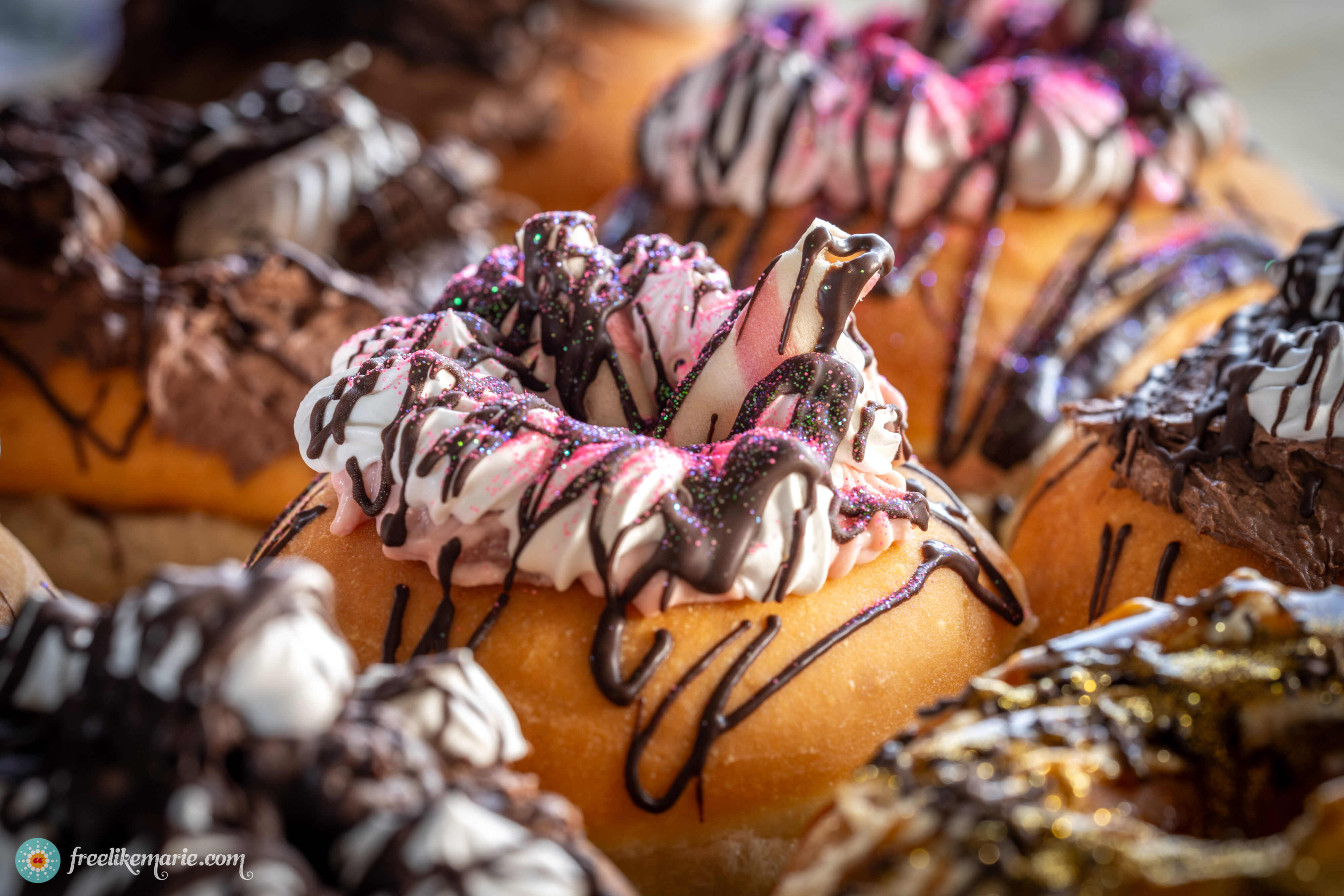 Step one, step two, step three – all of it hand-made!

The original ingredients/starter cultures that Irene created it with have been lost in time like tears in rain. Which means we will never know the real secret behind it. Maybe that is a sweet thing, though, as the old chap thus remains a magical mystery dough.
You might even argue that the "information" which was put into the dough when Irene started it in 1877 is still there in a veeeery high potency. Which makes the doughnuts an effective homeopathic remedy against those grey and foggy Swakop Sundays.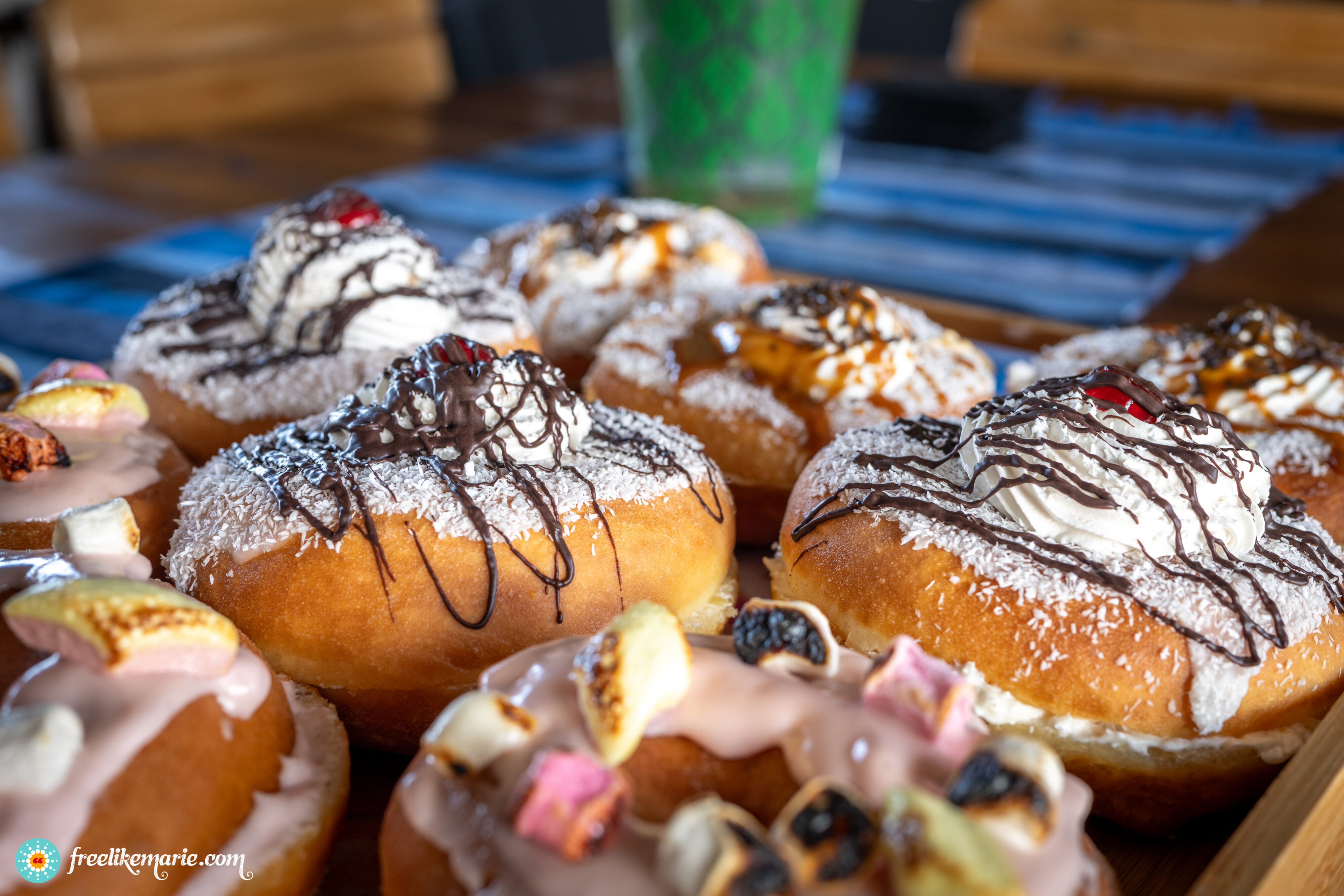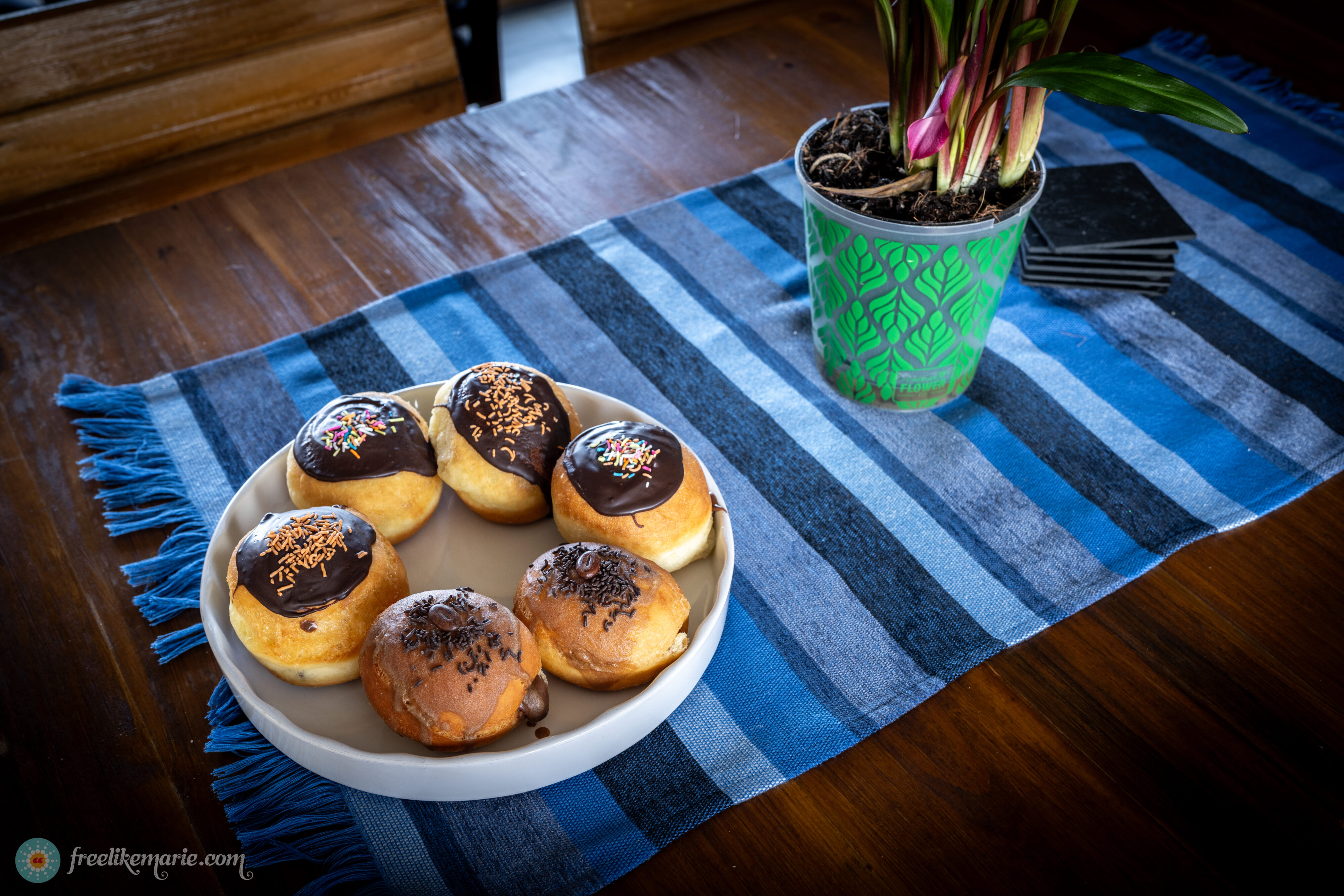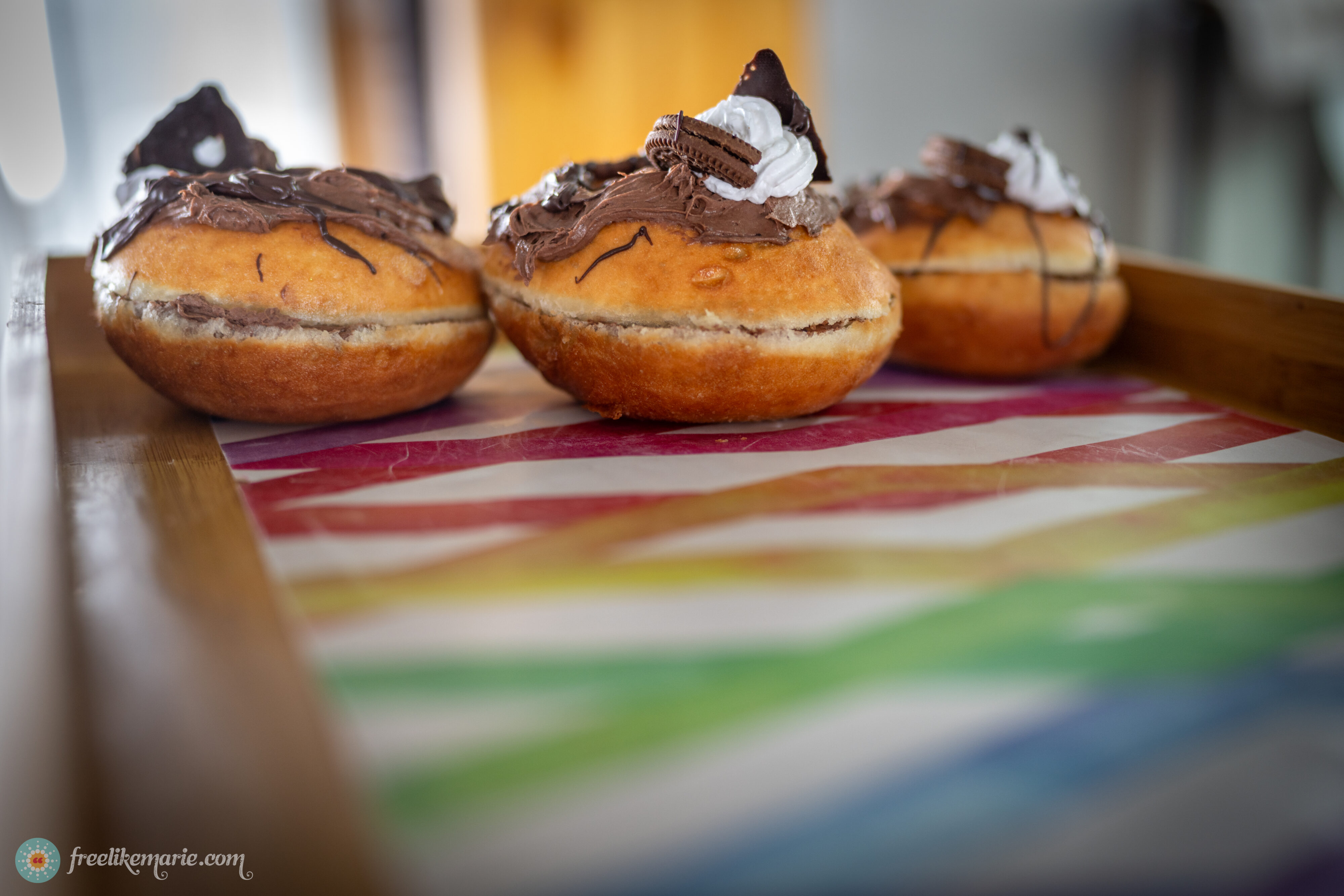 So–what will the future hold? Needless to say, the family companion is in it for the long game. More of an ultra runner than a sprinter.
After only one year, the sourdoughnuts from the Swakop Jetty had turned into a cult already. People from all over the country demand of those who vacay in Swakop to bring them a good portion of the doughnuts upon returning, OR ELSE!!
So chances are there will be an expansion. Maybe a second location, as the current one is super small, and during packedy-packed high season in December, 7 people try to not constantly stumble over each other in the tiny kitchen.
This place is too emotional to give up, according to Karen: "We will not abandon our first location on the Jetty, as history has come to a full circle here, and we want to cherish this bond between our family past and present."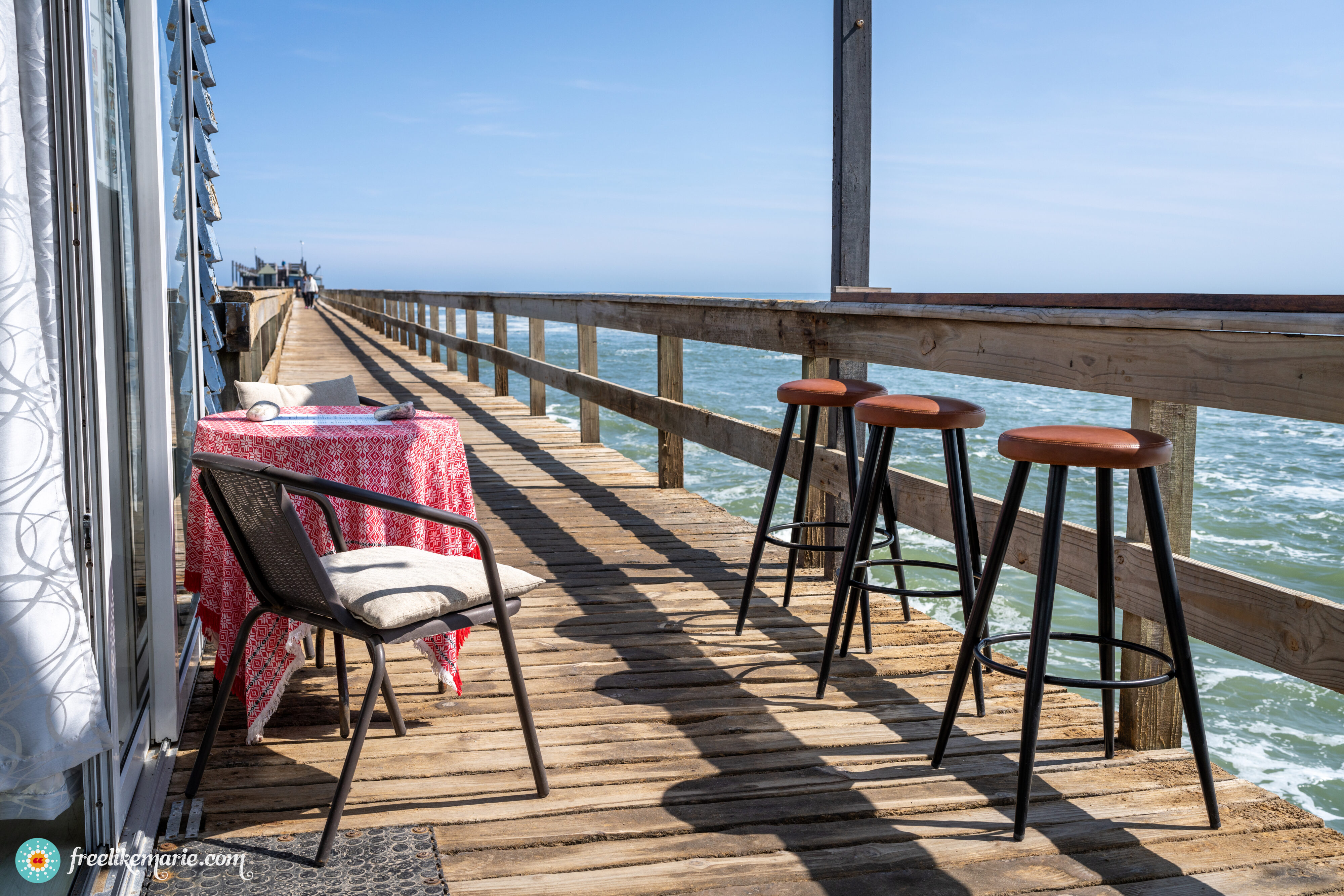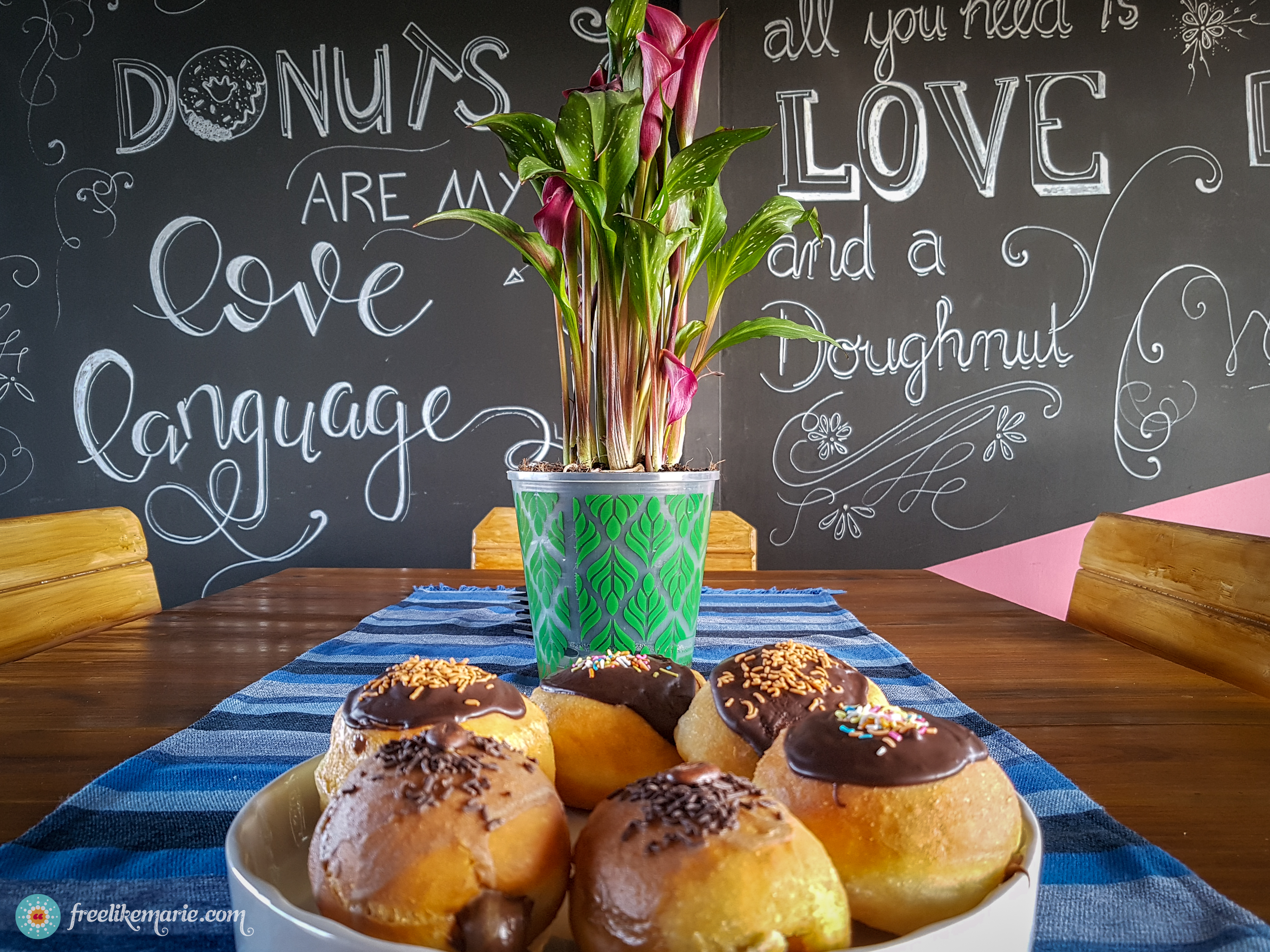 So if you visit lovely Swakopmund, make sure you say hi to Karen and her family on the Jetty. And don't forget to indulge in one of those beauties, like a Marshmallow Fuse Bomb, Passion Fruit Chili or Peanut Fudge Popcorn doughnut – or any other traditional German home-baked delicacy, for that matter.
One thing is for sure: You'll be munching a true piece of history!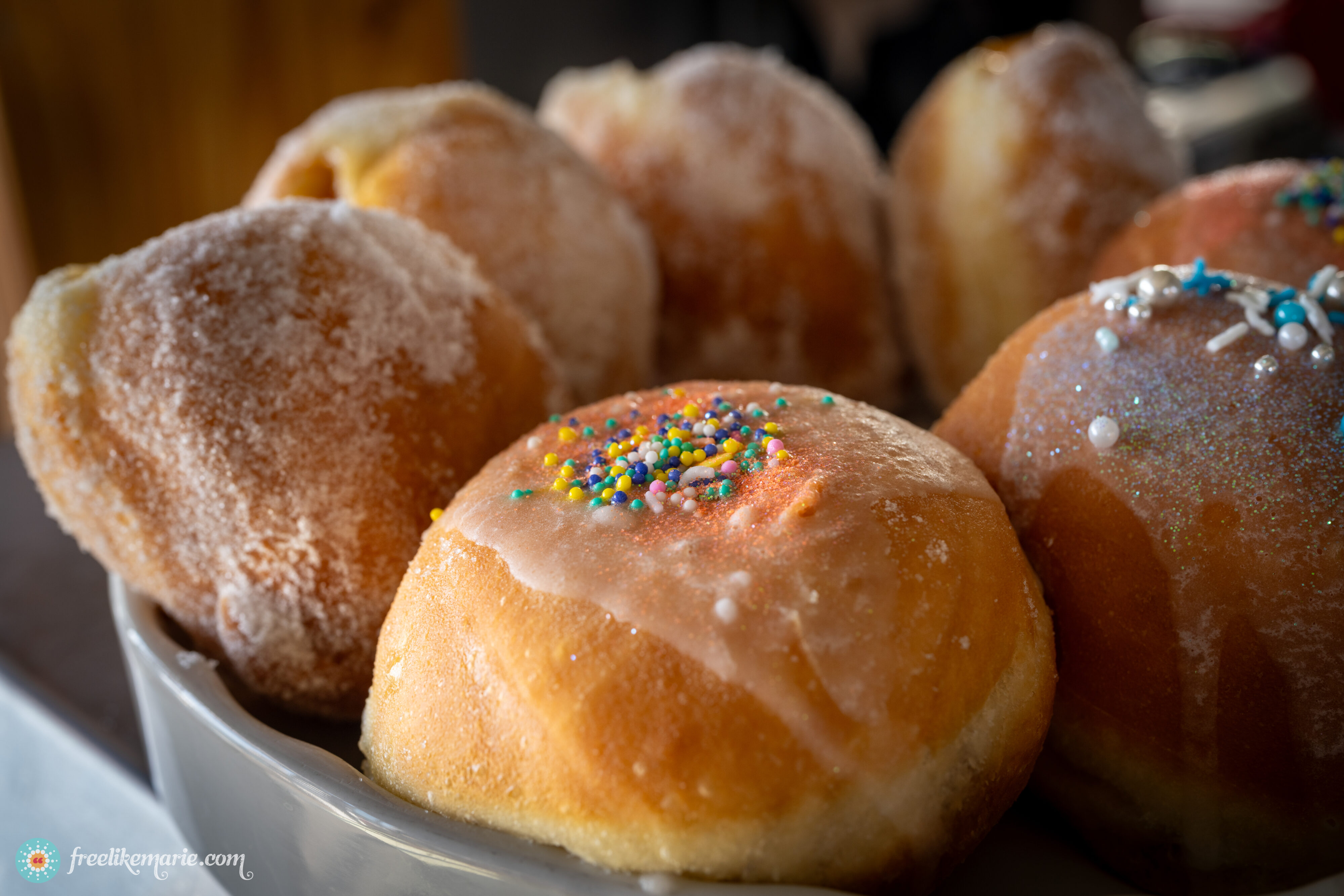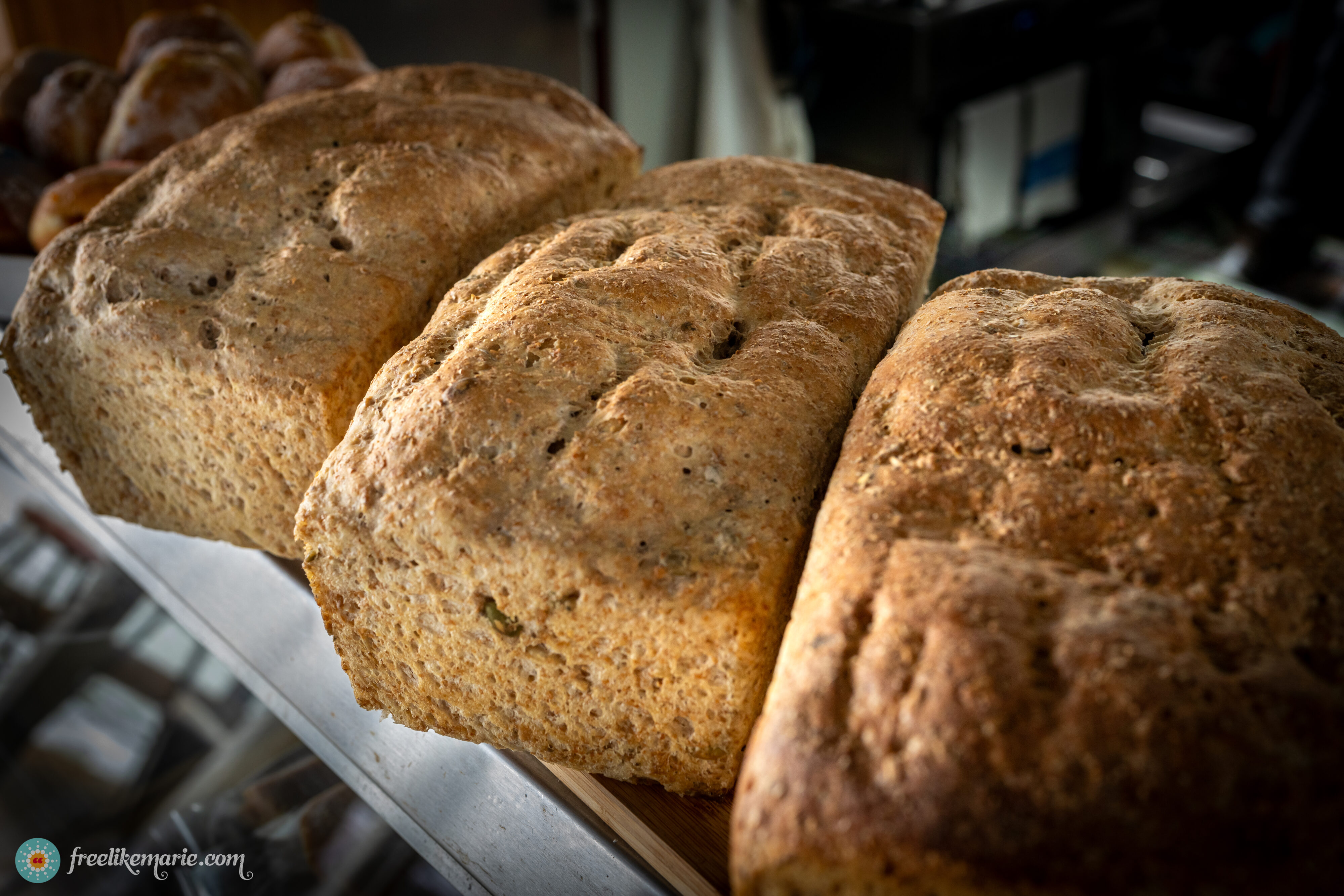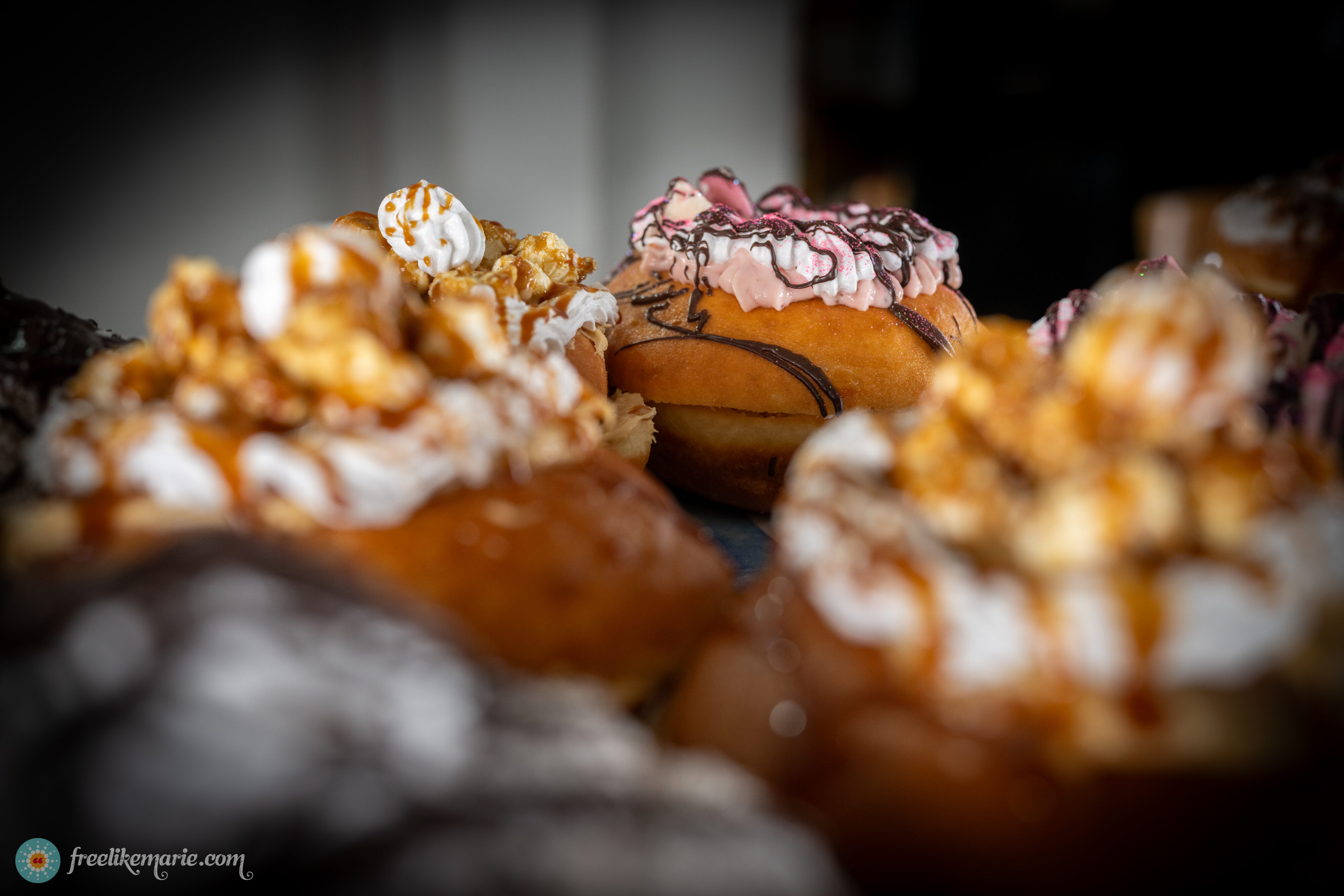 You can check out the 1877 team on Instagram, Facebook, and their website.
Disclaimer: This is not a paid advertorial – I did not receive any dough or doughnuts for this blogpost, and the links are not affiliate links. I just liked the story and (as an exception from my being sugar-free) the doughnuts, that's all.